This Is Tony Bennett's Real Name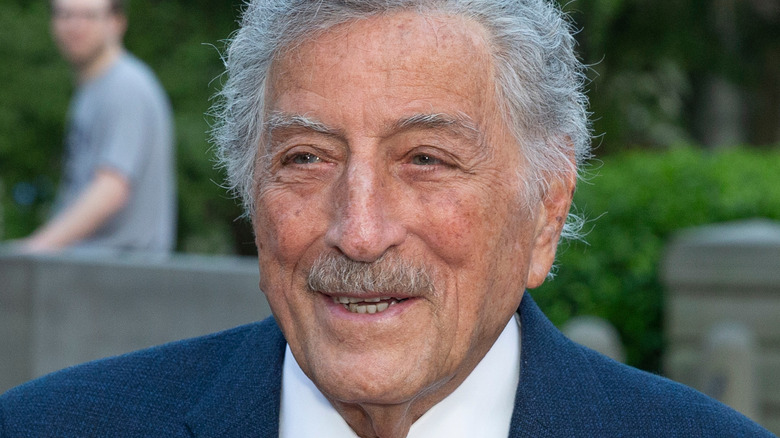 lev radin/Shutterstock
Classic crooner Tony Bennett has led a life of extreme ups and downs. One of the downs: being 18 years old in 1944. He was drafted to the Army in November of that year and soon shipped off to perform his mandatory service in World War II. And he didn't get a cushy gig pushing papers behind a desk somewhere. He was sent to the front lines — fox holes, enemy fire, watching his fellow soldiers die in the mayhem. Bennett likened his war experience to a "front row seat in hell," according to PBS. "Although I understand the reasons why this war was fought," said Bennett, "it was a terrifying, demoralizing experience for me. I saw things no human being should ever have to see."
But Bennett survived the harrowing ordeal and returned home an ardent pacifist with dreams of making people feel good with his mellifluous vocals and delightful tendency to leave his heart in romantic American cities. However, after he started getting some attention with his singing, he faced a new threat to his life: the mafia. The mob took its cut, but ultimately organized crime helped Tony Bennett's career. Still, he wasn't happy about it. Tony thought gangsters propagated dangerous stereotypes about Italian Americans, so he bought his way out of the game as soon as he could. On top of all these fun facts you probably didn't know about Tony Bennett, here's one more: his name isn't even Tony Bennett.
A comedy legend gave Tony Bennett his stage name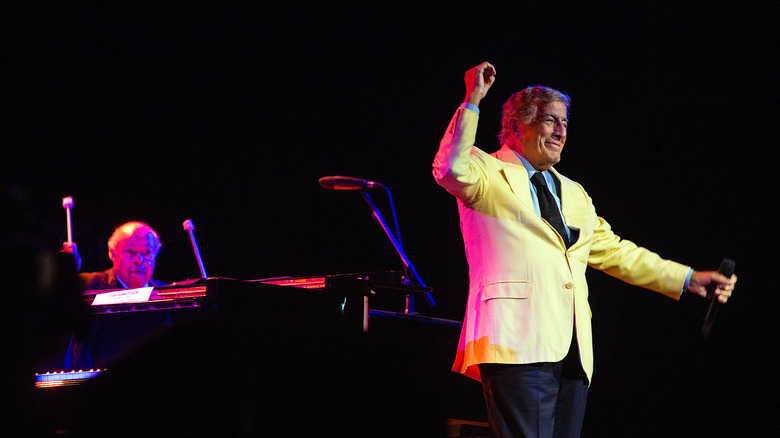 MPH Photos/Shutterstock
In light of his opinion about the stereotypes of Italian Americans created by the mob, it's no surprise that Tony Bennett didn't go on stage under his given name: Anthony Dominick Benedetto. According to his official website, his first stage name was Joe Bari. That's objectively nowhere near as good as Tony Bennett, but luckily he got some help coming up with the name we all know and love today from one of the greatest comics in American history.
Tony remembers the night when he finally got his big break. It was in 1949. He was performing at a club in Greenwich Village in New York City. Actress and singer Pearl Bailey was on stage with him, and comedian Bob Hope was in the audience. Hope liked Tony's act so much that he went backstage after the gig to ask him to sing with him in his own show. There was just one catch: the name Joe Bari had to go. He asked Tony what his real name was, and Hope turned it into the stuff of easy listening legend. "We'll call you Tony Bennett," said Hope, and the rest is history. Tony called his rechristening "the start to a wonderful career and a glorious adventure that has continued for over 60 years."