What Happened To The Iconic Patek Philippe Pocket Watch From Antiques Roadshow?
Bloomberg/Getty Images
A lot of great pieces have appeared on "Antiques Roadshow." If you're a fan of timepieces particularly, then the vintage Patek Philippe pocket watch featured in 2004 is one item you might want a second look at. Complete with a perpetual calendar, moon phase, minute repeater, and seconds chronograph, and encased in 18-karat gold, this stunning item is quite a marvel (via Deployant).
While the watch initially appraised at $250,000, its 2006 auction price tag wound up being well over $2 million. Equally of note, the watch's first owner was none other than George Thompson, a savvy businessman who had acquired both the watch and the St. Paul Pioneer Press and Dispatch newspaper in his heyday (via Snac Cooperative). With this legendary journalists' name craftily carved into the pocket watch, and a price tag worth its weight in gold, you might be wondering where the iconic Patek Philippe pocket watch is now.
On display at a museum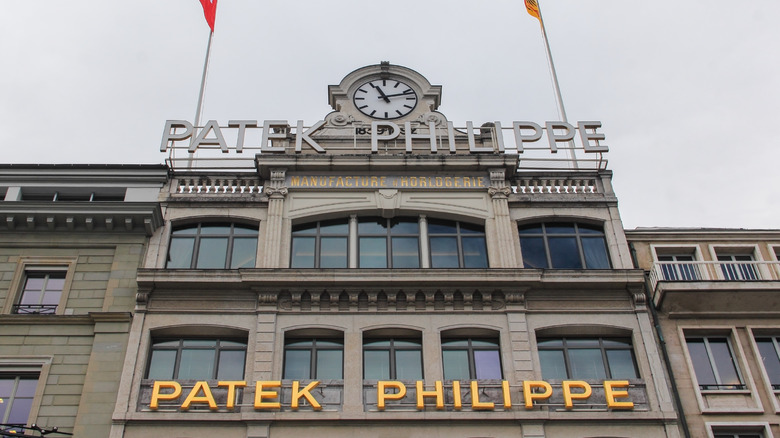 Bascar/Shutterstock
According to Deployant, Supercomplication No. 174 480, known to viewers as the iconic Patek Philippe pocket watch from "Antiques Roadshow," is not only timeless, but priceless. In 2006, it was auctioned off to Sotheby's Geneva and heralded as one of the most complicated watches ever created (via Scribd). Sotheby's had a special place in mind for the vintage showstopper — a place where its horology could be appreciated and celebrated. After spending decades in complete obscurity, the now more than 100-year-old timepiece has made its way to the Patek Philippe Museum for world watch lovers to behold. From behind the glass, its rare complexities can shine.
The Patek Philippe Museum opened in Geneva in 2001 (via Patek). With more than five centuries worth of watchmaking history housed behind its art deco-inspired walls, and an awe-inspiring library dedicated to the process of making and keeping time, this multimillion-dollar timepiece may have finally found the pedestal it deserves.