What Happened To Buster After MythBusters Ended?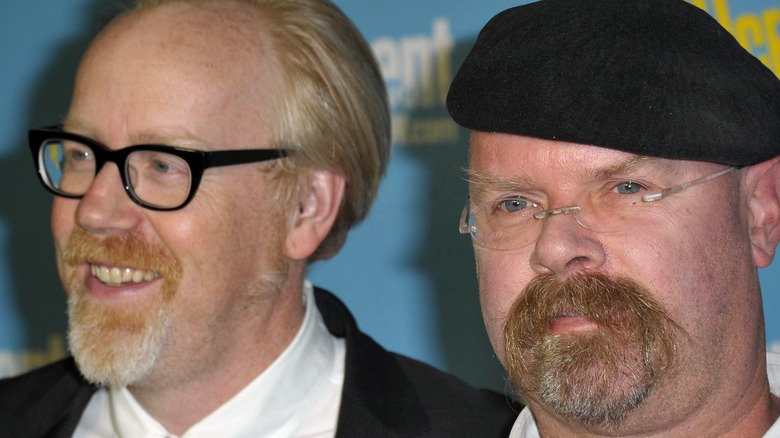 Albert L. Ortega/Getty Images
For over a decade, fans eagerly tuned in to the Discovery Channel every week to watch "Mythbusters," a show about two special effects artists — Adam Savage and Jamie Hyneman — using science to test whether urban legends, movie tropes, old sayings, and other bits of popular culture had any basis in fact. During the show's run, Hyneman and Savage were joined by other scientists, engineers, and artists, including Grant Imahara, Kari Byron, Tori Belleci, Scottie Chapman, and Jessi Combs, among others, per IMDb.
Another popular "cast member" on the show never cashed a paycheck or spoke a single line. Since so many of the tests done on the show involved the very real possibility of a test subject being maimed or killed, the show utilized a scientifically accurate human analogue for many of their tests. Nicknamed "Buster," the crash test dummy was put through every possible peril, including being dropped from high heights multiple times, being burned, being near the scene of explosions, etc., before being retired at the end of the show's run.
Chunks are all that remain of buster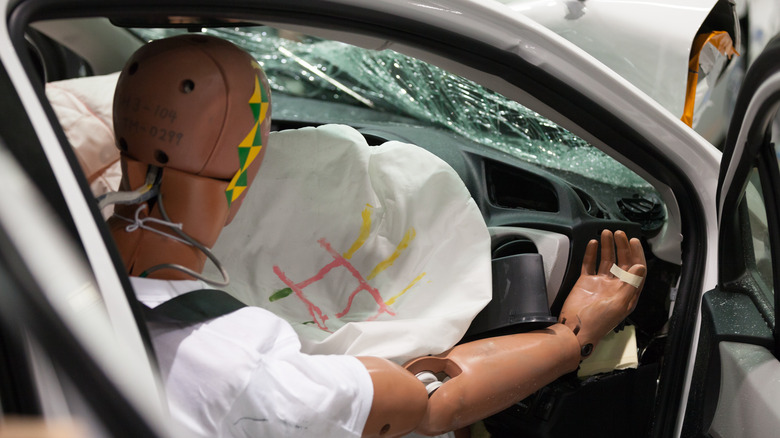 Benoist/Shutterstock
After a decade-plus of putting Buster through the ringer, during which he became a beloved part of the show's "cast," as much as Savage, Hyneman or any of the others, the decision was made to send him out in a blaze of glory — literally. As CinemaBlend reports, for Buster's final experiment, he was dressed like a superhero — fist triumphantly pointed forward — strapped to rockets, accelerated to the speed of sound, and shot into a brick wall.
As you can see on YouTube, Buster didn't survive. Indeed, the slow-motion footage shows a ring of fire enveloping the spot where Buster hit, while small chunks of him can be seen scattering about. "We found about 20 pounds worth of Buster chunks. We never found his rib cage, his head, his pelvis. We never found the largest portions of him. We think he is pretty much vaporized. And that's right and proper. Buster deserved to go out that way," Savage said of the experiment.