What Aaron Hernandez's Life In Prison Was Really Like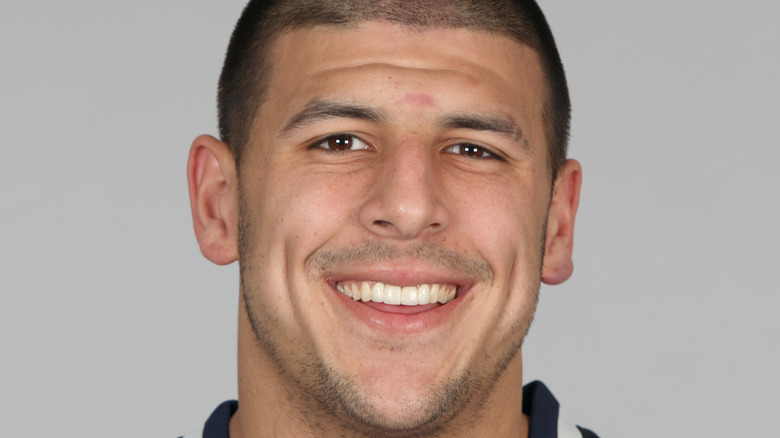 Handout/Getty Images
On June 26, 2013, NFL star Aaron Hernandez was arrested and charged with the murder of Odin Lloyd. As reported by Biography, Lloyd's body was found near Hernandez's North Attleborough home nine days before the arrest. Authorities said Lloyd was dating Hernandez's fiancée's sister.
Hernandez was initially charged with one count of first-degree murder. However, later that same month, he was indicted on two more charges of first-degree murder for the 2012 deaths of Daniel de Abreu and Safiro Furtado — who were killed in a drive-by shooting in Boston, Massachusetts. He was also facing a civil lawsuit in the 2013 shooting of Alexander Bradley, which occurred in Palm Beach County, Florida.
Biography reports Hernandez was found guilty of first-degree murder in the death of Lloyd on April 15, 2015, and was subsequently sentenced to life in prison without the possibility of parole. However, he was ultimately acquitted in the murders of de Abreu and Furtado. A little over two months after the acquittal, Hernandez was found unresponsive in his cell at Souza-Baranowski Correctional Center in Shirley, Massachusetts. On September 21, 2017, authorities determined the former football star died by suicide at around 4:00 a.m. 
Prior to his first trial, Hernandez was incarcerated at the Bristol County, Massachusetts, House of Corrections for more than 18 months. As reported by ABC News, Bristol County Sheriff Thomas Hodgson said Hernandez used his charm to manipulate the guards to "give him more than what they otherwise could get."
If you or anyone you know is having suicidal thoughts, please call the National Suicide Prevention Lifeline​ at​ 1-800-273-TALK (8255)​.
Aaron Hernandez struggled to adapt to life in prison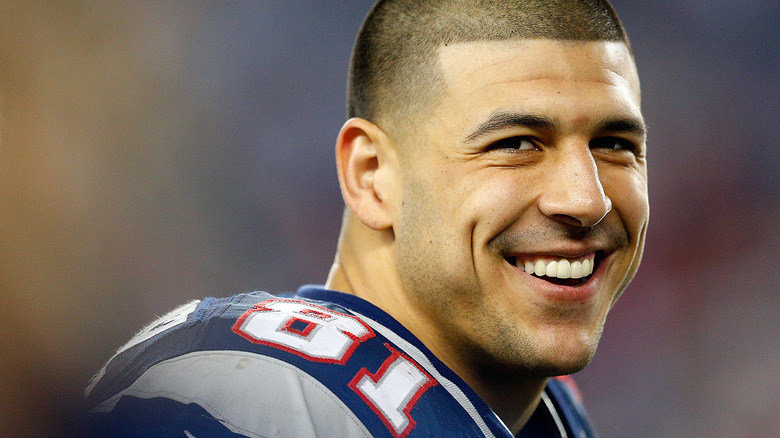 Jim Rogash/Getty Images
Sheriff Hodgson said Aaron Hernandez specifically tried to get the guards to give him more sandwiches and other foods. However, as reported by ABC News, they were all instructed to avoid giving the former football player any special treatment. During his time at Bristol County, Hernandez was prohibited from watching television, listening to the radio, or reading newspapers. ABC News reports this was particularly distressing for Hernandez, as he was unable to follow his former NFL team, which made it to the Super Bowl in 2015.
Jail records suggest Hernandez also struggled with adjusting to the rules, interacting with his fellow inmates, and feelings of isolation. Yahoo! Sports reports Hernandez was involved in 12 separate incidents, for which he received a total of 21 disciplinary citations while he was housed at the Bristol County Jail. Following his conviction in the death of Odin Lloyd, Hernandez was transferred to the Souza-Baranowski Correctional Center, where he was assigned to a single-inmate cell.
It has been suggested that Hernandez became affiliated with the Blood street gang shortly after he arrived at the Souza-Baranowski Correctional Center. ABC News reports he got a new tattoo, which prison officials identified as referencing the gang. Hernandez was also involved in a physical altercation with another inmate, which authorities believe was "gang related."
Yahoo! Sports reports Hernandez accumulated 78 disciplinary offenses during his time at the Souza-Baranowski Correctional Center, which stemmed from 12 separate incidents. 
Aaron Hernandez received 78 citations while in prison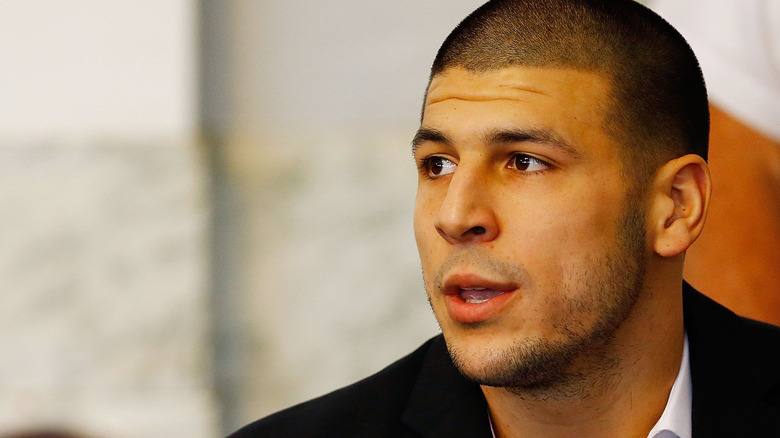 Jared Wickerham/Getty Images
CNN reports the incidents Aaron Hernandez was involved in included fighting, possession of a makeshift weapon, smoking, and getting unauthorized tattoos. Hernandez also received a citation for using another inmate's card to make a phone call, which is prohibited. As reported by CNN, he was also cited for having a "curtain hanging from the top bunk" and another blocking the doorway to his cell, which violated the "cell decorum" rules.
Despite the sheer number of disciplinary citations he received, Yahoo! Sports reports Hernandez's fellow inmates said he generally "kept to himself." However, he continued to struggle with adjusting to life in prison. According to incident reports and other prison documents, Hernandez was frustrated that his mail was opened and read before he received it. He was also discouraged by the number of body cavity and cell searches, which he felt were an invasion of his privacy. During his time at the Souza-Baranowski Correctional Center, officials said Hernandez became increasingly frustrated and angry. As reported by Yahoo! Sports, he would routinely shout and kick his cell door to get the guards' attention.
Less than one year after his initial citation for violating the "cell decorum" rules, CNN reports guards found a sheet hanging in front of Hernandez's cell door once again. When he failed to respond to their commands to remove the sheet, the guards went inside the cell and found Hernandez unresponsive. Aaron Hernandez was declared dead by suicide in the early morning hours of April 19, 2017.