How Stevie Nicks Really Feels About Lindsey Buckingham Being Fired From Fleetwood Mac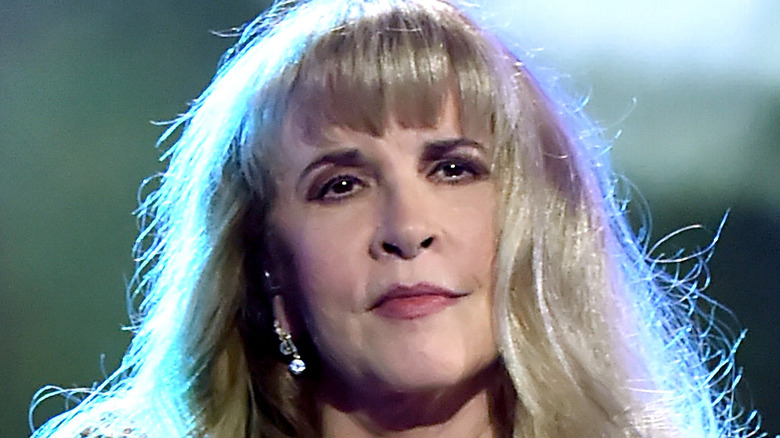 Kevin Mazur/Getty Images
What's your favorite era of Fleetwood Mac drama — the making of "Rumours," when everyone was in the middle of breakups and affairs with each other? When they went acted wild on drugs in the '80s? Incredibly, the juiciest period of Fleetwood Mac history might be happening right now, in the wake of Lindsey Buckingham's firing from the band in 2018.
To recap (via Pitchfork): According to Buckingham's version of events, he was given the sack by manager Irving Azoff, who told him, "Stevie never wants to be on a stage with you again." This came, according to Buckingham, after he asked Fleetwood Mac to delay a tour by three months, so he could promote his new solo album. When the band refused, he tried to compromise by offering up the idea of touring simultaneously with the band, having solo gigs in the same city as the Fleetwood Mac concerts. When Nicks perceived Buckingham as slighting her during a MusiCares benefit show, Buckingham said, Nicks gave an ultimatum to the rest of the band: Either Lindsey left the band, or she would (via Rolling Stone).
Except, Stevie Nicks says, this isn't true.
Buckingham's firing: the Nicks version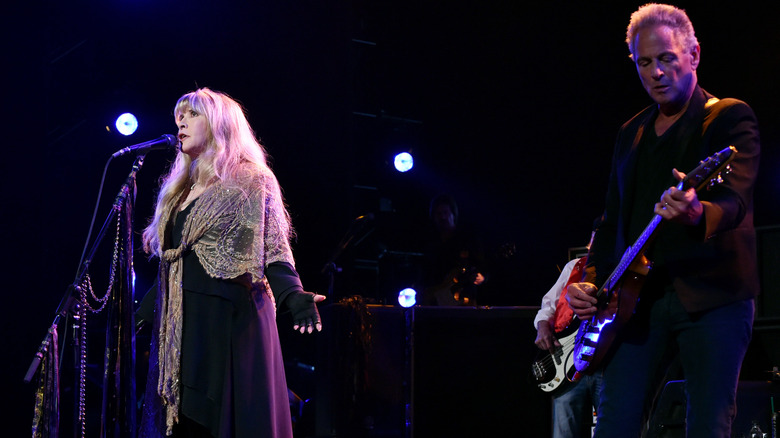 Lester Cohen/Getty Images
"It's unfortunate that Lindsey has chosen to tell a revisionist history of what transpired in 2018 with Fleetwood Mac," Stevie Nicks told Rolling Stone, for their 2021 profile of Lindsey Buckingham. Specifically, she says, she wasn't responsible for Buckingham's dismissal. "To be exceedingly clear, I did not have him fired, I did not ask for him to be fired, I did not demand he be fired. Frankly, I fired myself." According to Nicks, she was ready to leave the band due to Buckingham's behavior — it wasn't a "him or me" ultimatum. Still, the rest of the band may have seen it differently, considering that they then decided to instead continue without Buckingham.
This doesn't vary too much from Buckingham's own account, down to Nicks' recounting of the inciting event ("an exceedingly difficult time with Lindsey at MusiCares in New York, in 2018"). Where Nicks differs mostly seems to be a matter of emphasis. "I have championed independence my whole life, and I believe every human being should have the absolute freedom to set their boundaries of what they can and cannot work with," she wrote in her account. She also praised the two new members of Fleetwood Mac — Mike Campbell, a guitarist with Tom Petty and the Heartbreakers, and Crowded House frontman Neil Finn, both of whom have filled Buckingham's shoes since his departure.