Disturbing Details Found In Lil Peep's Autopsy Report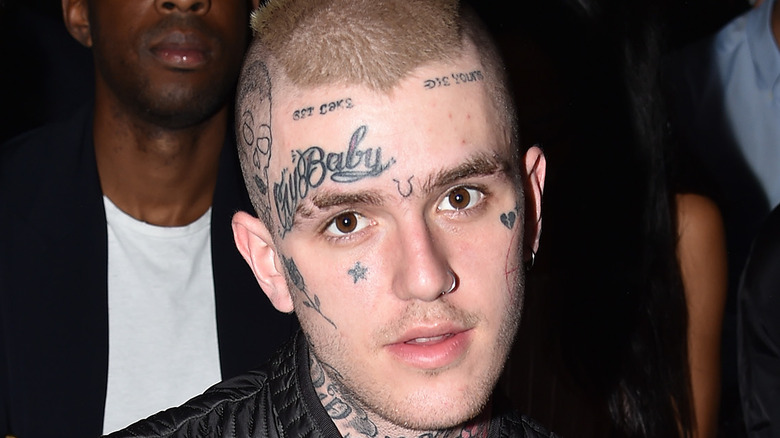 Jacopo Raule/Getty Images
The Pennsylvania-born rapper who went by the name Lil Peep, died at the age of 21 on November 15, 2017, per CNN. The rapper was on his tour bus in Arizona when he was found dead by his team.
Lil Peep was born Gustav Ahr on November 1, 1996, and raised in Long Island, New York. His parents separated when he was young, and he didn't have much of a relationship with his father, per Rolling Stone. In his teen years, he faced torment from kids at high school and developed anxiety. He sought out drugs to manage his feelings of anxiousness and became addicted to Xanax, a prescription anti-anxiety medication. 
On the day Lil Peep died, he was scheduled to perform a show in Tucson later that night (via Tucson). According to Rolling Stone, he'd been hanging out with a couple of teenaged fans prior to the show, and the three of them smoked marijuana and some pills were passed around. One witness said Peep told them he'd taken opiates earlier, saying "Sorry guys, I took 60 milligrams of roxi earlier." He had been nodding out a bit. Later, at the time of his death, authorities concluded that the purported cause of death was assumed to be an overdose from a controlled substance. 
According to police on the scene, they felt that there was enough evidence on the tour bus to presume that drugs cost the rapper his life. Tucson Police spokesperson Pete Dugan said, "After speaking with people on scene and going into the tour bus, (police) said that there was evidence of a possible drug overdose, most likely from Xanax," per CNN.
If you or anyone you know is struggling with addiction issues, help is available. Visit the Substance Abuse and Mental Health Services Administration website or contact SAMHSA's National Helpline at 1-800-662-HELP (4357).
Standout information in Lil Peep's autopsy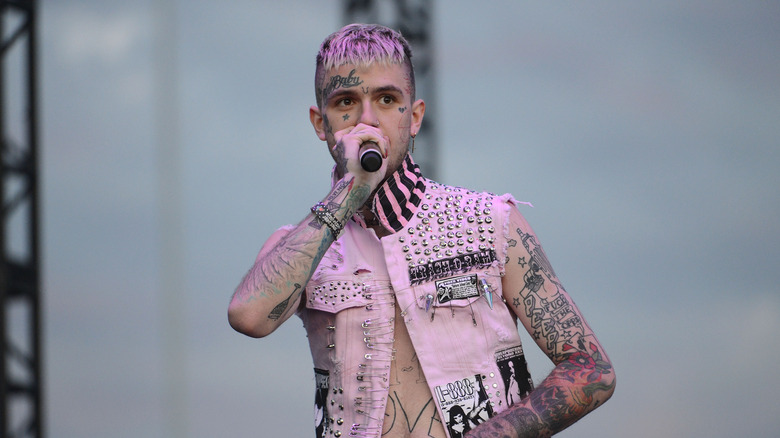 Scott Dudelson/Getty Images
A few weeks after his death, Lil Peep's autopsy report was released. In the report, there were some disturbing details that highlighted what led to his death. Per Autopsy Files, his cause of death was the combination of alprazolam (or Xanax) and fentanyl — an opioid drug used for pain management — interacting in his system. Together these two drugs are considered to be a very fatal mixture (via Addiction Resource). The autopsy report concluded the use of those drugs by Lil Peep was determined to be accidental.
The report also revealed that his body had signs of medical intervention via defibrillator. When the rapper was initially found unresponsive on his bus, attempts were made to revive him, per CNN, but he never regained consciousness. Lil Peep was fully dressed when he died, wearing a vest, "multi-colored" pants, and even still wearing his boots. His fingernails had chipped red paint on them and dirt underneath. He was wearing a variety of jewelry and had multiple facial piercings. 
Overall, the autopsy reported that outwardly Lil Peep looked healthy and normal — if thin. He was about 6 feet tall and weighed 158 pounds. Likely due to his young age and outwardly healthy appearance, Lil Peep's death was a shock for many in the music industry, even though the rapper was very candid about his drug use and even rapped about it often (via Study Breaks). 
Lil Peep's autopsy showed signs of organ damage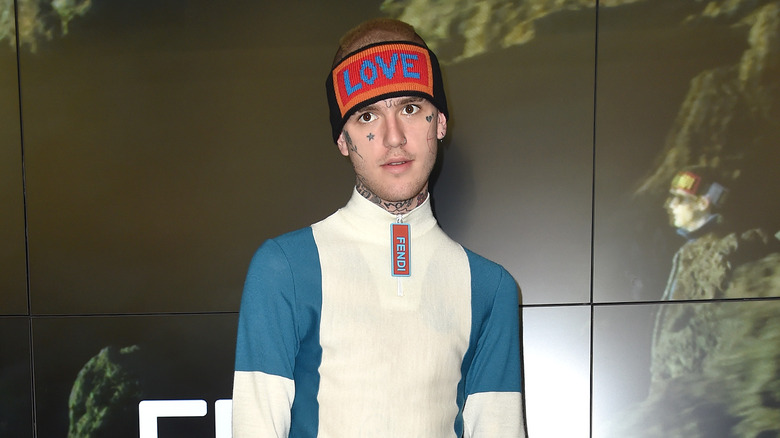 Jacopo Raule/Getty Images
Lil Peep's brain also showed signs of moderate swelling, evidenced by flattened folds and grooves on the surface of the brain, according to the report (via autopsy files). Yale Daily News refers to a small study conducted by researchers at Yale University that showed that overdose patients often experience brain swelling, which can be fatal. WebMD reports that many conditions, such as a brain injury or an infection, can cause brain swelling, or edema. Brain swelling can lead to severe problems in a short amount of time if it is not treated. It is also worth noting that taking too much alprazolam can cause brain damage (via Verywell Mind). Additionally, the National Institute on Drug Abuse states that overdosing on fentanyl can also lead to brain damage.
Tissue samples taken from Lil Peep's organs revealed other issues that may have been caused by drug use. Sections of the rapper's lungs showed what the report called "congestion with intra-alveolar red blood cells," identified by a "frothy red fluid." Britannica explains that lung swelling can be caused by certain infections, high blood pressure, or something else that made the lungs function improperly. One of the side effects of fentanyl is labored breathing (via Drugs.com). A section of Lil Peep's liver showed what was termed "microvesicular steatosis." Steatosis of the liver is commonly referred to as fatty liver disease, according to Cleveland Clinic. As the name indicates, the condition is caused by an accumulation of fat in the liver, which can be caused by overusing alcohol.