What Clint Eastwood's On-Set Behavior Is Really Like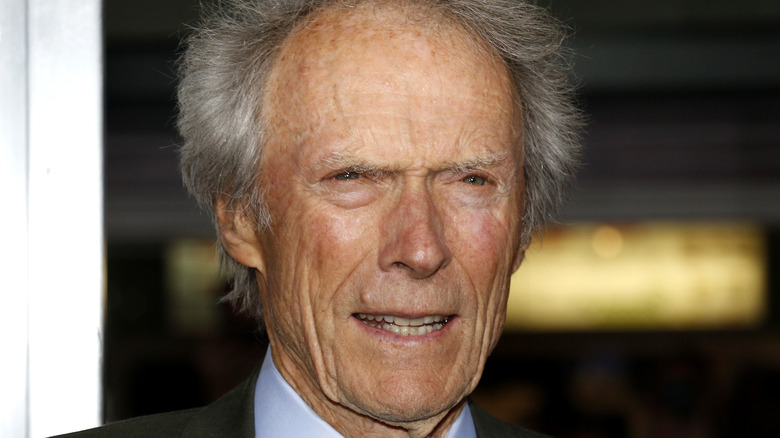 Tinseltown/Shutterstock
When it comes to making a movie, there's an inevitable abundance of good, bad, and ugly ways of going about doing it. Go figure, Clint Eastwood is well versed in all of them.
Eastwood established an on-screen reputation decades ago as a gun slinging, horse breaking, justice dealing cowboy in films like "Fistful of Dollars," "Hang 'Em High," and "The Outlaw Josey Wales." As a director, he's contributed titles to the cinematic universe such as "Mystic River," "Unforgiven," and "Million Dollar Baby," the latter two earning him Oscar awards for best picture and best director (via Oscars).
But what do those who have worked with him have to say about his directorial antics? Is he the level-headed cowboy from "Josey Wales" with a perchance for precision and stoicism or the vulgar, four-letter word spewing old man with a personality like barbed wire?
In either case, one could argue that the intentions are always good, but let's take a closer look at some first-hand experiences.
Direct with a quiet voice
Featureflash Photo Agency/Shutterstock
Renowned Hollywood icon Tom Hanks described his time on set with Eastwood during the filming of "Sully." "He treats his actors like horses because when he did the '60s series 'Rawhide,' the director would shout 'Action!' and all the horses bolted. So when he's in charge, he says in a really quiet, soft voice, 'All right, go ahead,' and instead of shouting 'Cut!' he says 'That's enough of that.' It's intimidating as hell!" Hanks recalled, via The Guardian.
It seems to be a no BS game with Clint holding the reins. The famed actor/director shared with inquirers that he likes to get the scene done in the first or second take for the sake of authenticity, so keeping his orders direct and unapologetically swift can be highly effective, even if they potentially come off as a little jagged and rude (per IndieWire).
However, it's not always such a cinematic shootout. Actress Hilary Swank recalls her time working with Clint Eastwood as a cherished memory that became a beautiful friendship. "He just made me feel right at ease and, but I mean, he's a legend. I love him but, you know, he quickly makes everyone feel really comfortable. He stands in the lunch line and never wants to cut," she said, per The Things.
No matter the case, actors know that they're in for one helluva ride when they hop into the saddle with Clint Eastwood.