Disturbing Details Discovered In Dee Dee Ramone's Autopsy Report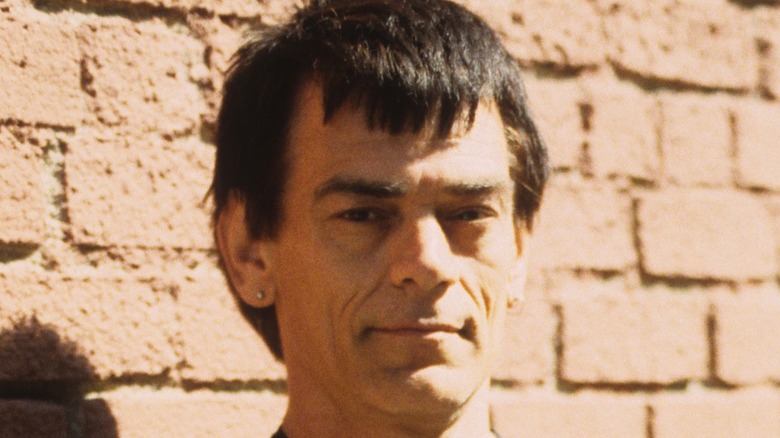 Jim Steinfeldt/Getty Images
Bassist and songwriter Dee Dee Ramone was one of the founding members of the pioneering punk band, the Ramones. He had received one of music's greatest honors only weeks before his untimely death in June 2002. Ramone and his bandmates were inducted into the Rock & Roll Hall of Fame earlier that year (via Associated Press). At the ceremony, Ramone talked about the band members having "unlimited luck potential" and "charmed existences" (via Rolling Stone). Unfortunately, that good fortune didn't last. He was found dead in his Hollywood home by his wife of a suspected drug overdose.
Born Douglas Colvin, Ramone started the group in 1974 with John Cummings, Tommy Erdelyi, and Jeffrey Hyman. The quartet all met each other while living in New York City's Queens borough. They all took on the surname "Ramone," and some made some adjustments to their first names as well, becoming known as Dee Dee, Johnny, Tommy, and Joey Ramone. Dee Dee helped write many of the group's early songs, contributing to such brief, high-energy tunes as "Judy Is a Punk" and "Blitzkrieg Bop" (via AllMusic). These songs appeared on the band's first self-titled album released in 1976. In later recordings, he wrote numerous songs on his own, such as "Too Tough to Die."
Dee Dee Ramone was found unresponsive at his Hollywood home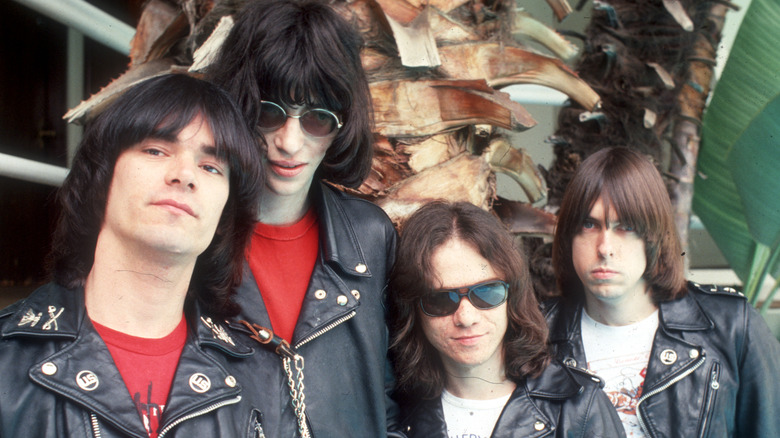 Michael Ochs Archives/Getty Images
Dee Dee Ramone left the band in 1989 and worked on other projects over the years, including writing his autobiography, "Lobotomy: Surviving the Ramones" (2000). He was very candid in his book about his past struggles with substance abuse, revealing that he had used both LSD and heroin (via The New York Times). Ramone married his wife Barbara Zampini in 1997, and she was the one to discover him in their Hollywood home unresponsive on June 5, 2002. Paramedics were unable to revive him. Ramone was found lying face down over the arm of their couch, and there was some evidence of drug use at the scene (via Autopsy Files).
There was a syringe found in the kitchen, and a spoon with likely drug traces on it. Five balloons possibly containing drugs were discovered near the body (via MTV). According to the autopsy report, a needle mark was found on his arm. This is probably how Ramone administered what proved to be a fatal dose of heroin. The report also shows that medical responders had tried to revive Ramone, inserting an IV line in his arm and placing an endotracheal tube in his throat. His death was determined to be an accidental overdose.
Ramone's death an accidental overdose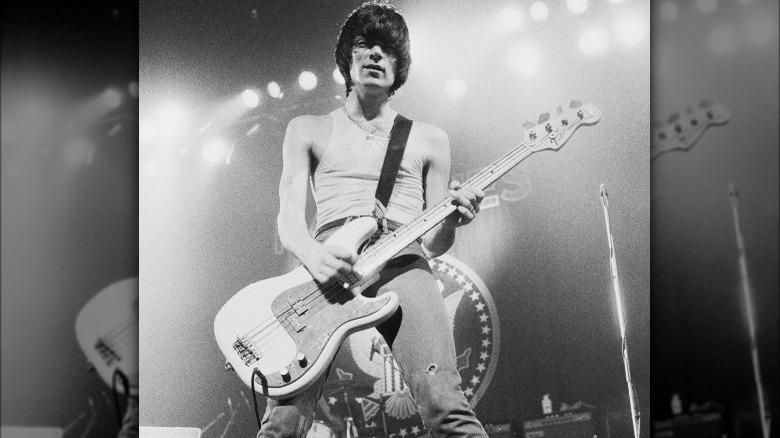 Michael Putland/Getty Images
One of the most striking things about Ramone's autopsy report is what's missing. Only one mention is made of a puncture mark used for injecting drugs. The absence of any additional puncture sites or scarring from recent drug activity seems to indicate that perhaps his final dose of heroin had come after a period of being clean. And the rest of the report seems to support this assumption as well. Ramone seemed to be in remarkably good health despite his past problems.
Outside of the puncture mark, there was a recent 1-inch cut on his forehead on the left side and an old surgical scar on his abdomen. Internally the aorta of his heart showed slight atherosclerosis — or build-up of plaque in the artery (via the Mayo Clinic). Since this was a minor case, Ramone probably wasn't experiencing any symptoms. He also had fluid in his lungs, which was called "severe edema" on the report.
Ramone was only 50 years old when he died, and friends and fans mourned the loss of a great musical icon. His former bandmate and friend Johnny Ramone said that Ramone was "the most influential punk-rock bassist. I believe he has influenced every kid playing bass that saw him perform" (via The New York Times). A special tribute concert, including C.J. Ramone and Marky Ramone (later members of the band), was held in a New York City nightclub the month after his death (via Rolling Stone).
If you or anyone you know is struggling with addiction issues, help is available. Visit the Substance Abuse and Mental Health Services Administration website or contact SAMHSA's National Helpline at 1-800-662-HELP (4357).