What Bono Really Thinks About Mick Jagger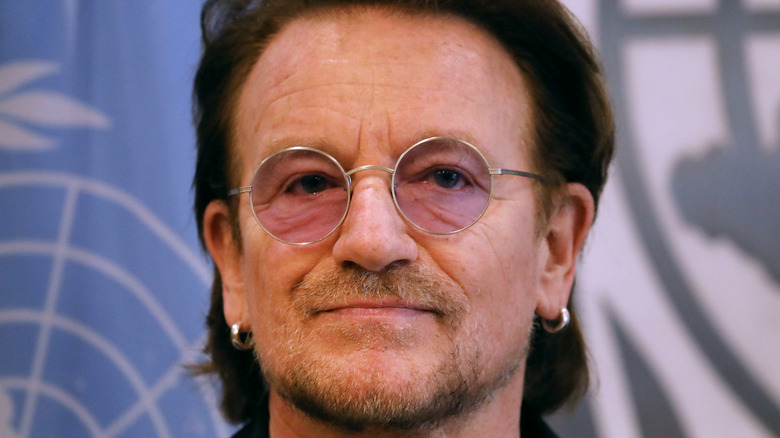 Spencer Platt/Getty Images
The enigmatic Bono has achieved worldwide fame and success as the frontman of U2. In 2017, per Entertainment Weekly, "Songs of Experience" reached number one in the U.S. Billboard charts, making them the only band ever to top the charts with an album in four successive decades. Such unprecedented achievements have naturally seen the band rubbing shoulders with fellow industry A-listers on a regular basis.
The ever-idealistic and opinionated Bono is always glad to weigh in on a variety of subjects, famously saying in 1983, "music can change the world because it can change people," per Goodreads. An ideologically-charged statement it may have been, but to Bono, music definitely changed one person in particular: The Rolling Stones' iconic Mick Jagger.
Jagger, according to Bono, developed over his many years in the industry into both a great talent and a ruthless businessman. In a 2013 interview, per the Mirror, Bono said that Jagger gets bad press because "[people] think he only thinks about money, but he is a businessman above all else ... I have to kneel in reverence to what he has achieved." For Bono, this business acumen was necessary because "The Stones lost a lot of money in the beginning," and with Jagger's net worth sitting at up to an estimated $500 million (per Rock Celebrities), there's no doubt that he's clearly doing something right in that department.
Bono certainly admires Mick Jagger and all he's achieved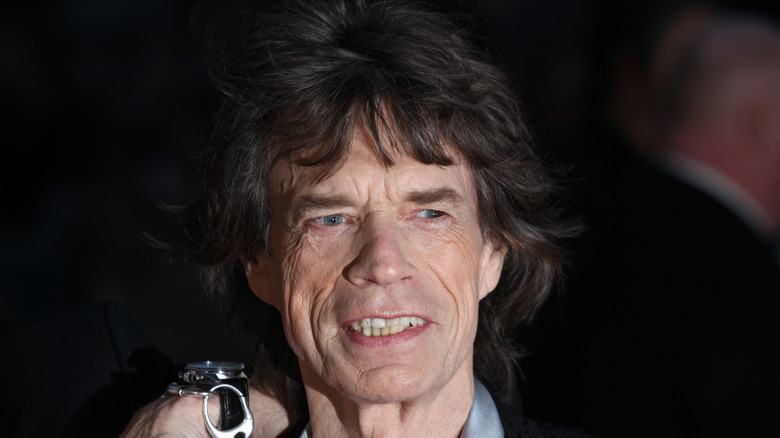 Featureflash Photo Agency/Shutterstock
The very fact that Mick Jagger and the Rolling Stones are still considering further tours, all being septuagenarians, indicates a recognition that there's still profit in the legendary Stones brand (even without the late great drummer Charlie Watts). Jagger told Mojo Magazine (per Yahoo! News) in November of 2021 that "if things are good next year and everyone's feeling good about touring ... we'll do shows."
Jagger's outlandish fashion sense, stage charisma, incomparable voice, song catalog, and colorful life make him the very definition of a rock star. So much so, Bono's admiration of him goes far beyond his financial achievements. The Irish rocker believes Jagger has aged like a fine wine, declaring (via the Mirror), "he wears those wrinkles well. I love his wrinkles." He went on to exclaim that Jagger has such a "very beautiful face" that he "looks a bit like Baryshnikov, like a ballet dancer from a different age."
The music business can certainly be a vicious one, and in the U2 star's view, no veteran has quite mastered it the way Jagger has. Bono, an icon in his own right without quite as many years under his belt, has a lot of admiration for him. "I would like to carry his guitar case for him," Bono said, per the Mirror.