Tragic Details Found In Tom Petty's Autopsy Report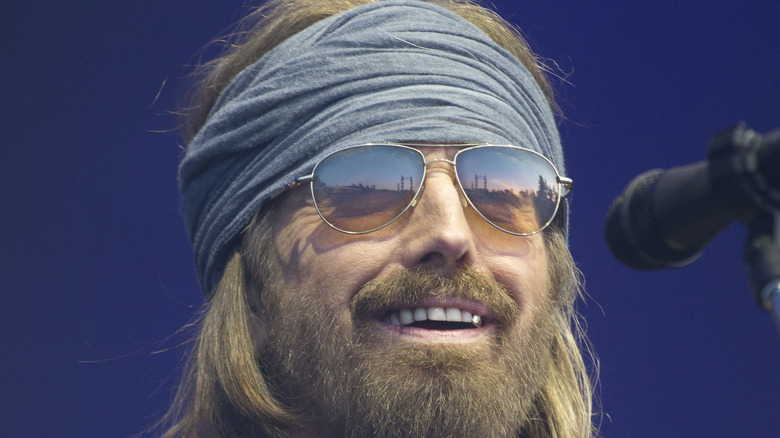 Sterling Munksgard/Shutterstock
Tom Petty was born in Florida in 1950, and he became interested in music at an early age. He idolized The Beatles and Elvis Presley, and he learned to play the guitar. In high school, Petty played bass guitar for a band, and he eventually dropped out of school at 17 years old to concentrate on pursuing a career in music, per Biography. Petty moved to Los Angeles in 1974 with his band Mudcrutch in hopes of making it big. However, the single that they launched didn't make an impact, and soon, Mudcrutch broke up. Despite that, the record label saw Petty's talent and gave him a contract.
Petty, together with former Mudcrutch bandmates and two others, formed Tom Petty and the Heartbreakers. They released their debut album in 1976, and from there, they went on to release several hits. In addition to working with the band, Petty also had solo projects and collaborated with other musicians as well (via Britannica). In total, Tom Petty and the Heartbreakers released 13 studio albums, and Petty released three albums as a solo artist. In September 2017, Tom Petty had just finished the 40th-anniversary tour with the Heartbreakers, and shortly after that, in October, TMZ reported that the musician was found unconscious in his home in Malibu. He was immediately rushed to the hospital but he remained unconscious.
Tom Petty's death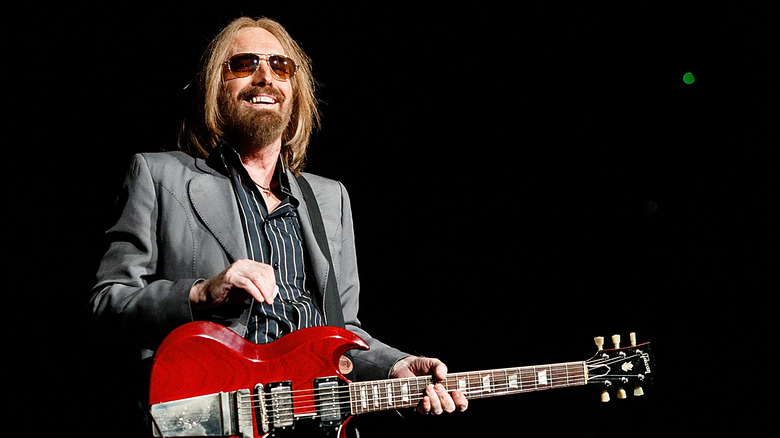 Andrew Chin/Getty Images
News sources said that Petty was in critical condition and was put on life support. He had a pulse, but according to the doctors who treated him, he no longer had brain activity. He was pulled off life support and died on October 2 at 66 years old, and his manager released a statement about his passing. "He suffered cardiac arrest at his home in Malibu in the early hours of this morning and was taken to UCLA Medical Center but could not be revived. He died peacefully at 8:40 p.m. PST surrounded by his family, bandmates, and friends," the statement read (via Biography). Petty was buried at the Self-Realization Fellowship Lake Shrine in Pacific Palisades. The ceremony took place with his family and a few of his closest friends in attendance.
Petty had been suffering from a few health issues even before the tour started. He had coronary artery disease and also took medication for hip and knee problems in addition to his emphysema medication, as reported by Rolling Stone. Despite his condition, he insisted on performing and completed 53 tour dates before his death. "On the day he died, he was informed his hip had graduated to a full-on break and it is our feeling that the pain was simply unbearable and was the cause for his overuse of medication," Petty's wife and daughter shared in a statement.
What did the autopsy report show?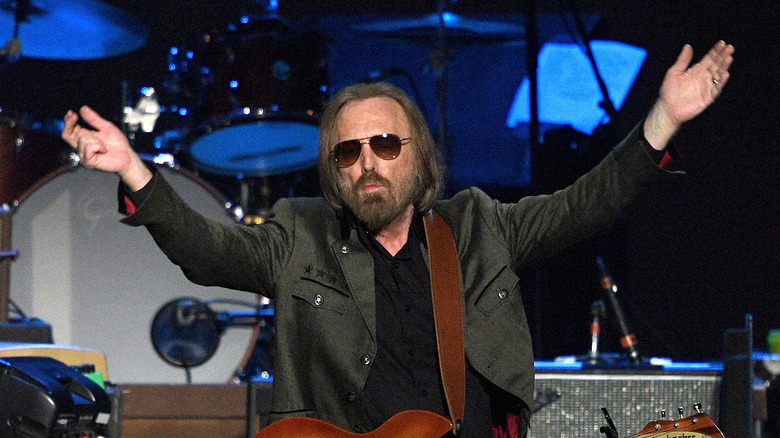 Kevork Djansezian/Getty Images
Tom Petty was open about his addiction to heroin. In a book titled "Petty: The Biography," the author shared how the musician started using the drug to cope after his divorce from his first wife. He attempted to quit, but it didn't work. "It's an ugly f***ing thing," he stated (via Rolling Stone). Months after his death, autopsy and toxicology reports were released, and it showed that Petty's official cause of death was "multisystem organ failure due to resuscitated cardiopulmonary arrest due to mixed drug toxicity." According to Turnbridge, there were several drugs in his system at the time of his death, including fentanyl, citalopram, alprazolam, oxycodone, and temazepam. Most of these drugs were legally prescribed for Petty's pain, anxiety, depression, and insomnia.
Petty's family addressed his cause of death and said, "Many people who overdose begin with a legitimate injury or simply do not understand the potency and deadly nature of these medications." According to his wife Dana, Petty's death could have been prevented if he had gotten a hip replacement and canceled his tour. However, Petty insisted on going forward with the tour, as he didn't want to disappoint his fans as well as the people he worked with, per the Los Angeles Times. Tom Petty and the Heartbreakers drummer Steve Ferrone shared how he witnessed Petty's struggles during the tour. He said Petty would take oxycontin before the show to get through it, and would sometimes need his help going to and from the stage. "He was very loyal. He felt he had a lot of people relying on him, the band and the crew, to make a living. But there's not a person on that crew or in the band that wouldn't have given up that tour for him" (via Rolling Stone).