The Truth About Betty White's Relationship With Mary Tyler Moore
Donaldson Collection/Getty Images
Actresses Betty White and Mary Tyler Moore were not only coworkers and costars on "The Mary Tyler Moore Show," they had a real-life friendship that predated the sitcom and lasted for decades after the show had ended. According to a 2018 article from Closer Weekly, it was Moore who suggested White read for the role of "Happy Homemaker" host Sue Ann Nivins, a character actually described in the script as "a man-eating b***h who laid out her victims with the sweetness of a Betty White." Showrunners worried that it would be too painful if White bombed the audition, as she and Moore were already friends who often double-dated with their husbands Grant Tinker and Allen Ludden. In fact, Moore and Tinker and White and Ludden had been married by the same judge, in 1962 and 1963, respectively. 
Moore reportedly assured her show's crew, "If she's awful, don't use her," but that wasn't necessary. White rocked the audition, and what was supposed to be a one-time appearance turned into White joining the cast and going on to win the Emmy for Outstanding Supporting Actress in a Comedy Series in both 1975 and 1976. White later credited Moore's performance as Mary Richards as making hers as Sue Ann Nivens so successful, noting, "It was thanks to Mary's choice as an actress that Sue Ann worked. Rather than disliking her, Mary Richards found Sue Ann laughable, so the audience could relax and laugh with her."
Mary Tyler Moore and Betty White had a special relationship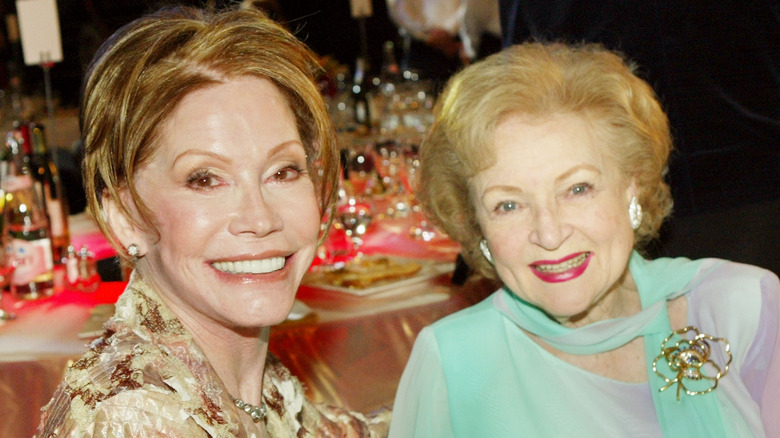 Kevin Winter/Getty Images
As reported by Closer Weekly, when Betty White won her second Emmy for portraying Sue Ann Nivens, she thanked the "evil, adorable, wonderful, nasty people at 'The Mary Tyler Moore Show' who make Sue Ann the rotten lady that she is." When the show ended in 1977, White said of the final day of filming, "We all knew we would see each other again. But something very precious would never be again." 
Moore and White would make sitcom magic happen again decades later in 2013, when Moore, along with "The Mary Tyler Moore Show" alumnae Valerie Harper, Cloris Leachman, and Georgia Engel, guest starred on White's sitcom "Hot In Cleveland," appearing as her character Elka's old bowling team. As reported by Entertainment Tonight, Moore later said of the reunion, "It's wonderful, but it makes me sad too. It makes me feel, well, why don't I have this in my current life? Where are all these friends, buddies, and co-workers, and people who loved each other? Why can't they be around? Or maybe they can." The appearance turned out to be the last one of Moore's career.
White has gone on to outlive all her "Mary Tyler Moore Show" costars. When Moore died in 2017, White took to Instagram to post a picture of one of those aforementioned double dates featuring the two friends and their husbands, writing, "Mary Tyler Moore, Grant Tinker, Allen Ludden and I had some of the best times of my life together. She was special."