The Tragic Murder Of Kathy Blair Explained
On December 6, 2014, Kathy Blair, a beloved music teacher, was found dead in her Austin, Texas home (via The Cinemaholic). According to Oxygen, the 53-year-old had been stabbed and strangled. Her son Joseph had discovered her in a pool of her own blood. Although one jewelry box was "ransacked," investigators ultimately believed she had been the actual target of the crime. To them, it was clear that the murder scene had been staged. But who would kill Blair? CBS News writes that the California native didn't have any enemies or a mean bone in her body.
There was no DNA evidence. Only a distinct shoe print had been left. MEAWW reports that just as investigators were piecing together Blair's murder, another occurred days later. Billie and Sydney Shelton were an older couple who, like Blair, had been stabbed and strangled. Their home had also been made to appear as though a robbery had taken place. Per Monsters & Critics, the cases were eerily similar. Then came an important lead.
One of Blair's friends mentioned that she had previously hired a handyman named Tim Parlin. Blair had found him "creepy." When investigators looked into Parlin, they found that he had been jailed for stealing jewelry and was a member of the Sheltons' church. Thus, he had a connection to all three murder victims. Unbeknownst to Parlin, detectives also had thermal camera footage that would later be crucial in solving Blair's case.
The camera footage that helped catch the killer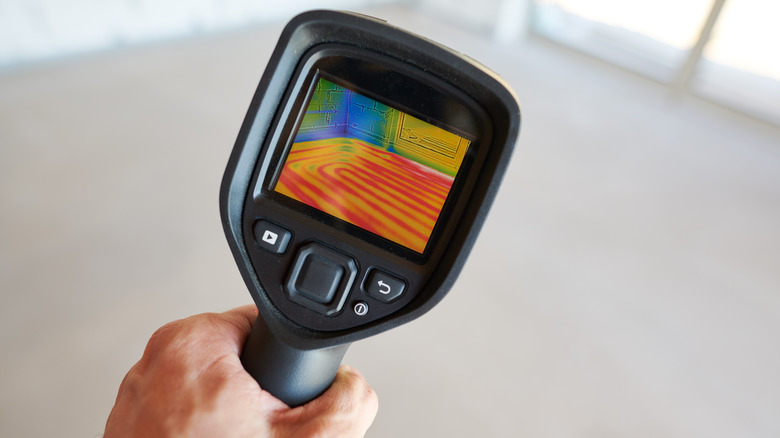 Dmitry Kalinovsky/Shutterstock
The Cinemaholic reports that on the night of Blair's murder, a neighbor had been testing out a thermal camera. The footage showed a sedan and a man with a "wobbly" walk heading toward her house (via Oxygen). Although the description did not match Parlin, he could not be ruled out. It was found that he had pawned a piece of jewelry that belonged to Blair on the night she was murdered. In addition, he had a sedan like the one in the video footage. Per CBS News, when the car was tested, Blair's blood was found. At this revelation, Parlin implicated Galveston man Shawn Gant-Benalcazar as the killer. 
MEAWW writes that police were apprehensive about Gant-Benalcazar. He had no criminal record and was college-educated. Nonetheless, they interviewed him and found that he had been in Austin on the day of the murders with Palin. Moreover, investigators noted that his walk and shoes matched the video and shoe prints from the scene.
Eventually, Gant-Benalcazar broke down and confessed to murdering Blair (via Monsters & Critics). He said he knew nothing about the Sheltons, but investigators thought otherwise. They later said Gant-Benalcazar "gained absolutely nothing" from killing Blair. Ultimately, he would be convicted of capital murder and sentenced to life without parole for Blair's murder. As for Palin, he would be found guilty of all three killings, as there was not enough physical evidence to charge Gant-Benalcazar with the Sheltons' murder.
The case is the subject of the first episode of Oxygen's "One Deadly Mistake," premiering Saturday, January 16, at 9 p.m. ET.