The Meaning Behind The 2022 Winter Olympic Medals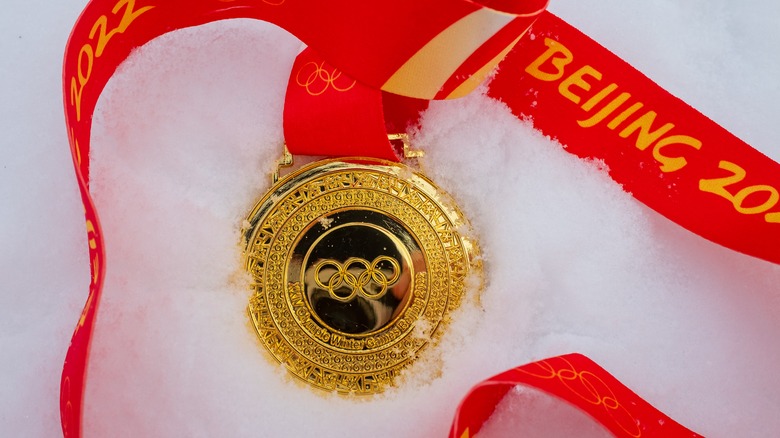 fifg/Shutterstock
The city that hosts the Olympic Games is also responsible for designing the gold, silver, and bronze medals that will be awarded to the athletes. In October 2021, China's city of Beijing celebrated the start of the 100-day countdown before the Winter Olympics commences with the unveiling of the medal design, as reported by Xinhua. Like all the previous medal designs, this one is highly symbolic and representative of Chinese philosophy.
The 2022 Olympic medals are called "Tong Xin," which translates to "together as one." The design features five rings, with the center displaying the logo for the Olympic Games. Tong Xin also coincides with the Games' motto, which is, "Together for a Shared Future." Along with the Olympic Rings, the medals are also engraved with the words "XXIV Olympic Winter Games Beijing 2022" and include intricate details of clouds, snowflakes, and ice to represent the winter season, as reported by Pop Sugar. The medals for the Paralympic Games are similar, except that the words "Beijing 2022 Paralympic Winter Games" are also written in Braille form.
The design is inspired by ancient Chinese pendants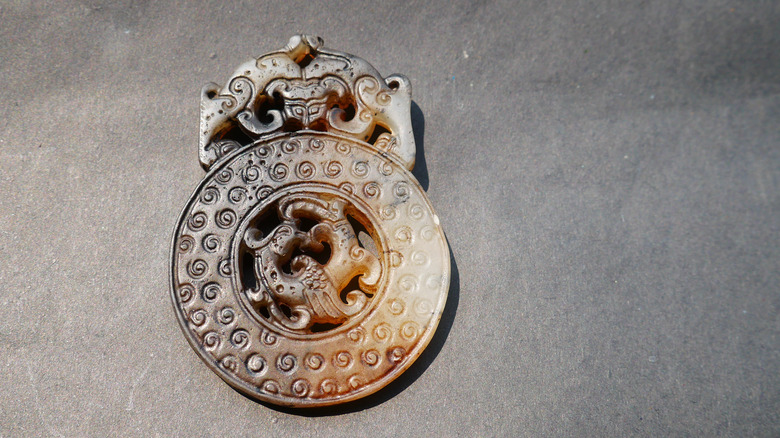 Drihardjanto/Shutterstock
Plenty of thought was put into designing the 2022 Winter Olympic medals. According to Olympics, the inspiration behind it are the ancient jade Chinese pendants that feature traditional patterns. In Chinese culture, jade is considered the most precious stone, and in ancient times, it was used to create items for rituals in various Chinese cultures. Furthermore, the material was used to make other items, such as jewelry, bowls, and vases.
The design of the medals was specifically taken from "bi" — a flat, circular Chinese artifact made of jade that sometimes had intricate carvings. Per Xinhua, the design is meant to honor the efforts of the athletes who will be participating in the Winter Games. Chief designer Hang Hai said of the medals, "When athletes hold the medals in their hands, they will first touch the details embodying ancient Chinese culture. Then if they look closely, they will see the cloud and snowflake patterns on the obverse side, and the celestial patterns on the reverse side."
The 2022 Beijing Winter Olympics will begin on February 4, followed by the Paralympic Games on March 4.