What Was Sidney Poitier's Net Worth When He Died?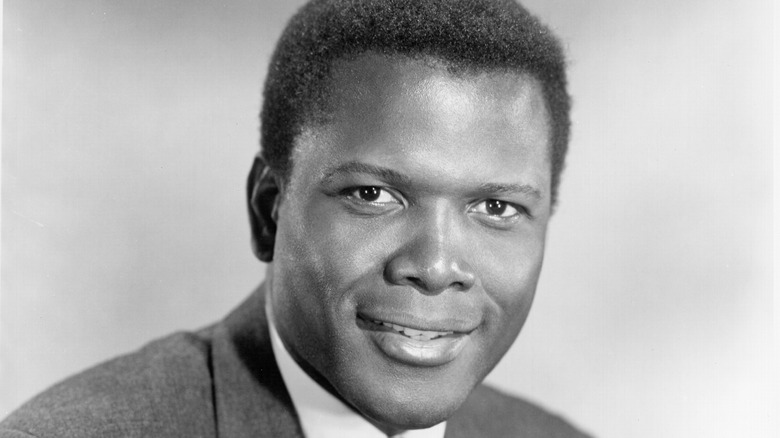 Michael Ochs Archives/Getty Images
In a true rags to riches story, Sidney Poitier, the son of impoverished Bahamian parents, would go on to become the first person of color to win an Academy Award for best actor (via Biography). According to the Academy of Achievement, he spent his challenging youth in the Bahamas and the American South before heading to New York City. On a whim, Poitier decided to audition for the American Negro Theater in Harlem. Though he was rejected, he refused to give up. The Guardian reports that Poitier eventually made it to Broadway and had a successful career in the "black theater circuit."
In 1950, he made his film debut in "No Way Out," playing a doctor who treats a racist patient (per CNN). This would mark the beginning of Poitier taking on roles that defied black stereotypes throughout the 1950s and 60s. He openly rejected roles that "weren't consistent with his values." His diligence would pay off as he would win an Oscar for 1963's "Lilies of the Field." More hit films followed, including "In the Heat of the Night" and "Guess Who's Coming to Dinner." NBC News writes that ultimately, Poitier "felt a responsibility to represent Black excellence."
Estimates of Sidney Poitier's net worth vary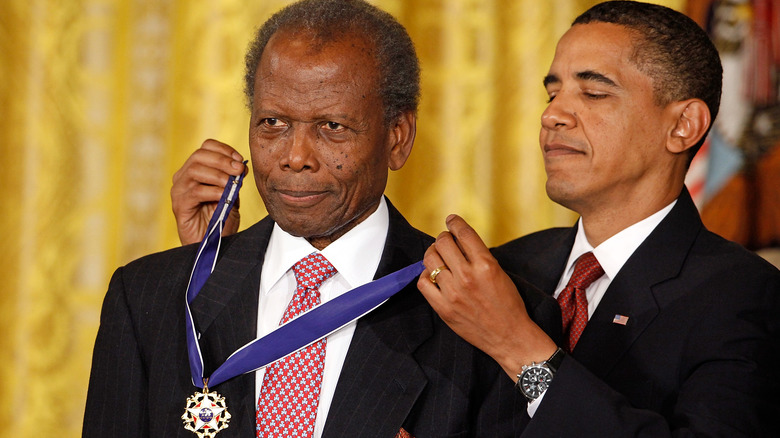 Chip Somodevilla/Getty Images
According to CNN, Poitier would turn to directing and TV roles before his retirement in 2000. That same year, he wrote memoir titled "The Measure of a Man: A Spiritual Autobiography." Poitier's narration of it would earn him a Grammy. Poitier also published a novel, "Montaro Caine," and "Life Beyond Measure: Letters to My Great-Granddaughter."
He was the Bahamian ambassador to Japan from 1997 to 2007. For his trailblazing actions as an Black actor and activist, Poitier would later receive the Presidential Medal of Freedom and an honorary Oscar for lifetime achievement (via the Academy of Achievement). NBC News reports that on January 7, 2022, Sidney Poitier died.
The announcement was made by Bahamian officials who noted that they had lost "a national treasure." The film legend was 94 years old; a cause of death was not given. At one point in his career, Poitier was making $1 million per film, and The New York Times writes that he was a massive "box-office draw."
The numbers vary on Poitier's net worth at the time of his death. However, it's believed he was worth anywhere between $20 (via Celebrity Net Worth) to $25 million (per TheRichest). Poitier was survived by his wife, Joanna Shimkus, and his six daughters, four of whom were from a previous marriage to Juanita Hardy.