Who Is The Song Hey There Delilah By The Plain White T's Really About?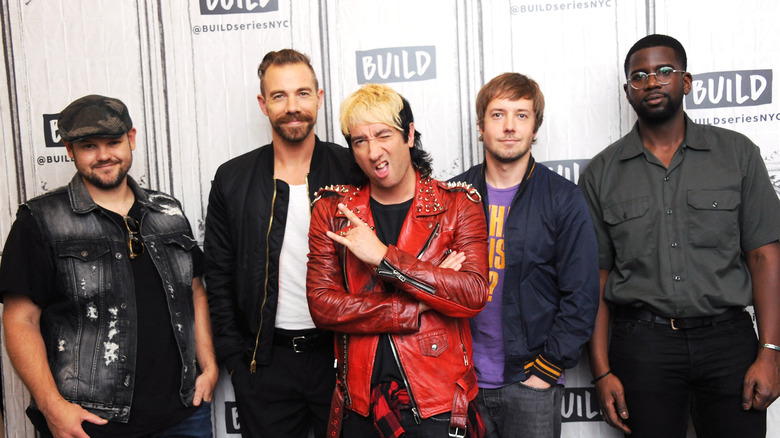 Desiree Navarro/Getty Images
Back in the late 1990s, as Album Liner Notes reports, a team of Chicago-area musicians was trying to make it in the local punk scene. However, in 1999, lead singer Tom Higgenson was in a near-fatal car accident that caused him to rethink the direction his musical career was taking, and to focus on writing more meaningful songs. That began a six-year period during which The Plain White T's began to get noticed in the music world before hitting it big. And indeed, the band did hit it big, with the release of 2006's "Hey There Delilah," a simple and mournful ballad about two lovers separated by miles — an experience everyone who has been in a long-distance relationship can relate to.
The timing couldn't have been better for the band. Streaming music, through apps such as Spotify, was just starting to become popular at the time, and "Hey There Delilah" benefitted mightily from the emerging business model, becoming one of the most downloaded songs of all time, as The Chicago Tribune reported.
Delilah was a college athlete the songwriter barely knew
Though "Hey There Delilah" is about lovers separated by miles, in reality the woman who inspired the song barely knew the man who wrote it. As The Today Show reports, the real "Delilah" is Delilah DiCrescenzo (pictured above), who at the time was a college athlete who had been introduced to Tom Higgenson by a mutual friend. Higgenson was apparently smitten, telling DiCrescenzo that he intended to write a song about her. Delilah, for her part, had a boyfriend at the time.
That their relationship was entirely fictional didn't stop "Hey There Delilah" from becoming a giant hit. Nor did it stop the real Delilah from having mixed feelings about her place in music history. "When I'm at the gym, ["Hey There Delilah" is] playing; when I'm at the pool, it's playing. Part of me wants to scream at the top of my lungs that it's about me. Another part of me wants to cower and say it's not," she said.
Though her feelings about her role in the song may be mixed, it seems she holds no ill will towards Higgenson. She even attended the Grammy Awards as his guest, as Celeb Peeps reported.