What You Need To Know About Olympic Freestyle Skier Chris Lillis
The 2022 Winter Olympics in Beijing are set to start in February, and that means one thing: speculation about which country's guy or gal on skis can out-spin and out-twirl another country's. Case in point: Chris Lillis of the United States. Lillis is a freestyle skier, which, a) doesn't mean he does interpretative dance on skis, and b) does mean that he does midair whirls and twirls (called aerials) off a ski jump, similar to an Olympic high diver on the way down into a swimming pool. He's definitely what we call "Olympic material," as a clip from FIS Freestyle Skiing on YouTube from the 2021 FIS Freestyle Moguls & Aerials World Ski Championship shows (Lillis got silver in that competition).
Lillis has an impressive track record for someone so young. He's 23, but as US Ski and Snowboard says, he's already been on the U.S. Aerials Team (a national freestyle team) for eight years. This definitely makes the rest of us look like underachievers. Lillis won the World Cup for freestyling in 2016 and 2020, the U.S. Championships in 2019 and 2021, silver and bronze at the team World Championships in 2021, and 15 career podiums (placements in the top three) at the North American (NorAm) Cup. 
All in all, Lillis takes with him to the upcoming 2022 Olympics not only a string of incredible victories, but the talent and drive necessary to take home a medal. Perhaps even the gold.  
The second brother of three expert skiers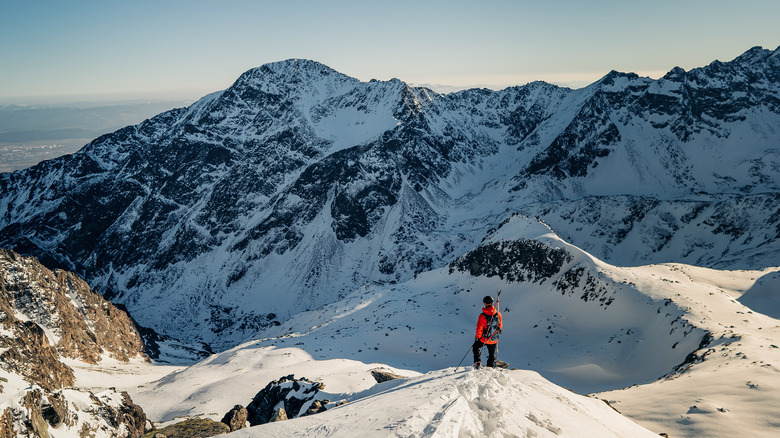 kasakphoto/Shutterstock
The 5-foot-3, 135-pound Lillis isn't just an accomplished skier in his own right, he comes from a family of world-class athletes. His older brother Jon participated in the 2018 Winter Olympics in PyeongChang when he himself was 23. As Team USA tells us, he placed eighth in aerials, the whirly-spinny freestyle ski jumping mentioned earlier. And now, Chris is set to follow in his older brother's footsteps.
Both brothers, however, are beset by the loss of their youngest brother, Mikey. Four months before Jon participated in the 2018 PyeongChang Olympic Games (per WGRZ), Mikey died in his sleep from cardiac arrhythmia. He was 17. Jon went on to wear his dead brother's ski suit in the 2018 Olympics because, amazingly so, Mikey was yet another Olympic hopeful in the same kind of event: freestyle skiing. It was the three brothers' dream to compete in the same Olympics together one day. 
"Mikey would've been a great jumper and a great aerialist," Chris Lillis said of Mikey on Democrat and Chronicle. "He was already better than I was, and I was better than Jon was at that age. He would've been better than all of us. Jumping has always been our passion, so the thought of stopping never really crossed our mind. Mikey wouldn't have wanted that because that's what we've done as brothers for years now." This is the legacy that Chris Lillis takes with him to the 2022 Winter Olympics in Beijing.