When Did Country Legend Tanya Tucker Win Her First Grammy?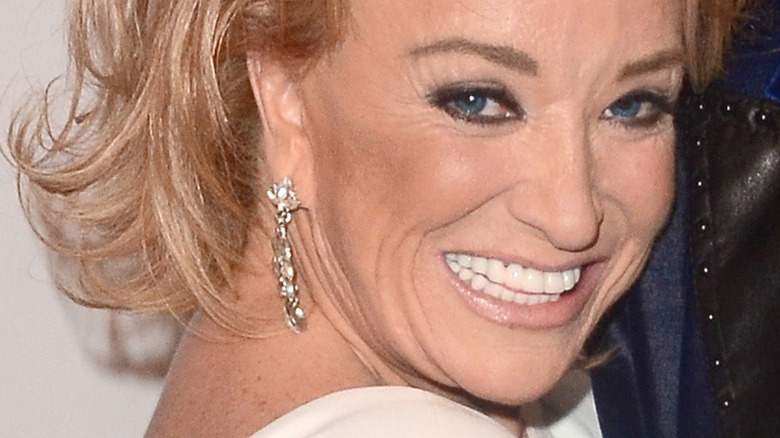 Kathy Hutchins/Shutterstock
Country music icon Tanya Tucker burst onto the scene at the age of just 13 when she released her first single, "Delta Dawn." As reported by Wide Open Country, producer Billy Sherrill picked it to be a single off Tucker's debut album for Columbia Records in 1972 after seeing Bette Midler perform it on "The Tonight Show." Despite its lyrics about a 41-year-old woman wandering her town and longing for a long-gone lover while wearing a "faded rose of days gone by," Tucker's rendition was a hit, reaching No. 6 on the Billboard Hot Country chart, and earned the teenager her first Grammy nomination for Best Country Vocal Performance, Female. She lost to Donna Fargo, nominated for her song "Happiest Girl in The Whole USA," a song Tucker herself had rejected, per AllMusic. 
Tucker would continue to rack up Grammy nominations for the next several decades, up to and including 1993 when she was nominated for both Best County Vocal Performance, Female for "Soon" as well as Best Country Vocal Collaboration for "Romeo," a single off Dolly Parton's album "Slow Dancing With The Moon" which also featured Pam Tillis, Mary Chapin Carpenter, Billy Ray Cyrus, and Kathy Mattea. 
Tucker has experienced many highs and lows throughout her career. She attempted to cross over to rock with her 1978 album "T.N.T.," which went Gold, and she recorded some singles with Glen Campbell in the early 1980s, with whom she was linked romantically. After their breakup, Tucker became addicted to alcohol and cocaine, entering rehab in 1988, per Musician Guide.
Tucker returned to the studio after a decade-long hiatus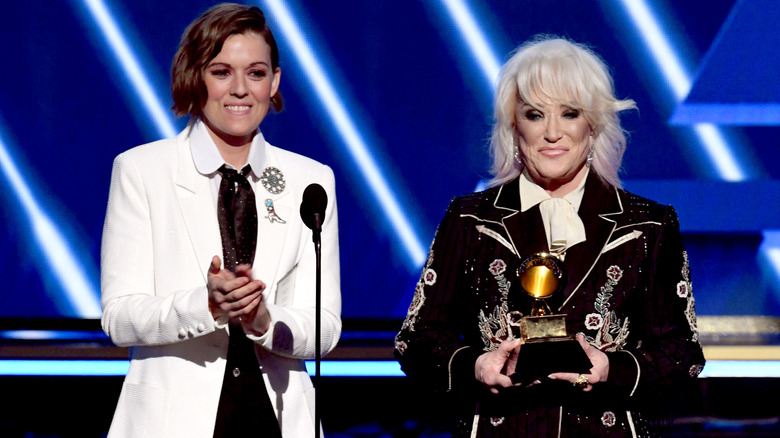 Kevin Winter/Getty Images
The same year that she completed rehab, Tanya Tucker put out another hit album, "Strong Enough To Bend," and followed it up with a string of albums and singles throughout the 1990s, as reported by Musician Guide. In 2002 she founded her own label, Tuckertime Records, and released the album "Tanya." After her 2009 album "My Turn," a collection of classic country covers, Tucker continued performing but took a decade-long hiatus from making records. 
In January 2019, per AllMusic, Tucker returned to the recording studio and began work on her album "While I'm Livin'" with producers singer-songwriters Brandi Carlile (shown above with Tucker) and Shooter Jennings. Tucker and Carlile wrote the song "Bring My Flowers Now" together and performed it at Loretta Lynn's All-Star Birthday Celebration in Nashville, Tennessee. "While I'm Livin'" became Tucker's first Billboard Country Top Ten album since 1991 and her first Grammy nomination since 1993. 
'After 50 years in this business, I have a few firsts left.'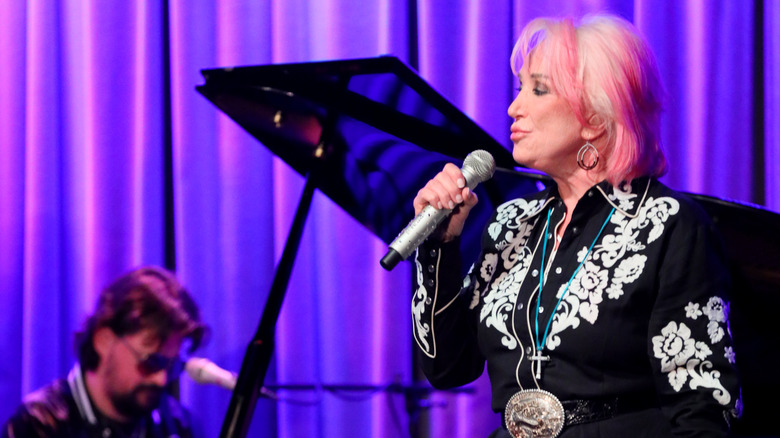 Rebecca Sapp/Getty Images
Forty-seven years after her first Grammy nomination, Tucker took home two Grammys from the 2019 awards. She won Best Country Song for "Bring Me Flowers Now," and Best Album for "While I'm Livin'." In her acceptance speech, Tucker quipped "After 50 years in this business, I have a few firsts left. I can't believe it," as reported by Variety. After 14 nominations, Tucker finally won two Grammys for her first album of new studio material in over 19 years. 
Brandi Carlile noted that she'd asked Tucker why she'd stopped recording and she answered that she'd been grieving the deaths of her parents and felt she "couldn't do it anymore." Tucker also had a phone call with co-producer Shooter Jennings (shown above playing piano), which she described at her Grammy acceptance speech as taking place on a tree stump at her home with poor reception during which she told Jennings she didn't think she could do the album. "I did it for Shooter," she told the audience. Thanks to Carlile's and Jennings' encouragement, she did do it again — and she got the flowers she'd asked for.