This Was The Name Of Debbie Harry's First Band
Armando Gallo/Getty Images
Debbie Harry is a famous singer who rose to fame in the late '70s as the frontwoman of the iconic band, Blondie. She became a recognizable figure of the era, specifically for her medium-length platinum blond hair and avant-garde fashion style. Born in Miami, Florida, on July 1, 1945, Harry's birth name is actually Angela Tremble, per Biography. She spent most of her formative and teen years in Hawthorne, New Jersey. When she got older, she started venturing to New York City, which was about an hour away from her home. She later moved there and spent most of her time in the city's Greenwich Village. There, Harry would meet the people who she'd kick off her career with, says The Downtown Pop Underground.
In the late '60s, Harry had several jobs. One of them was at Max's Kansas City — a popular bar that attracted the likes of famous artists from the New York art scene, per Dazed Magazine.
Debbie Harry's hippie band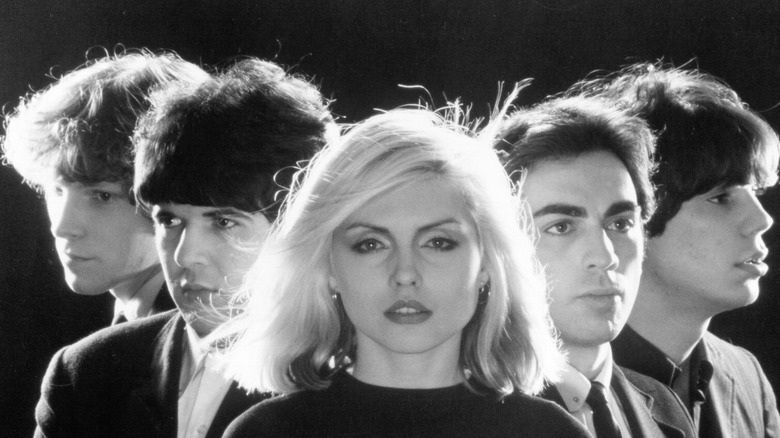 Michael Ochs Archives/Getty Images
Debbie Harry worked at the bar as a waitress but left the job in 1973 to be a singer for an all-girl musical trio called the Stilettos (via Scene Roller). It was at this same bar that Harry says she was repeatedly catcalled with the name "Blondie," which she would reclaim and later use as the name of her own band, per The Downtown Pop Underground. But it was during her time with the Stilettos that guitarist Chris Stein joined the band and the two met. They began dating, and in 1974, the couple left to co-found a band they called Blondie with three other members. This is the group that would skyrocket them to global fame and helped them become pioneers of the new wave genre.
Even though she left the Stilettos to form her own, she previously had other music experience. The very first band Harry worked for was called Wind in the Willows — a hippie band that had a brief stint. Harry sang backup for the group but left. It was after quitting the band that Harry wound up waitressing at Max's Kansas City, per The Downtown Pop Underground.