The Truth About The First Playboy Mansion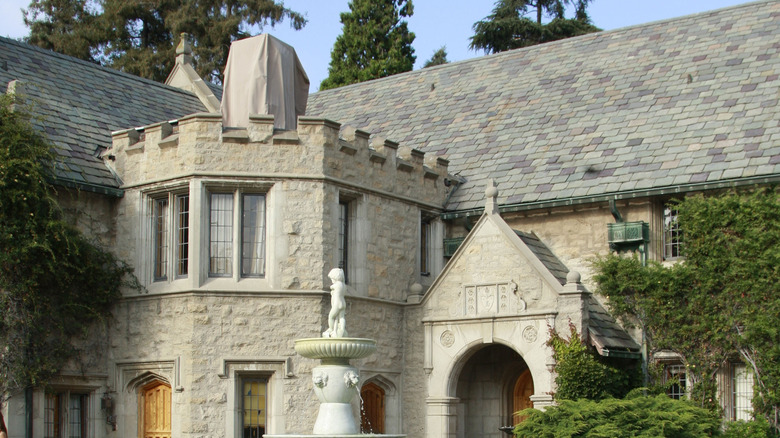 Joe Seer/Shutterstock
Located in Holmby Hills, California (via HGTV), the Playboy Mansion was once the definition of depravity and self-indulgence. According to CBS News, the "architectural marvel" is 22,000 square feet and includes a zoo, a grotto, a screening room, and much more. Built in 1927, the mansion was discovered by Hugh Hefner's then-girlfriend Barbi Benton. Hefner would purchase the 30-room estate in 1971 for $1.1 million. What followed would be years of lavish parties and hedonism-fueled events that would become nothing short of legendary (per LADbible). It might come as a surprise to know that this is not the first Playboy Mansion.
In fact, the first isn't even in Los Angeles, it's in Hefner's hometown of Chicago (via Velvet Ropes). According to eVisitorGuide, the original Playboy mansion can be found at 1340 North State Parkway. Built by James Gamble Rogers in 1899, Vamonde reports that he is the architect responsible for both Yale and Columbia University. In December 1959, Hefner purchased the Gold Coast mansion for $400,000. He stated that he wanted it as his home and as "a corporate facility that would become the very center of the Playboy world" (per Magnum Photos).
The fate of the first Playboy Mansion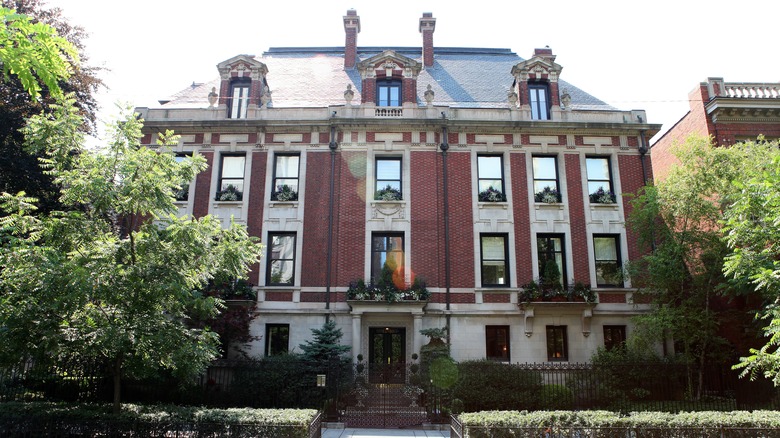 Raymond Boyd/Getty Images
According to Velvet Ropes, Hugh Hefner spared no expense when it came to his new home. He outfitted the opulent mansion with a basement pool, sun and steam room, a bowling alley, and more. In an effort to create a salon-style environment, Magnum Photos writes that he ushered in "celebrities, models, and cultural figures." Thus began the sumptuous party culture the Los Angeles Playboy Mansion would later be famous for. A plaque in Latin outside the home read, "If you don't swing, don't ring" (via Culture Trip).
Hefner used his bedroom as an office and later said that his circular bed had "more gadgets than a Boeing 747." He, however, was not the only one living in the 72-room mansion (per Vamonde). While he occupied the first floor, the top two floors were for the Playboy Bunnies. The girls would pay $50 a month to live there and adhered to strict rules. Ultimately, he would spend less time in Chicago when he purchased the Holmby Hills mansion in 1971.
Per eVisitorGuide, in 1984, Hefner leased the mansion to the School of the Art Institute of Chicago for $10 a year. Used as dorms, he would later donate the mansion to the school. In 1993, the Art Institute sold the mansion, and Chicago Magazine writes they were converted into luxurious condos. In 2018, three units were on the market, with the most expensive one priced at $3.7 million.