The Truth About Jimmy Carter's Relationship With Garth Brooks And Trisha Yearwood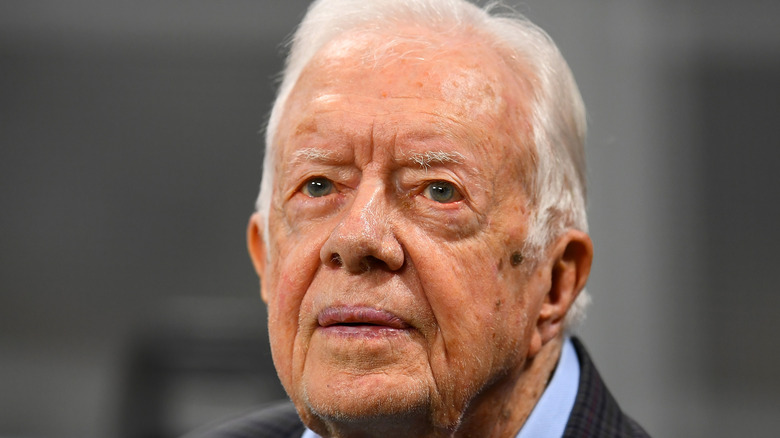 Scott Cunningham/Getty Images
As the 39th president of the United States, Jimmy Carter facilitated the Camp David peace accords, and grappled with Congress and the 1980 Iranian Hostage crisis during his 1977-1981 tenure, according to the Constitution Center. His dedication to public service extended past his loss of the highest U.S. office to Ronald Reagan. In 1982, he started the Carter Center, which seeks to extend human rights, resolve conflict, and end disease on a global scale. He has also worked with Habitat for Humanity since 1984, and won a Nobel Peace Prize in 2002 "for his decades of untiring effort to find peaceful solutions to international conflicts, to advance democracy and human rights, and to promote economic and social development," said the organization. 
As president, Carter logged about 224,668 miles traveling, reported the Jimmy Carter Library. His work building and renovating homes with Habitat for Humanity took him to about 14 countries — from Eagle Butte, South Dakota and Hungary to the Philippines, said CNN. Along the way, he's met lots of people. And some of the friendships Carter forged might surprise you. Another CNN article called him the "rock 'n' roll president" because of his propensity to spend time with some of the biggest musicians during his political career. Carter counts legends like Willie Nelson, Bob Dylan, Johnny Cash — and Garth Brooks and Trisha Yearwood as close confidantes. Both Brooks and Yearwood have volunteered with the Jimmy & Rosalynn Carter Work Project and Habitat for Humanity for years, according to Wide Open Country. 
Nothing says friendship like a convertible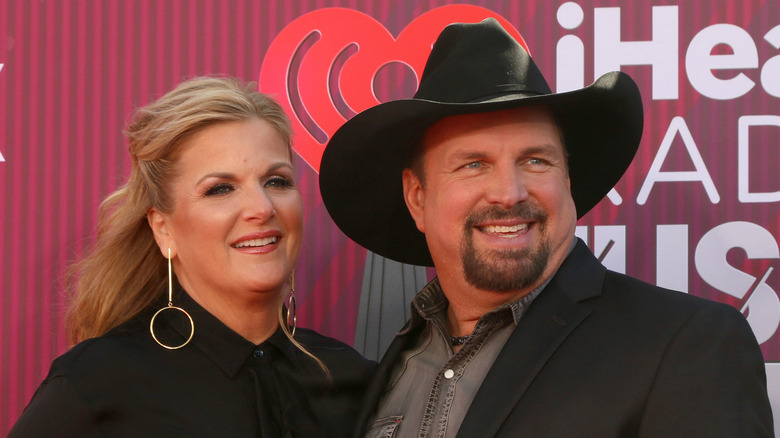 Kathy Hutchins/Shutterstock
Country performer Garth Brooks and his wife, Trisha Yearwood, singer, author, and "Food Network" host, became involved in Habitat for Humanity after being inspired by Jimmy and Rosalynn Carter's work with the organization. "If we're going to get anywhere as a human race, this is the path we want to follow. So anything keeping any kind of light on that path and those two people's dreams, then count us in," Brooks said to Wide Open Country. 
But just because they're friends doesn't mean that the former president takes it easy on them. Brooks told "The Ellen DeGeneres Show" how the former president teased him about taking a two-second break when working on a project in Haiti. "You're not going to outwork [Carter] him or Miss Rosalyn, either one," he told DeGeneres. "They just keep going."
On the Carters' 75th anniversary, Brooks and Yearwood gifted the couple a special surprise: a red 1946 convertible — chosen especially since the Carters married that year, reported People. Brooks and Yearwood had the vehicle secretly delivered and stored at the couple's Georgia home a few days before their big party, and presented it to them before the festivities began. Close friend Jill Stuckey told People that the Carters were "very excited" with their present. Brooks and Yearwood joined some 300 other guests for the 2021 celebration. "... there was so much special [about the day] because the people that were here from all aspects of their lives," said Stuckey.