Bob Barker Had One Stipulation About His Cameo In Happy Gilmore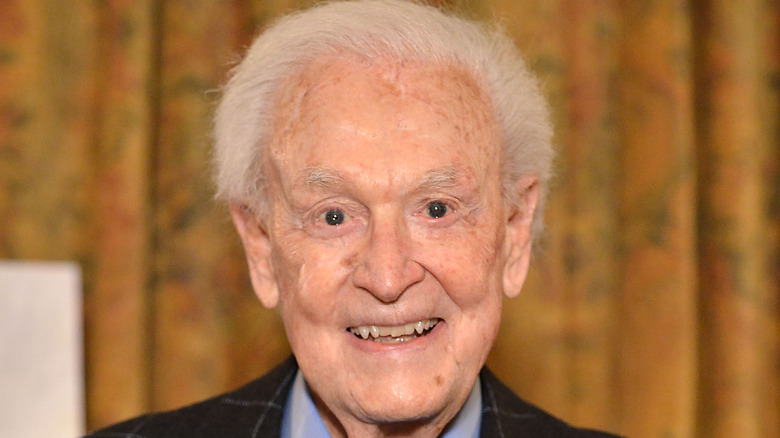 Araya Doheny/Getty Images
In 1972 Bob Barker began hosting the game show "The Price is Right," where contestants compete to guess the accurate prices of products in a variety of games for prizes. While he has had many accomplishments in his lifetime, such as serving during World War II in the Navy, hosting The Price Is Right for 35 years until 2007, and as of this writing in relatively decent health at age 98, it was with his appearance in 1996's "Happy Gilmore" that mainstream audiences truly saw a new side him.
In the film, Adam Sandler's rage-prone character Happy Gilmore competes in a golf tournament to win money for his grandmother. Part of the competition has players compete alongside a celebrity, and Gilmore is paired with Barker, who plays himself. After Gilmore is intentionally distracted by a paid-off spectator Barker begins to heavily criticize him for his poor performance, at which point Gilmore attacks him (via Sport Bible). At the end of the scene's violent exchange Gilmore is left unconscious while Barker is comparatively unscathed, something that was later revealed by Sandler to have been ensured by Barker.
Winning the fight was Barker's condition for accepting the role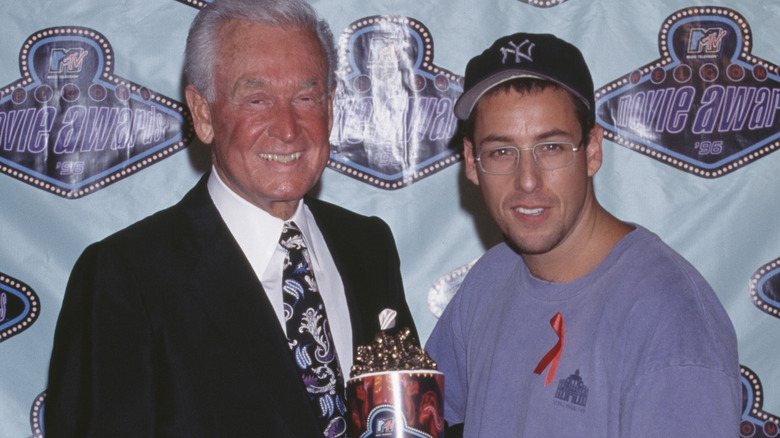 Michael Ochs Archives/Getty Images
According to Sandler during one of IMDb's recent podcast episodes, Barker winning the fight was an explicit stipulation for his doing the scene (via Fox News). To this end the host was apparently serious about his role in the film, and even invoked his decades-long karate training with Chuck Norris for its choreography, per Sandler's recollection. Not to mention it certainly helps comically that Gilmore finally finds his martial match in the then-73-year-old.
Although Barker was in fact not the first choice for the scene's celebrity cameo — "Tonight Show" announcer Ed McMahon was the original choice — Barker nevertheless managed to make the scene one of the most iconic of his and Sandler's careers. Additionally, in 2015 the two once again fought on-screen in a skit for Comedy Central's "Night of Too Many Stars," a special intended to help raise money for autism programs (via The Wrap).