The Truth About Buddy Holly's Famous Glasses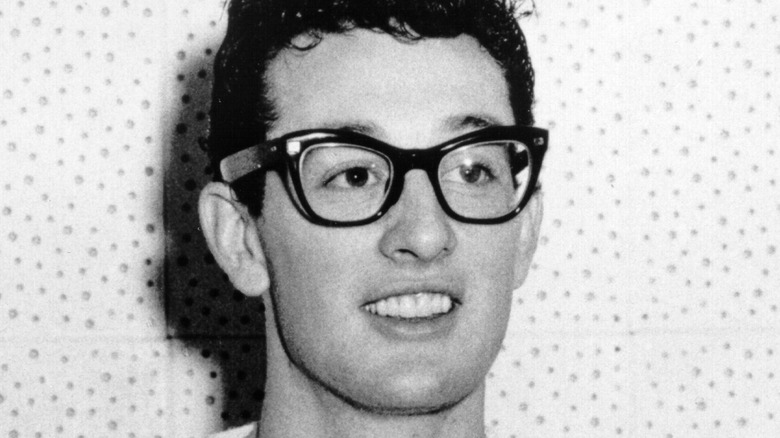 Michael Ochs Archives/Getty Images
Born as Charles Hardin Holley, Buddy Holly would go on to change the landscape of rock n' roll music (via The Buddy Holly Story). Although his career would last only two brief years (per Biography), it would be enough to influence future musicians like The Beatles, The Rolling Stones, and Bob Dylan. His impact, however, tends to be overshadowed by his tragic death at the age of 22. According to All That's Interesting, Holly, along with fellow musicians Ritchie Valens and J.P. "The Big Bopper" Richardson, would die in an icy plane crash in Iowa on February 3, 1959.
Known for his signature "hiccup technique" and "horn-rimmed glasses," Holly's distinct vocals and clean-cut look would forever remain a part of his legacy. When his autopsy was released, it was revealed that he had 2 cufflinks and the "top portion of a ballpoint pen" on him (via Cooper Toons). Holly's iconic glasses, the ones he was so famous for, were not listed. Per History, their fate would remain unknown until 1980, over two decades after his untimely death.
Buddy Holly thought his glasses would hurt his career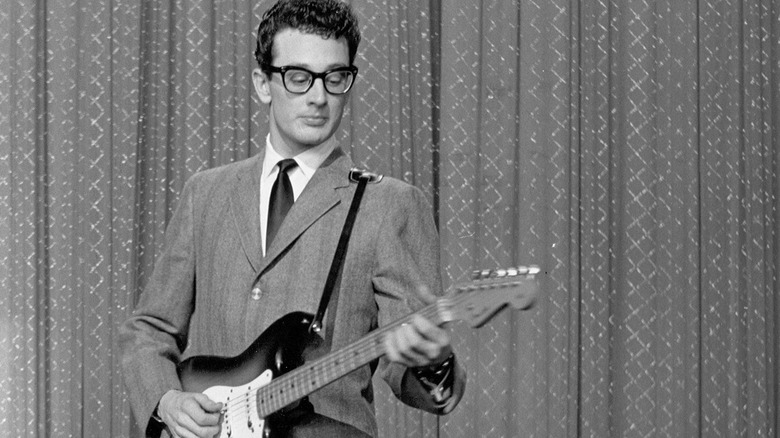 Michael Ochs Archives/Getty Images
Per Mental Floss, Buddy Holly had horrible eyesight (20/800) and could barely read "the top line of an eye chart." Nonetheless, he refused to wear glasses early on in his career as he believed they would taint his rock star image. Though he considered contacts, they did little to help his vision (via Veroniiiica). Holly would continue performing without glasses until he lost his guitar pick and had to crawl "around on stage" to find it. Thus, he turned to his longtime optometrist, J. Davis Armistead for help.
According to History Daily, Holly asked Dr. Armistead for a discreet pair of glasses. The doctor, however, wanted something that contributed to the "distinct personality" of a performer (per History). When Dr. Armistead went on vacation in Mexico City, he found exactly what he was looking for: Holly's now iconic black-framed glasses. The rest, as they say, is history. Years after Holly's death, Armistead noted that Holly ultimately made it possible to be both a nerd and a rockstar. As he put it, "geek chic became a completely accepted alternative style."
Buddy Holly's glasses were found 21 years after his death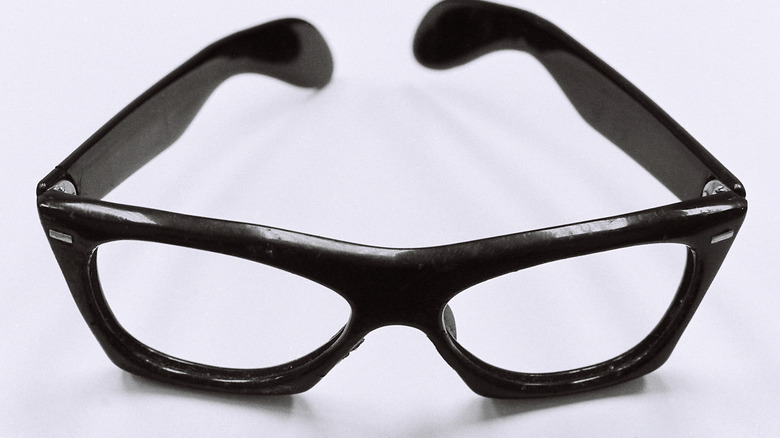 Bob Modersohn/Getty Images
On February 29, 1980, Sheriff Jerry Allen of Cerro Gordo County, Iowa was poking around a Mason City courthouse basement when he found something peculiar (via Mental Floss). In an envelope labeled "Charles Hardin Holley rec'd April 7, 1959" was a pair of thick black glasses. Allen put two and two together and realized he was holding Buddy Holly's famed spectacles. History reports that the glasses and other items had been found in the spring after the plane crash, when the Iowa snow had melted away.
They had been handed over to authorities, but had been misplaced until Allen rediscovered them in 1980, 21 years after Holly's death. Per History Daily, Allen wanted to return the glasses to Holly's parents. However, Holly's widow, Maria Elena Holly Diaz, claimed that they were hers. A legal battle ensued that resulted in Diaz being granted the glasses in 1981. According to Texas Monthly, Diaz would own the glasses until 1998 when she sold them to the Buddy Holly Center in Lubbock, Texas, where they are still on display today.