Loretta Lynn Won Prizes For This Hobby Before Becoming Famous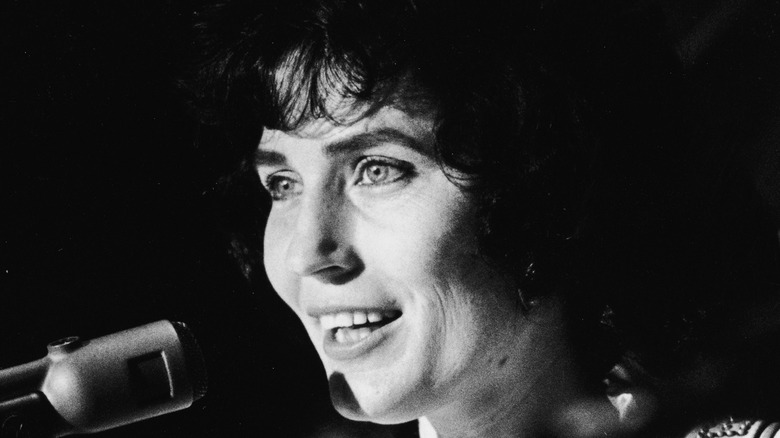 Hulton Archive/Getty Images
Country singer Loretta Lynn broke out into the music scene with her honky-tonk style in the early 1960s. Lynn's Southern storytelling in breakout songs like "I'm a Honky Tonk Girl" quickly gained her recognition in the music industry, and she became one of country music's most popular performers. Ultimately, she was inducted into the Country Music Hall of Fame in 1988 (via Billboard). 
In her hit song, "Coal Miner's Daughter" Lynn sings of her tragic real life story of growing up in poverty during the Great Depression while her father worked in the coal mines. Her songwriting helped paint the picture of life in coal-centric small-town Appalachia with her depiction of the grueling physical work and generational poverty common in places like her hometown of Butcher Holler, Kentucky (via Elle).
In her teen years, the Kentucky-born singer-songwriter met and married Oliver "Doolittle" Lynn, and had three of their six children by the time she was 17 years old, according to Musicoholics. During her first pregnancy, the couple moved to Washington state where Lynn's husband worked in the logging industry. As a consolation prize to soothe Lynn's homesickness, Doolittle bought Lynn her first guitar for $17.
A finger in every pie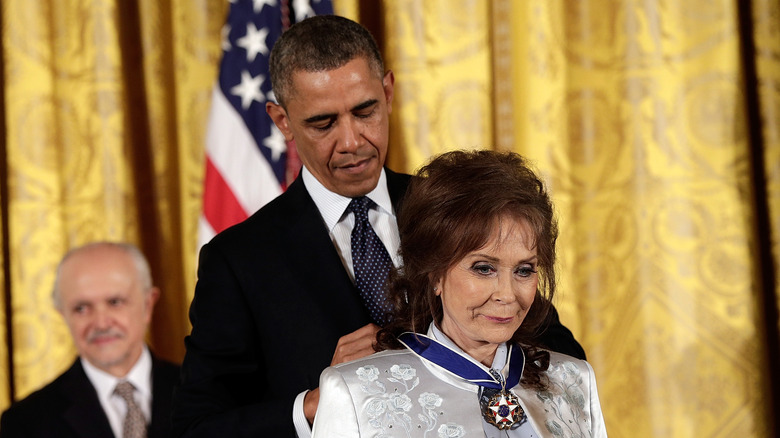 Win Mcnamee/Getty Images
While in Washington, Lynn picked strawberries on a farm for 5 cents a crate and started writing and playing some of her first hit songs with the guitar her husband had bought her (via Rolling Stone). While Lynn would go on to win awards for her music — including a Medal of Freedom awarded by Former President Barack Obama in 2013 —  she won prizes for another hobby during this time in her life, too.
Lynn was the "rule-breaking, record-setting queen of country music," Obama said during the presentation of her medal in 2013, but it wasn't just writing and performing country music that she excelled at (via ABC News Radio). Long before her songs hit the top Billboard charts, Lynn could can vegetables like nobody's business. At 19-years-old, "The Coal Miner's Daughter" brought home 17 blue ribbons for canning vegetables, winning the title of Canner of the Year from a local fair in Washington, according to Rolling Stone.
During Obama's presentation of the medals, he was amused to announce that this was just one of many talents for which Lynn had received honors. Obama recognized Lynn for shedding a light on "what no one wanted to talk about," through her depiction of the poverty endured by many Americans at the time (via Rolling Stone). But today, we can shed a light on Lynn's talents that no one talks about: her canning.