The Truth About The First Song Willie Nelson Ever Wrote
Brandon Bell/Getty Images
Before Willie Nelson became a legendary country music star, he performed many jobs during his childhood in the Great Depression to make a buck, including picking cotton alongside his grandmother in his hometown of Abbott, Texas (via Mental Floss). Since then, Nelson has used his stardom to advocate for the legalization of marijuana and the use of biofuels. He's co-authored a handful of books, and the so-called Red-Headed Stranger has notably appeared in more than 30 films (per Smooth Radio). But Nelson was always particularly drawn to music, singing in the gospel choir as a child, performing in honky-tonks and dance halls throughout high school, and even disc jockeying after he dropped out of college (via Rolling Stone).
Nelson was raised by his highly-musical grandparents, who studied music by mail at the Chicago Music Institute, according to The Boot. His grandmother was mostly in charge of Nelson's music lessons, and she would glue a gold star "the size of your finger" on the sheets of music Nelson and his sister, Bobbie Nelson, played if they performed well, according to Rolling Stone. At 5-years-old, Nelson wrote and recited his first poem, and his grandfather bought him his first guitar when he was 6. One year later, Nelson wrote his first song at age 7.
The song was 'too corny to share'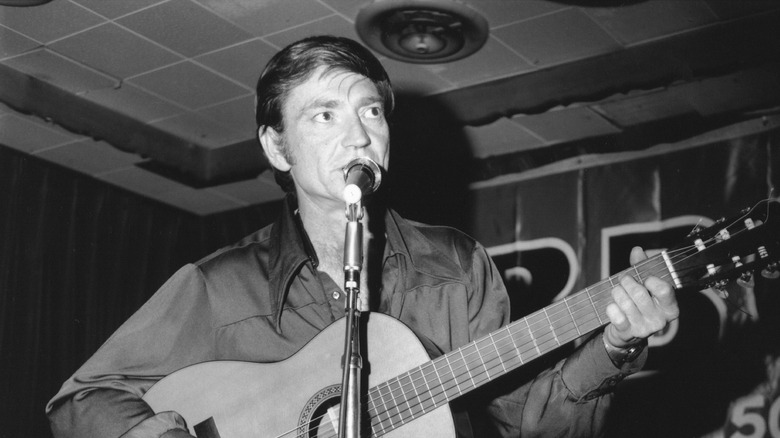 Michael Ochs Archives/Getty Images
The singer-songwriter was hesitant to reveal what was going through his mind when he wrote his first song in an interview with Rolling Stone, where he punted a question about it and said the songs from his childhood were "too corny to share." It seems hard to imagine a fit of shyness taking over the man who would later admit to smoking pot on the White House roof and once braved a house fire to get a pound of marijuana out of his home before firefighters could find it. Nelson said he was afraid he'd be arrested, according to what he told People Magazine (via Country Thang Daily).
Eventually, Nelson revealed to Rolling Stone that the first song he wrote was about the golden stars his grandmother would give him and his sister when they practiced music. Turns out, it was a preview into his potential to write classic heartbreak songs like "Blue Eyes Crying in the Rain," and "Crazy." 
Nelson's first song was about heartbreak, but the adorably innocent kind. Specifically, it was about the disappointment and heartbreak he felt when his grandmother didn't give him a gold star. You can imagine a young Willie Nelson singing the lyrics he wrote: "They took a gold star away from me when you left me for another, long ago." Nelson told Rolling Stone, "I'd never been left by anybody, so it was kind of funny."