Here's Who Inherited Princess Margaret's Money After She Died
Les Lee/Getty Images
The younger sister of Queen Elizabeth II, Princess Margaret lived much of her life in the spotlight. Her marriage to photographer Antony Armstrong-Jones, also known as Lord Snowdon, in 1960 attracted a lot of media attention, as did their divorce in 1978 (via the official site for the royal family). The pair had two children together, and it's her children who received much of Princess Margaret's wealth after her death.
Princess Margaret spent her final years in poor health. A series of medical misfortunes struck her, including a stroke in 1998 and a terrible bathroom accident that left her with serious burns on her feet the following year. Two more strokes followed before her death on February 9, 2002. At the time of her death, Princess Margaret's estate was first thought to be worth 20 million pounds, or roughly $27 million, according to the Evening Standard. But Princess Margaret had been clever, deciding to give away some of her assets while she was alive to spare her children some of the inheritance taxes. Her sharpest move was to give her son, Viscount Linley, her holiday home, Les Jolies Eaux, on the island of Mustique in 1988.
Princess Margaret's children received nearly all of her money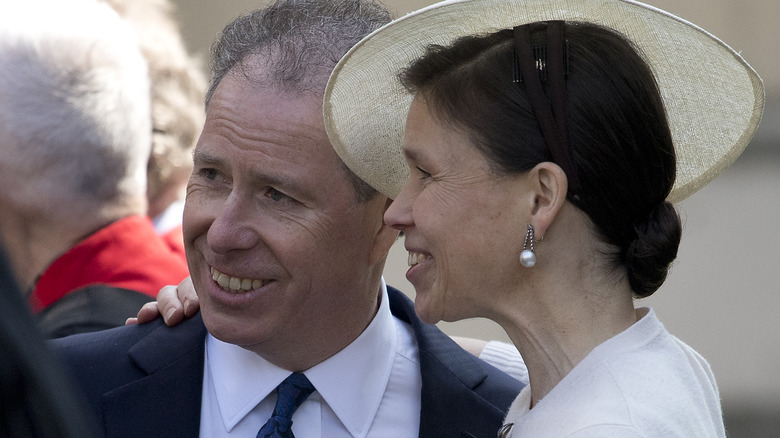 Wpa Pool/Getty Images
Still, Viscount Linley (also known as Lord Linley, David Linley, and now David Armstrong-Jones, Earl of Snowdon) and his sister Lady Sarah Chatto had a hefty tax bill to pay on what remained of their mother's estate. The pair inherited the bulk of Princess Margaret's assets, which totaled 7.7 million pounds, or $10.4 million. The inheritance tax on the estate was roughly 40%, so Lord Linley and Lady Chatto had to cough up nearly 3 million pounds, or more than $4 million (via the Evening Standard).
To raise the much-needed cash, Princess Margaret's children auctioned off 800 of her belongings through Christie's auction house in 2006 (via The Guardian). A portion of the sales also went to charity, including the Stroke Association's Princess Margaret Fund that was established by her son. One of the most notable items was the Poltimore Tiara, which was made for Lady Poltimore in 1870 and was worn by Princess Margaret on several occasions, including her wedding to Lord Snowdon. Not everyone in the family thought the auction was a great idea. According to The Guardian, Lord Snowdon was allegedly upset about some auction items and reportedly challenged his children's right to sell them. They found a way to settle the matter privately, and the auction went forward, bringing in nearly 14 million pounds, or close to $19 million, according to Tatler magazine.