Who Is The Peter Gabriel Song In Your Eyes Really About?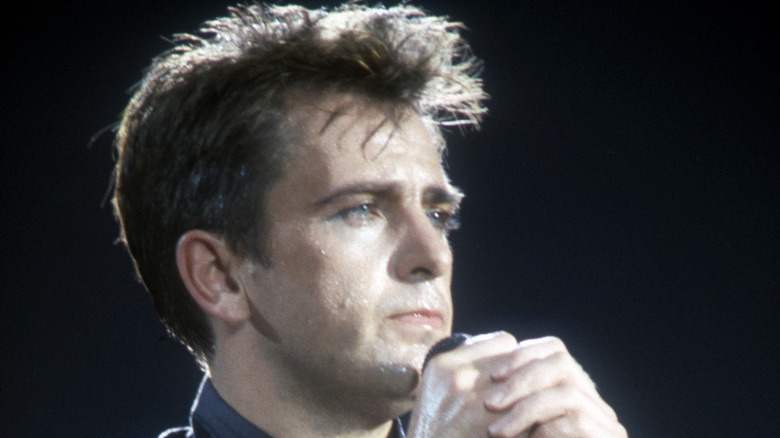 Peter Carrette Archive/Getty Images
"Say Anything" features one of the most iconic scenes in cinema. The image of John Cusack as Lloyd Dobler holding up the boom box is forever a part of pop culture. The song he was playing on the boom box? "In Your Eyes" by Peter Gabriel. 
"In Your Eyes" was released in 1986 as part of Gabriel's fifth studio album titled "So." The album reached the top spot on both the American and British charts. "In Your Eyes" scored Gabriel a number No. 1 hit on the Billboard Hot Mainstream Rock Tracks chart in the United States (via TV80s). 
However, there is more to this song than its chart success and the scene in "Say Anything." Even after director Cameron Crowe featured the song in the 1989 film, Gabriel never confirmed who the muse behind the song was, according to Zimbio. The rest of the album and the music video for "In Your Eyes" do not offer any clues either.
Peter Gabriel Dated Rosanna Arquette
Phillip Faraone/Getty Images
Despite the mystery, many have theorized about Peter Gabriel's relationship with actress Rosanna Arquette (via Daily Choices). She is well-known for her role in "Desperately Seeking Susan" and "Pulp Fiction." She and Gabriel were living together when his album "So" was released. At this time, Gabriel had not finalized his split from wife, Jill Moore. They officially divorced in 1987, according to RYM. This makes the relationship and the theory of her as the muse for "In Your Eyes" all the more scandalous. Gabriel and Arquette seemingly remained as a couple until 1992. These are details that neither Gabriel nor Arquette have confirmed either, thus adding to the debates.
What does provide an argument in favor of "In Your Eyes" being written about Arquette is the fact that Say Anything director Cameron Crowe revealed that Arquette was integral in the song's use for the film. Arquette brought the film to Gabriel's attention. When speaking to Crowe on the phone, Gabriel relayed that "In Your Eyes" was a very personal song to him (via Entertainment Weekly). Given that he was living with Arquette when the song was first released and when Say Anything graced the theaters, many have concluded that "In Your Eyes" was written about Rosanna Arquette.