How Leonardo DiCaprio Ended Up With Marlon Brando's Missing Oscar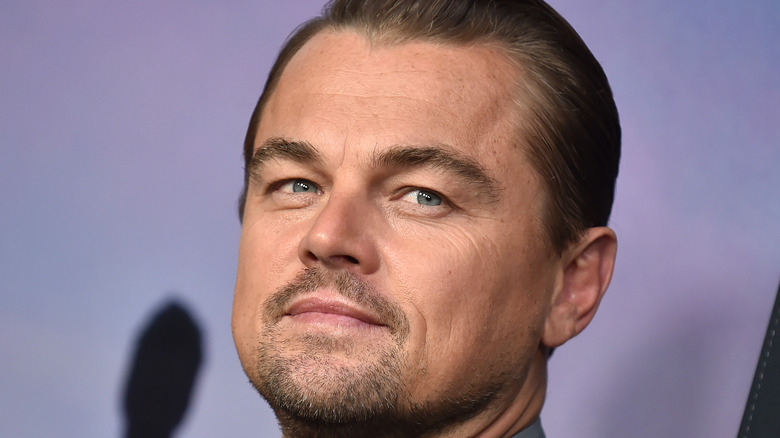 DFree/Shutterstock
Marlon Brando won his first Academy Award for his compelling performance in 1954's "On the Waterfront" as a dockworker who stands up to union corruption (via Britannica). At the 1955 award ceremony, the famed actor remarked that the Oscar statue was "much heavier than I imagined," according to the Academy Awards Acceptance Speech Database. "I don't think that ever in my life have so many people been so directly responsible for my being so very, very glad."
While Brando may have been thrilled to receive the award at that time, he later soured on the honor and even refused to accept the Oscar for Best Actor in 1973 for "The Godfather" (via The Guardian). Brando acknowledged in his 1994 autobiography, "Songs My Mother Taught Me," that he didn't "know what happened to the Oscar they gave me for 'On the Waterfront.'" As he explained, "Somewhere in the passage of time, it disappeared." Brando only later learned about the award's fate when someone wanted to put it up for auction. He refused to allow it to go up for bid, but the person who had the Oscar wouldn't return it to Brando. The person insisted that Brando had given him the award, but the actor said this wasn't true.
Leonardo DiCaprio got Brando's Oscar as a gift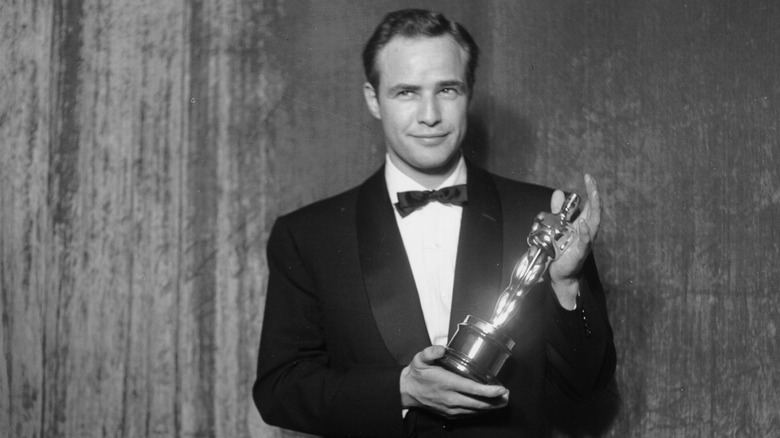 Michael Ochs Archives/Getty Images
Marlon Brando's Oscar later resurfaced when Jho Low, a Malaysian financier, bought the statue from a movie memorabilia dealer for $600,000 (via The New York Times). Low was known for buying elaborate, expensive gifts to give to celebrities, and Brando's Oscar was no exception. He ultimately gave the Oscar to actor Leonardo DiCaprio. Notably, Low helped establish Red Granite Pictures, which provided the funding needed for DiCaprio to make the 2013 film "Wolf of Wall Street" directed by Martin Scorsese.
Brando's Oscar wasn't even the most expensive present that DiCaprio received from Low. According to the book "Billion Dollar Whale," Low gifted DiCaprio with a painting by Pablo Picasso valued at $3.3 million and a collage by Jean-Michel Basquiat valued at $9.2 million (via The Hollywood Reporter). What DiCaprio didn't know about these lavish presents was that Low paid for them with stolen funds. Low had taken money from an investment fund belonging to the Malaysian government to support his spending habits and Red Granite Pictures, and he was eventually investigated for the misuse of funds. 
In 2017, DiCaprio surrendered Brando's Oscar to the U.S. Department of Justice, which was looking at possible money laundering activities of Red Granite Pictures (via People). In a statement from DiCaprio's representative, the actor returned artwork and Brando's Oscar, "which was given to Mr. DiCaprio as a set gift by Red Granite to thank him for his work on 'The Wolf Of Wall Street.'"