These Florida Beaches Are A Treasure Trove For Long-Lost Relics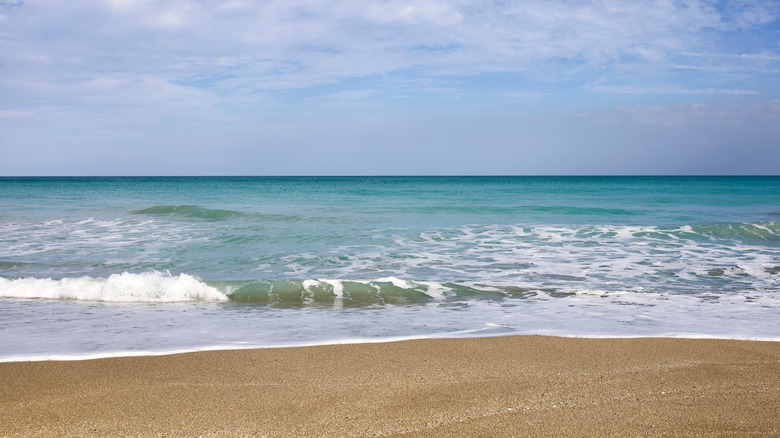 Sara Matulonis/Shutterstock
There is a stretch of beaches in Florida where you can really dig for buried treasure!  The reason is a disaster that occurred hundreds of years ago. In 1715, a fleet of 11 ships laden with riches set sail from Florida to Spain, according to The Palm Beach Post. They never made it. Instead, a hurricane struck them off of Cape Canaveral. "[W]e were at the mercy of the wind and water, always driven closer to shore. Having then lost all of our masts, all of the ships were wrecked on the shore," Miguel de Lima, owner of one of the ships, wrote of the incident. 
Another fleet was similarly wrecked in 1733. The silver, gold, and gems from the ships sank abandoned off of Florida's south-central Atlantic coast for more than three centuries until treasure hunters began to discover them, according to TCPalm. These discoveries earned the stretch of coast a new name: the Treasure Coast. It includes Florida's Indian River, St. Lucie, and Martin counties. And it's still possible to find treasure there today. In fact, storms continually bring baubles from the ships closer to the shore, USA Today explained. The total worth of the lost treasure is estimated to be in the millions. 
Treasure hunting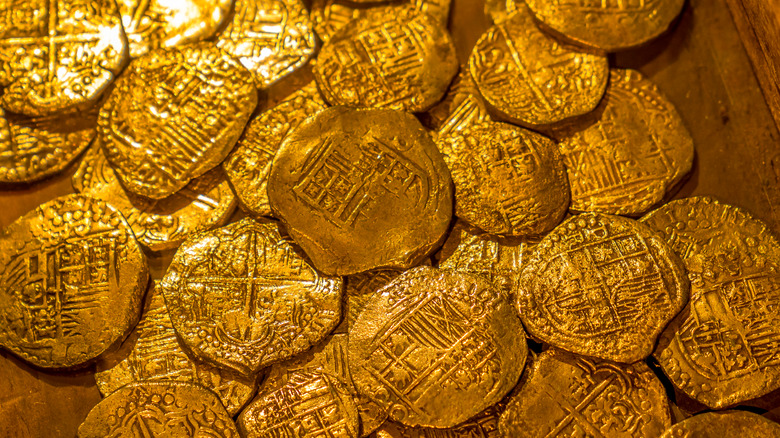 Gang Liu/Shutterstock
The best beaches to search for gold in Florida are all several miles to the north and south of Sebastian Inlet, according to USA Today. They include Vero Beach, Melbourne Beach, Bonsteel Park, Wabasso Beach, Aquarina Beach, and Pepper Park Beach. The best time to search the beach for treasure is after a storm, and the best places to look are at the high-tide mark or where ever there is a large cluster of shells. You can search with your naked eye but might have more luck with a metal detector. Other helpful tools are a garden scoop, sand shifter, and pail.
There are different rules for treasure hunting depending on what type of beach you are canvassing. In the U.S., finders are generally considered keepers for treasure items like gold coins, and Florida law allows anyone to use metal detectors at the edge of sand dunes or at the high tide mark on public beaches. However, the rules are different for national or state parks and military institutions, so you should check with park officials to confirm whether searching is allowed and who keeps recovered items.  
Looking for treasure underwater is a different story. 1715 Fleet Queens Jewels holds the lease to the shipwrecks, and the state of Florida receives 20 percent of the artifacts salvaged so they can be displayed in museums. You also need permission to search below the waves on state-owned lands, according to TCPalm. But if you follow the rules, searching can bear fruit. A 17-year-old treasure hunter found a 1715 Fleet gold coin offshore near Turtle Trail Beach in August 2021. In 2015, a Florida family found $1 million worth of treasure, including 50 gold coins and a rare silver coin called a Royal made for Spanish king Philip V, as Florida Today reported.