The Tragic Story Of Cheri Jo Bates' Murder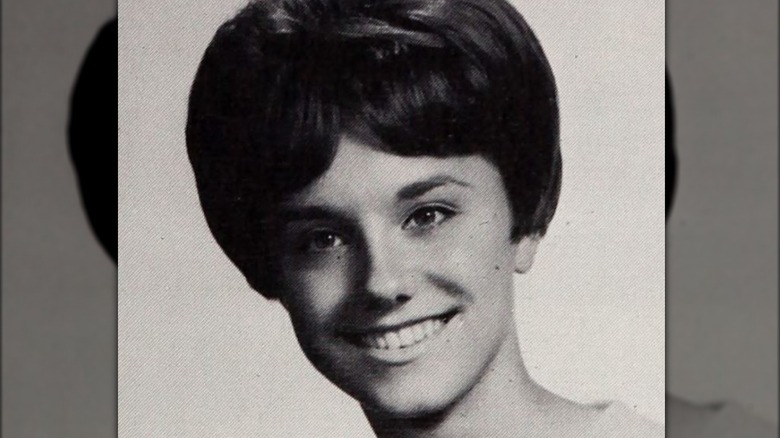 Ramona High School
In 1966,18-year-old Cheri Josephine Bates, known as Cheri Jo to her family and friends, was a freshman student at the Riverside Community College in California. She was also a part-time employee at the Riverside National Bank and lived with her father in a modest house. At about 5 p.m. on October 30, Bates decided to go to the Riverside City College library to study, and she left a note to her father that read, "Dad — Went to RCC Library," (per Medium). Her father, Joseph, became concerned when his daughter hadn't returned home late that night, as he knew the library closed at 9 p.m. He reported her missing at 5:30 a.m. on October 31.
On Halloween morning, a groundskeeper at the college, Cleophus Martin, discovered the lifeless body of Bates near the school's library annex. She had been attacked by a knife, and it was apparent that she fought hard to fight off her assailant. Bates was fully clothed, and nothing was stolen from her belongings. According to Morbidology, her Volkswagen car was parked about 100 yards away from where her body was found. The car key was still inserted into the ignition, and upon further investigation, it was discovered that someone had tampered with the car's ignition system.
The crime scene and the autopsy report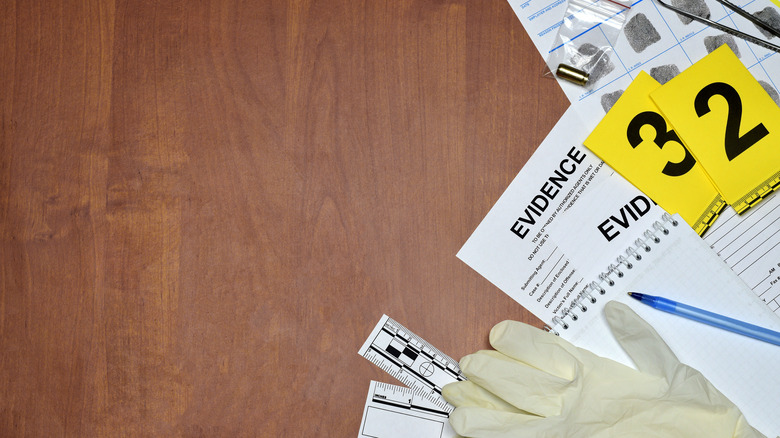 Mehaniq/Shutterstock
Investigators immediately secured the crime scene in order to preserve whatever pieces of evidence were left. There was a broken Timex watch found on the ground, which, upon closer examination, was found to have flecks of house paint. Per Medium, a men's boot print between the size 8 to 10 was discovered in the vicinity. Finger and palm prints were also found on the windows of Cheri Jo Bates' Volkswagen.
Bates' autopsy was done on the same day her body was discovered. She suffered 42 stab wounds on the upper part of her body, particularly the face, chest, and back. Her throat was also slit, which was identified as the fatal wound as it cut her jugular vein. According to the medical examiner, Bates' time of death was between 9 p.m. and 12 a.m. She desperately tried to fight off the perpetrator, and she was able to pull off some hair, which was still clutched in her fist. Skin, presumably the attacker's was also found underneath her fingernails. Despite the pieces of evidence left at the scene and on Bates' body, investigators weren't able to arrest anyone in relation to the murder.
Did the Zodiac Killer murder Cheri Jo?
New Africa/Shutterstock
Cheri Jo Bates' father started getting anonymous letters shortly after the murder. The first one was sent to the authorities just a month after Bates' death. It was a typed confession that started with, "She was young and beautiful. But now she is battered and dead. She is not the first victim and she will not be the last," (via Zodiac Ciphers). The sender further provided details about the crime. Bates' father received three short handwritten letters as well. Because of these confessions, there were theories that the Zodiac Killer — whose identity isn't confirmed to this day — was the one who murdered Bates. In 1970, the Zodiac Killer sent a letter to the Los Angeles Times in which he stated, "I do have to give them credit for stumbling across my riverside activity, but they are only finding the easy ones, there are a hell of a lot more down there."
As reported by Medium, authorities also had another suspect who wasn't named but was given the alias Bob Barnett. Investigators believed that Bates was in a relationship with Barnett but had broken up with him when she became engaged to another man. There were reports of the two having a public argument wherein Barnett allegedly slapped Bates. Despite their suspicions, there wasn't any evidence to support an arrest. In 1998, however, DNA was something new that authorities could use to determine whether Barnett was the perpetrator. A warrant for his DNA was issued, and he provided a sample without resistance. The results were not a match to the DNA profile found on Bates' body.
To this day, Bates' murder remains unsolved.