Did The Crickets Continue To Release Music After Buddy Holly Died?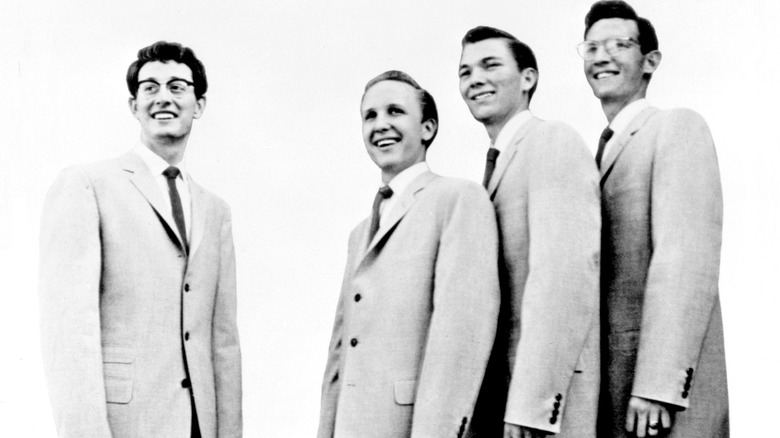 Michael Ochs Archives/Getty Images
Buddy Holly and the Crickets recorded some of the most iconic songs in early rock 'n' roll history and would go on to be a huge influence on many great musicians in the years that followed. Decades after they first made the charts in 1957, songs like "That'll Be the Day" and "Peggy Sue" are still played regularly on oldies radio and are must-haves in any streaming playlist that focuses on the music of the '50s. Unfortunately, it wasn't even two years removed from their initial breakout when Holly and the Crickets parted ways due to issues with management.
Although most people would usually think first of Holly when they think of the Crickets, the men who served as Holly's backing musicians — guitarist Niki Sullivan, bassist Joe B. Mauldin, and drummer Jerry Allison – were no pushovers. Mauldin co-wrote some of the Crickets' most memorable hits with Holly, while Allison (billed under his middle name, Ivan) recorded a rock 'n' roll classic of his own, covering Australian singer Johnny O'Keefe's "Real Wild Child" — a song that would later be covered by the likes of Iggy Pop and Joan Jett and the Blackhearts, among many others. But did the Crickets as a band continue recording music together even after their frontman and leader left the group, and later died in a plane crash on February 3, 1959?
They kept going with a Buddy Holly soundalike ... who also died in a plane crash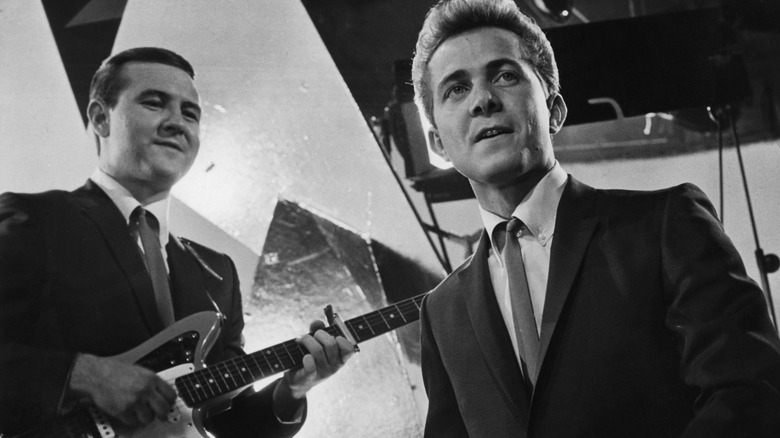 Michael Ochs Archives/Getty Images
After Buddy Holly left the Crickets, it was business as usual for the band, which added a couple of new members following their original singer's departure — singer-guitarist Sonny Curtis (pictured above at left) and lead vocalist Earl Sinks. They likewise kept performing after Holly's death, but by 1960, Curtis had joined the Army, and Sinks was replaced by another singer who happened to sound eerily similar to the late frontman.
As related by Please Kill Me, David Box, who, like Holly, was also a native of Lubbock, Texas, was still in high school when he was invited to join the Crickets and help them fulfill their contractual obligations with Coral Records by recording one more single. Box's composition, "Don't Cha Know," was featured on the A-side, while the B-side was Holly's own "Peggy Sue Got Married," which the Crickets recorded on their new singer's 17th birthday. 
The next few weeks saw Box touring with the Crickets, but just as he was about to sign a contract to become a full-time member of the band, his father kiboshed the deal. "Daddy had a very, very negative feeling about the whole situation," Box's younger sister, Rita, recalled. "He understood that something wasn't right." Turns out Harold Box's instincts were spot-on. Apparently, there was one line in the contract that stipulated Crickets Music, Inc., was paying $1 — yes, that's right, one dollar — for ownership of "Don't Cha Know."
Tragically, Box had one more thing in common with Holly. On October 23, 1964, Box and three other people — the pilot and two other musicians — were killed in a plane crash shortly after the small aircraft took off from Hull Field in Sugar Land, Texas. He was only 21 years old.
The Crickets disbanded in 2016 after almost 60 years together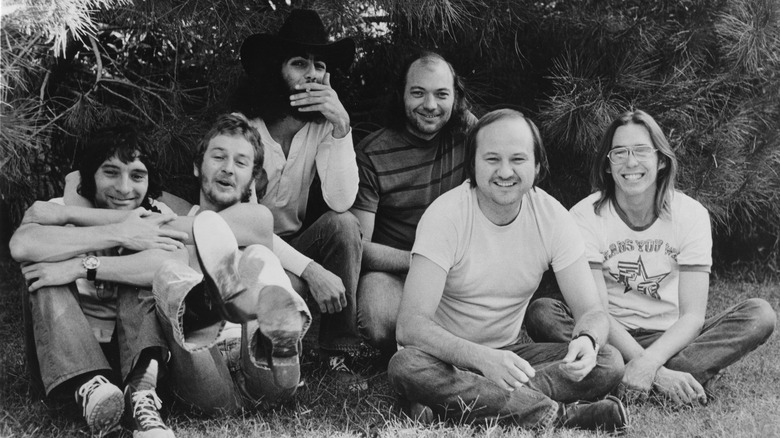 Michael Ochs Archives/Getty Images
The Crickets were still busy making music in the early '60s, albeit with a different core lineup that featured Sonny Curtis, Jerry Allison, lead singer Jerry Naylor, and keyboardist Glen D. Hardin. And while they were largely an afterthought in the U.S. at this point in their career, the Crickets were much more popular overseas, scoring hits in the United Kingdom and Australia, among other countries, according to TSHA Online. They also had a successful collaborative album with Bobby Vee, and once again, this was a huge international hit, topping the album charts in Canada, Australia, and many parts of Europe. And without going into great detail, the Crickets' AllMusic discography page lists several albums from the 1970s to the 2010s — the above photo, in fact, is a promotional shot for their 1973 album "Remnants."
The Crickets played their final gig on February 6, 2016, at the 38th annual Winter Dance Party in Clear Lake, Iowa. The performance was meant as a tribute of sorts to Joe B. Mauldin, who died in 2015, and most of the band's surviving members were present at the event, as were guest performers such as Gunnar Nelson, son of rock legend Ricky Nelson and, along with his twin brother Matthew, co-leader of early-'90s hair metal act Nelson.