The Truth About Lana Turner And Sean Connery's Relationship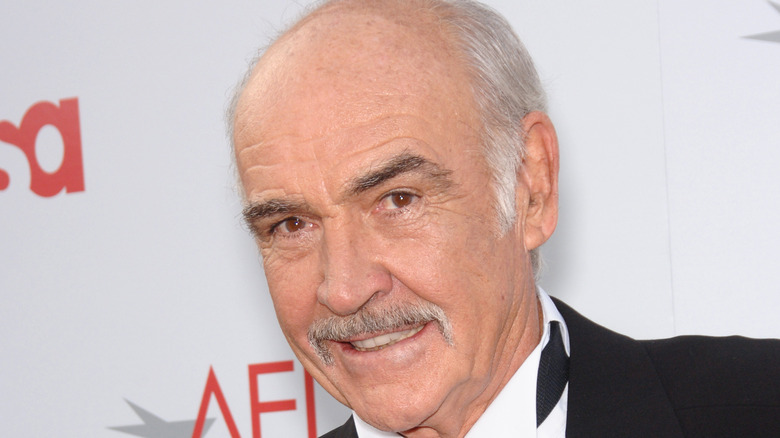 Featureflash Photo Agency/Shutterstock
Scottish actor Sean Connery started his acting career in the 1950s when he was discovered after participating in a Mr. Universe contest. In the years following, he was cast in a number of TV shows and movies, and it was in 1957 when he was chosen by actress Lana Turner, who was 10 years his senior, as her leading lady in the British movie titled "Another Time, Another Place" (per the Daily Mail). Turner was a pin-up model and actress, and at that time, she was in a relationship with a known mob enforcer named Johnny Stompanato, who was affiliated with mob boss Mickey Cohen.
Turner and Stompanato had a volatile relationship that many witnessed. During the filming of "Another Time, Another Place" in England, tabloids reported about a rumored romantic relationship brewing between Turner and Connery. Stompanato heard the rumors and fueled by jealousy, threatened to kill Turner. He took a flight to London to confront Connery as well. According to Den of Geek, the actress warned her boyfriend to stay away from the film set to avoid trouble, but Stompanato didn't listen.
Lana Turner's boyfriend confronted Sean Connery with a gun
Johnny Stompanato headed to the studio where the movie was being filmed and as he arrived, he saw Lana Turner and Sean Connery in an embrace in front of the camera. This angered Stompanato, and according to Den of Geek, he pointed a gun at Connery. The actor was quick to react, and he grabbed Stompanato's wrist to get ahold of the gun and punched him. Scotland Yard was called to the scene, and Stompanato was deported back to the United States for breaking gun laws. It's worth noting that a romantic relationship between Connery and Turner was never confirmed to be true.
Just months after that incident, Stompanato was dead. As reported by Birth, Movies, Death, Turner's 14-year-old daughter from a previous relationship, Cheryl Crane, stabbed her mother's boyfriend. The couple was fighting that night, and it quickly turned violent. Crane, fearing for her mother's life as well as her own, grabbed a knife from the kitchen and stabbed Stompanato. In her testimony, Turner stated that she decided to end her relationship with Stompanato that night, which enraged him. A coroner's jury of 12 members ended with a unanimous decision of justifiable homicide. Crane spent a few weeks at a juvenile hall and was released after the verdict (per the Los Angeles Times).
Mickey Cohen threatened Sean Connery's life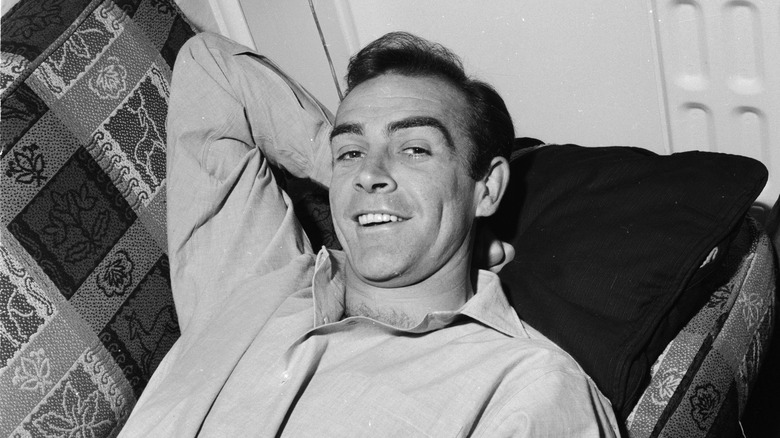 Chris Ware/Getty Images
The death of Johnny Stompanato angered the mob, and they assumed that the incident might have been related to the rumored relationship between Lana Turner and Sean Connery. Mickey Cohen believed that Stompanato's death wasn't the result of self-defense, and he wanted revenge for the death of his slain friend, as reported by Den of Geek. At about the same time, Connery was busy working on a new project and was staying at the Hollywood Roosevelt Hotel when he received a call from the mob boss, who said, "Get your a** outta town" or else he would be killed.
Connery decided that he didn't need the trouble, especially since his career was just starting to take off. He had a contract with 20th Century Fox for seven years, and he didn't want anything to jeopardize that. According to Rolling Stone, Connery headed to San Fernando Valley to lay low after the call from Cohen. "I didn't know what I was dealing with, and I didn't see any point in discussing it," Connery said. He stayed in seclusion until the rumors surrounding Stompanato's death died down.