How The Daytona 500 Trophy Got Its Name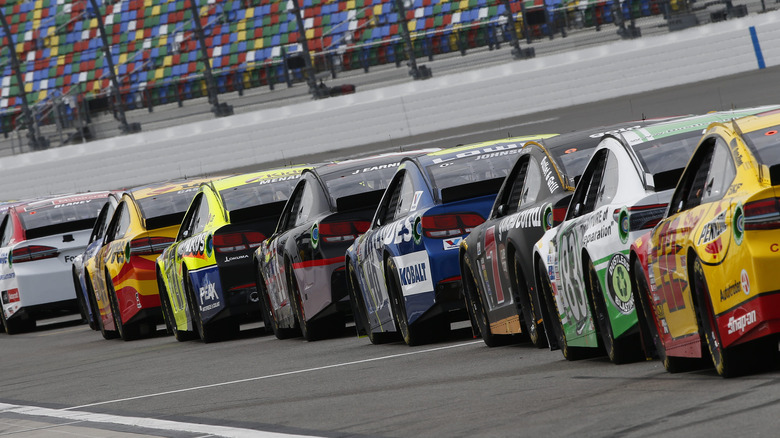 Grindstone Media Group/Shutterstock
Since 1959, winning the Daytona 500 remains among the most coveted accomplishments in all of NASCAR, and that's true for more than just bragging rights. These days, a win in the prestigious race can be worth up to $2 million for the driver, per Sporting News. Champions also claim to a customized Daytona Rolex watch, and other endorsements.
The winning dollar amount for the Daytona 500 is more now than it once was, and so too the look of the first-place trophy has changed over the years. But with very slight differences, what the trophy is called has remained mostly the same. With that in mind, here's how the Daytona 500 trophy got its name.
What's worth noting is that the winning Daytona racer doesn't really take home the trophy at all, but instead the athlete lays claim to a replica, as ESPN explains. Meanwhile, the actual Daytona 500 trophy lives full-time in The Daytona 500 Experience in Daytona Beach, also known as "The Official Motorsports Attraction of NASCAR." It's inscribed with the name of every Daytona 500 winner in history and is brought down to the track to honor the winner of that year's race before being returned to its permanent home. Why that trophy is called what it's called has its roots in automotive lore, which are almost as deep as the Daytona 500 itself.
The trophy is named for the designer of the Corvette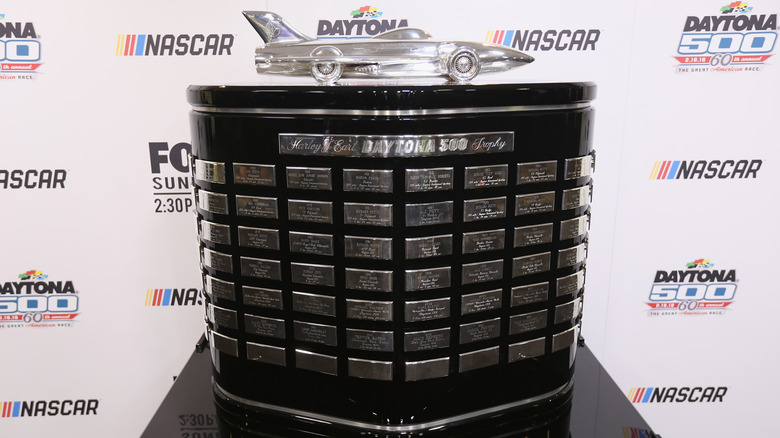 Jerry Markland/Getty Images
For the very first Daytona 500 in 1959 the trophy was made from wood. Standing only 3 feet tall, it was decorated with silver figurines, according to "He Crashed Me so I Crashed Him Back," by Mark Bechtel. (The book is a non-fiction account of the 1979 Daytona 500, considered to be among the most memorable in the event's storied history.) By 1998, it was time for a change on the four-decade birthday of the race. At that point a larger trophy was commissioned, which now resides in the "The Official Motorsports Attraction of NASCAR."
From the very beginning, though, the trophy was named after Harley J. Earl, a visionary automotive designer who worked at General Motors and is credited with contributing to the creation of the Corvette, according to FOX News. Earl was a friend of NASCAR founder Bill France Sr. Earl served as the second commissioner of NASCAR, and it was Earl who designed the Firebird I prototype that's atop the trophy, as the Daytona Beach News-Journal explains. And although the winning racer is awarded a replica of what's now called the Harley J. Earl Perpetual Trophy (per Britannica), the scaled-down version of the trophy remains quite impressive.