Whatever Happened To Chumbawamba?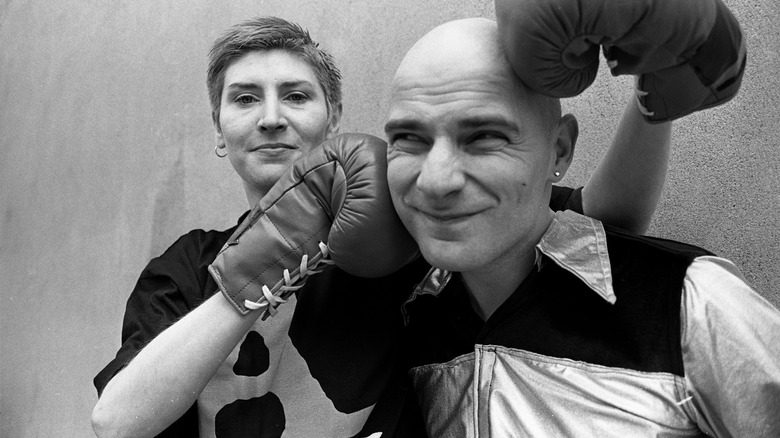 Martyn Goodacre/Getty Images
Way back in 1997, there was no way you could avoid hearing a song called "I Get Knocked Down" by a band whose name sounds like baby talk. You know how it goes — early on, the band brags that they get knocked down, but they get up again, and nobody's going to keep them down. Then a woman sings about drinking the night away (although not in those exact words), followed by a man rapping about different types of drinks and different types of songs. That's pretty much the song's lyrics and structure in a nutshell, and we're sure that if you were aware of music in 1997, you tried to sing along to that "I Get Knocked Down" song ... or changed the radio station because you heard it one time too many.
Of course, we now know that the name of the song is not "I Get Knocked Down" — it's "Tubthumping," and it was performed by a band called Chumbawamba. Thanks to that song, the British anarcho-rockers have since become one of pop music's ultimate one-hit wonders, and unless you live in the U.K., you'll likely have a hard time finding someone younger than 40 who knows a Chumbawamba song that isn't "Tubthumping." So what happened to the group after the success of their only U.S. hit?
They kept making music, but didn't have any more stateside hits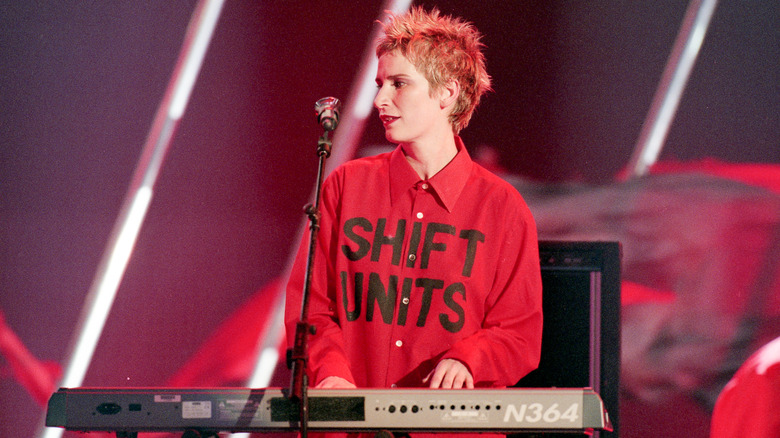 Jmenternational/Getty Images
Chumbawamba didn't exactly vanish into the ether like many other one-hit wonders seemingly did. After "Tubthumping," the band released their follow-up single, "Amnesia," which peaked at No. 1 on Billboard's Bubbling Under charts — but never actually cracked the Hot 100. It was a catchy song with a nice hook and a memorable chorus that solely consisted of the lines "Do you suffer from long-term memory loss?/I don't remember." However, it wasn't "Tubthumping" in terms of hooks. It wasn't that much of an irresistible earworm in comparison, and for that reason, Chumbawamba's fate as a U.S. one-hit wonder was essentially set in stone.
Still, it wasn't like they were too bothered about their 15 minutes of fame being up. "Passenger List for Doomed Flight #1721" was the B-side of their 2000 single "She's Got All The Friends That Money Can Buy" (from the album "WYSIWYG"), and it caused quite the uproar because of all the famous people who were namechecked as passengers on the song's titular doomed flight, from rock stars such as Bono and Courtney Love to politicians like Bill Clinton and Tony Blair and even fictional characters such as Ally McBeal (via MTV).
Chumbawamba left EMI in 2001 and in 2002, formed their own label, MUTT Records, which released their next three albums. They released four more records under another independent label, No Masters (via Discogs), but just as you'd expect from indie releases, none of those albums produced anything approximating the success of "Tubthumping" and its parent album "Tubthumper."
They disbanded in 2012 after 30 years together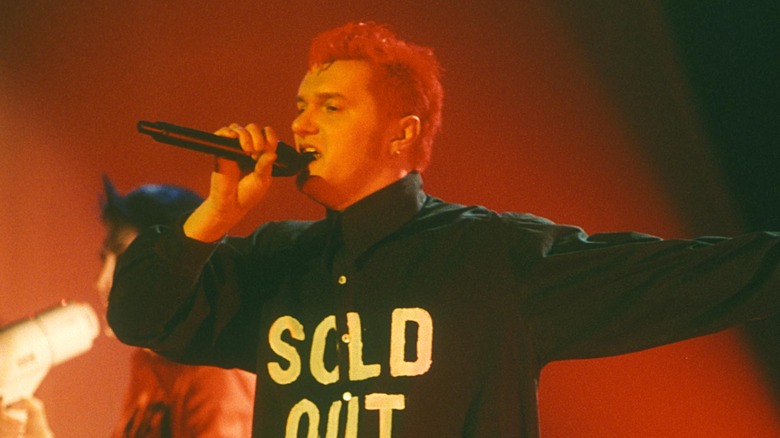 Dave Benett/Getty Images
For a good three decades, it seemed that Chumbawamba lived by the motto discussed in the chorus of "Tubthumping." But after 30 years of fearlessly trolling public figures and calling attention to various issues, the band decided to call it a day in 2012, announcing their breakup via a statement on their official website. To them, it was unquestionably the end of an era, with "neither a whimper, a bang or a reunion."
After thanking the people and labels they worked with, as well as their loyal fans and even the ones who "ditched" them at some point during their career, Chumbawamba looked back on its legacy as a band and assured fans that they would remain involved in music and/or activism. "We do, of course, reserve the right to re-emerge as Chumbawamba doing something else entirely (certainly not touring and putting out albums every 2 or 3 years)," the group concluded. "But frankly, that's not very likely. Thirty years of being snotty, eclectic, funny, contrary and just plain weird. What a privilege, and what a good time we've had."
Former Chumbawamba members Dunstan Bruce and Harry Hamer formed the punk act Interrobang soon after their old band split, but as their Discogs page shows, their discography consists of just two singles released in 2015 and a full-length album from 2017. Bruce also announced in May 2021 that he had just wrapped up a documentary on Chumbawamba, the aptly titled "I Get Knocked Down," which premiered later that year at the Sheffield Doc/Fest, according to Variety. Meanwhile, vocalist/percussionist Alice Nutter became a television writer and producer (via IMDb). 
The other members appear to be living lower-profile lives these days, but one thing's for sure — Chumbawamba was much more than just that band who performed that "I get knocked down" song from back in the day.