Fans Were Talking About Dolly Parton's Super Bowl Commercial For All The Wrong Reasons
If you want to get attention in the Super Bowl commercial landscape, it's important to make a splash, and one surefire way to that is to acquire the services of a massively popular celebrity.
Dolly Parton is a bonafide country music legend, beloved by generations of fans. She's got hit records, she's been in movies, and she even has her own amusement park if you need any more proof of her star power. So, it would seem like getting Dolly Parton to do a Super Bowl ad would be an absolute slam dunk.
The company that went for it was T-Mobile, and they did it with a commercial that was a quasi-parody of one of those call-to-action PSAs.  
Throw in another superstar in the form of a shoe-horned-in cameo from Miley Cyrus and it seemed as though T-Mobile's ad was destined to be the talk of the 2022 slate of Super Bowl commercials for all the right reasons. 
Viewers weren't exactly fond of Dolly Parton's Super Bowl ad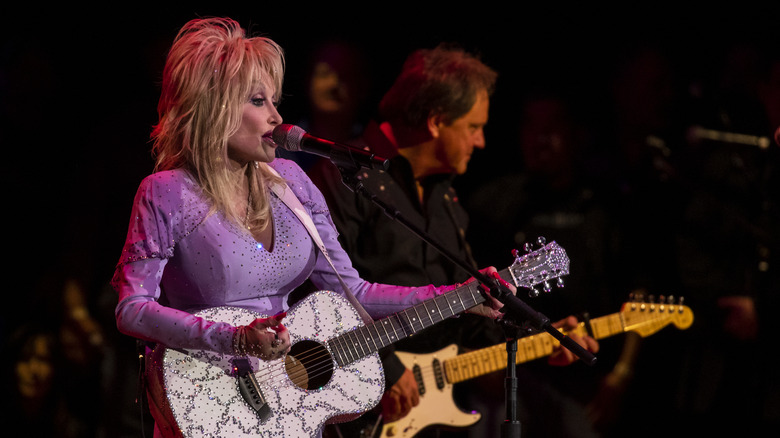 Brett Carlsen/Getty Images
The commercial was announced before it aired, according to WBIR, and got its spot in the lineup during one of the early breaks during Super Bowl LVI. Immediately, social media was lighting up with everyone's take on Dolly Parton's 5G-hocking T-Mobile commercial. Twitter user Tommy_W1587 commented that perhaps Parton's trademark southern drawl may have been a bit of a hindrance when it came to getting the message across, tweeting, "They should've used subtitles for Dolly Parton."
Others were far more direct in their critique of the ad, with user wachelrilliams tweeting, "That Dolly Parton commercial was absolute garbage." Meanwhile, yet another user indicated that the commercial may have had the exact opposite of its intended effect, with SMC_TX tweeting, "That Dolly Parton T-Mobile commercial made me want to cancel my T-Mobile account."
So it seems that while Parton herself may still be immensely popular it seems that her latest commercial — and everyone's difficulty hearing — it was not.