The Truth About Shirley Temple's First Husband John Agar
Shirley Temple, one of Hollywood's most legendary child stars, met her first husband, John Agar, when she was a teenager. She was already past her career peak by this time, no longer the cute, curly-haired girl of such successful films as "The Little Colonel" (1935), "Poor Little Rich Girl" (1936), and "The Little Princess" (1939), according to Box Office Madness. Fortunately for Temple, her mother enrolled her in the Westlake School, and it was through a classmate she met her future groom (via a People magazine review of her memoir, "Child Star"). Agar was the older brother of one of her friends.
Temple later admitted that she "had marriage on the brain" during this time, and she aspired "to be the first girl in my class to get married." And the tall, handsome, and fit Agar had a lot of appeal for her. When they met, Agar was a sergeant in the U.S. Army Air Corps and served as physical education instructor, according to The Guardian. Agar took Temple to a party given by famed movie maker David O. Selznick in 1944, and the photographs of the young couple soon made every film magazine. They quickly became engaged.
Temple wed Agar only a few days after her 17th birthday in Los Angeles. The couple had invited 500 guests, but an additional 5,000 fans gathered outside the church waiting to catch a glimpse of the actress and her new husband, according to The New York Times. But this union soon proved to be troubled.
A short and stormy marriage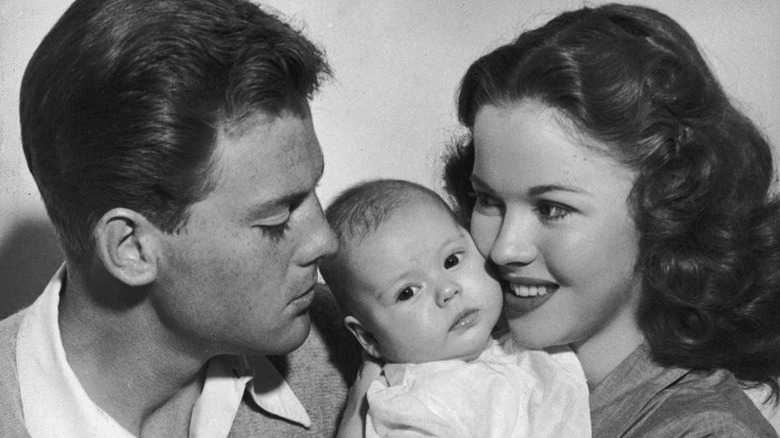 Hulton Archive/Getty Images
While Temple may have dreamed of being in a storybook marriage, Agar definitely wasn't the right person to cast as her prince charming. He told her 10 days after their wedding that he wished he had tied the knot with someone else, a beauty with long legs, according to People magazine. Apparently this confession came after a bout of heavy drinking, and Agar's alcoholism soon surfaced as one of the couple's biggest problems. He also didn't have any remorse about stepping out on one of America's most beloved stars.
Agar parlayed his wife's fame into his own less stellar acting career. He made his film debut appearing alongside Temple in the 1948 western "Fort Apache," which also starred John Wayne and Henry Fonda. While Agar and Temple played a loving couple on screen, their real-life relationship continued to deteriorate. The pair also worked together on the 1949 comedic drama "Adventure in Baltimore," but Agar just wasn't a fan of being in his wife's shadow professionally. Not even the arrival of their only child, daughter Linda Susan, in 1948 was enough to keep Temple and Agar's relationship going. Temple and Agar divorced in December of 1949, according to The New York Times.
If you or anyone you know is struggling with addiction issues, help is available. Visit the Substance Abuse and Mental Health Services Administration website or contact SAMHSA's National Helpline at 1-800-662-HELP (4357).
John Agar's life after divorcing Shirley Temple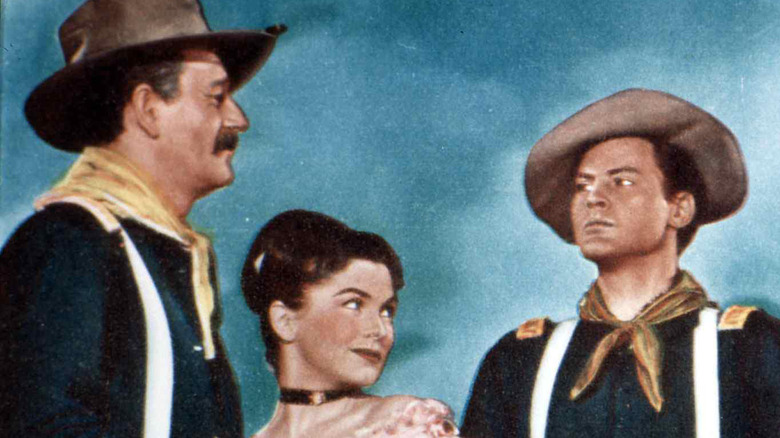 United Archives/Getty Images
As his marriage to Temple ended, Agar had few notable film roles. He appeared with John Wayne in "The Sands of Iwo Jima" and "She Wore a Yellow Ribbon," both in 1949 (via The New York Times). Two years later, Agar had a supporting part in the Kirk Douglas western "Along the Great Divide." He starred as a sheriff in "Star in the Dust" (1956), but more and more his career consisted of low-budget B-movies. Agar had top billing on "The Mole People" (1956), "The Invisible Invaders" (1959), and "Journey to the Seventh Planet" (1962), according to IMDb. His friend John Wayne also helped him with small parts in films, including "The Undefeated" (1969) and "Big Jake" (1971) (via The Washington Post).
While his marriage to Temple was rocky from the start, Agar seemed to fare better on his second trip down the aisle. He and his wife Loretta were married in 1951 and they had two sons together. He stopped drinking and worked in sales, both insurance and real estate. Agar stayed with Loretta until her death in 2000. Agar died only two years later, on April 7, 2002, of emphysema. He allegedly never had much of a relationship with his daughter Linda after his divorce from Temple.