How Many Times Was Martin Luther King Jr. Arrested?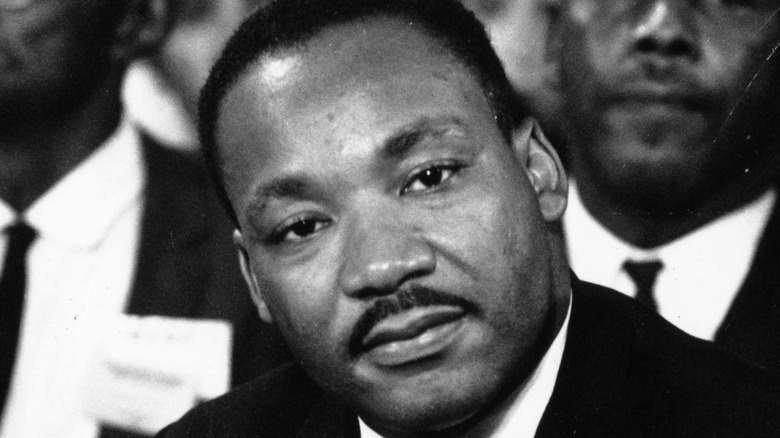 Keystone/Getty Images
Martin Luther King Jr.'s civil rights activism was inspired by some of the people in his life. His father, Martin Luther King Sr., was a minister who was vocal about his fight against racial prejudice. King attended seminary school and in his last year was under the tutelage of Benjamin E. Mays, who was a Baptist minister as well as a leader in the civil rights movement. Per Biography, Mays was instrumental in King's spiritual development, as he taught him how he could use religion as a gateway to social change.
It was on January 26, 1956, when King was first arrested at the age of 27 years old. He was part of the Montgomery Bus Boycott — a protest against segregated seating on busses that was sparked when African American Rosa Parks refused to give up her bus seat to a white man (per History). Four days after his arrest, King's home was bombed, and he was again arrested with Parks in March of the same year for being one of the organizers of the protest, as reported by The Philadelphia Tribune. That was just the beginning of King's more than 20 arrests during his lifetime.
Reasons for Martin Luther King Jr.'s arrests
As a civil rights leader, Martin Luther King Jr.'s arrests were the result of him fighting for his beliefs. He was arrested for various charges in different cities in the south. Per Black History, some of the charges included organizing protests, disobeying a police order, holding a prayer vigil, and demonstrating without a permit.
According to Today in Civil Liberties History, King was arrested 29 times in his lifetime, but that number may not include the arrests wherein he wasn't sent to jail. A King biographer, Clayborne Carson, said that the activist didn't like getting arrested and told his wife that being in prison was lonely. "He just broke down and cried and then he felt so ashamed of himself," Carson said. One of the arrests happened in Georgia's Fulton County and in 2020, Solicitor General Keith Gammage said that he wanted to clear King's name in Fulton, and professor Peniel E. Joseph — a scholar of Black Power Studies — agreed. "The record should be expunged in the sense that the society, and not Martin Luther King Jr., were the ones guilty of crimes of violence and illegality against Black bodies in that generation," Joseph stated.
King's last arrest before his death was in Birmingham, Alabama in 1967, and he spent three days in jail, per Advance Local. He was assassinated in Memphis, Tennessee on April 4, 1968, at 39 years old.