Who Is Russian Figure Skating Coach Eteri Tutberidze?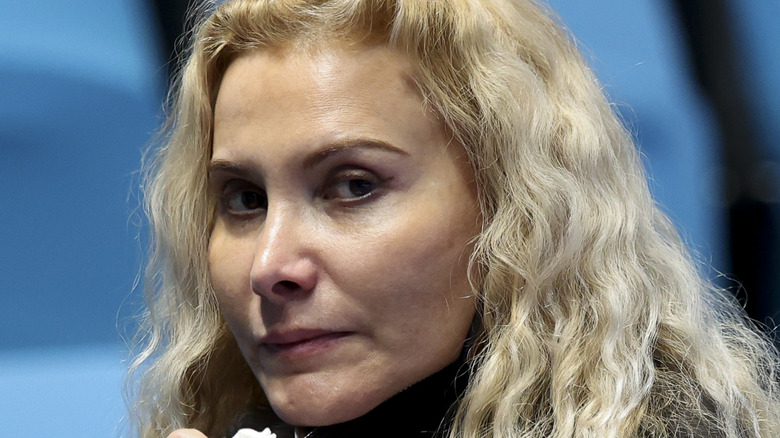 Jean Catuffe/Getty Images
The 2022 Winter Olympics have been wildly overshadowed by controversy and drama surrounding members of the Russian Olympic Committee, or ROC, women's figure skating team. Known as the "Quad Squad" thanks to their collective abilities to perform and land difficult four-revolution jumps, Kamila Valieva, 15, Alexandra Trusova, 17, and Anna Shcherbakova, 18 are all coached by Eteri Tutberidze (above). Valieva was expected to win a gold medal and with her teammates, sweep the podium. She was cleared to compete after a temporary suspension due to a test she took in December getting flagged for the presence of a banned heart medication, as reported by AP News. However, Valieva fell or stumbled several times during her free skate program and ended up placing fourth overall, with Shcherbakova taking the gold medal and Trusova winning the silver. 
Already known for her harsh, controversial coaching methods that tend to produce very young, very talented champions with very short careers, Tutberidze received particular attention for the way in which she spoke to Valieva when the skater left the ice in tears after her free skate. Per NBC Sports, the coach angrily demanded of Valieva, "Why did you let it go? Why did you stop fighting? Explain it to me. Why? You let it go after that axel. Why?" At a press conference on Friday, February 18, International Olympic Committee President Thomas Bach said of Valieva, "When I saw how she was received by her closest entourage with what appeared to be a tremendous coldness — it was chilling to see this," as reported by UPI.
From ice dancing to coaching champions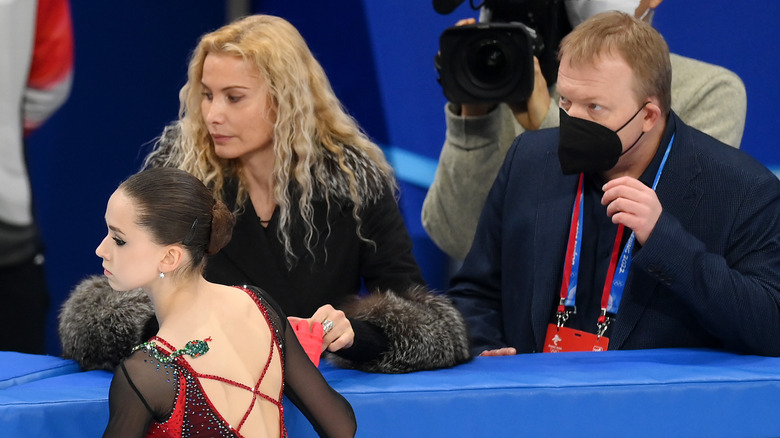 David Ramos/Getty Images
Eteri Tutberidze was born in February 1974 in Moscow, Russia, per NBC Sports. She began ice skating as a young child and figure skated competitively until a back injury caused her to switch over to ice dancing. She competed through the 1991-1992 season and went on to perform with the Ice Capades and the Russian Ice Ballet. After a 36-city tour through the United States, Tutberidze relocated to the States, where she started coaching. Her daughter, Diana Davis, was born in 2003 and, like her mother, went on to be an ice dancer; Davis and her figure skating partner Gleb Smolkin finished in 14th place in the rhythm dance competition at the 2022 Winter Olympics. 
Tutberidze eventually returned to Russia and joined the staff of the prestigious Sambo 70 skating club. According to USA Today, she first had success coaching junior skaters. In 2014 she coached 15-year-old fan and media favorite Yulia Lipnitskaya, who became the youngest Olympic champion since 1936 when she won a gold medal in the team event at the Sochi Winter Olympics. She went on to win a silver at the world championships that April and retired at age 19 after three months of treatment for anorexia, per the Canadian Broadcasting Corporation. 
A Business Insider article noted that Tutberidze is no stranger to criticism regarding her coaching methods, with other Russian coaches calling those who train with her "disposable" or "perishable goods."
Tutberidze's methods attract attention and controversy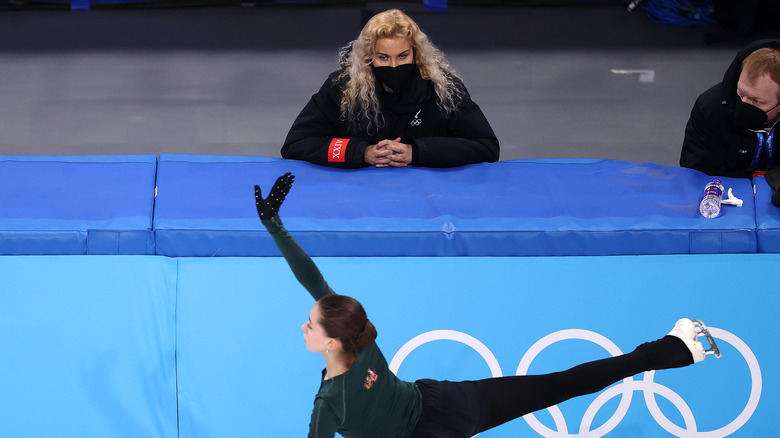 Dean Mouhtaropoulos/Getty Images
According to Business Insider, others have complained that skaters who train with Eteri Tutberidze tend to retire around the age of 17 because her methods have worn them out. Her coaching methods produce champions at the expense of the very young athletes' mental and physical health. Choreographer Benoit Richaud said of her techniques, "Eteri was smart in her approach: she was first to find a method to teach quad jumps to girls, and the method works, but only until age 17. What are skaters supposed to do then?" Three of the "Quad Squad" skaters came to the 2022 Winter Olympics with unspecified injuries, possibly due to overtraining; two other skaters who train with Tutberidze couldn't attend the Olympics due to their own injuries, while 15-year-old Daria Usacheva hurt her hip so badly in November while warming up that she went home to Russia with the help of a wheelchair and withdrew from competition. 
Russian women didn't win Olympic gold medals until 2013, when they began to do so under Tutberidze. Former champion figure skater and current coach Surya Bonaly, who in 1992 became the first woman to attempt to land a quad jump during the Olympics, said of Tutberidze, "She's the best, she has the world in the palm of her hand." Bonaly knows first-hand, however, the toll that the training for quad jumps takes on bodies; she retired from competition at 25. "It's good to win medals, but you don't want to be traumatized for the rest of your life."