The Truth About John Mellencamp And Bruce Springsteen's Relationship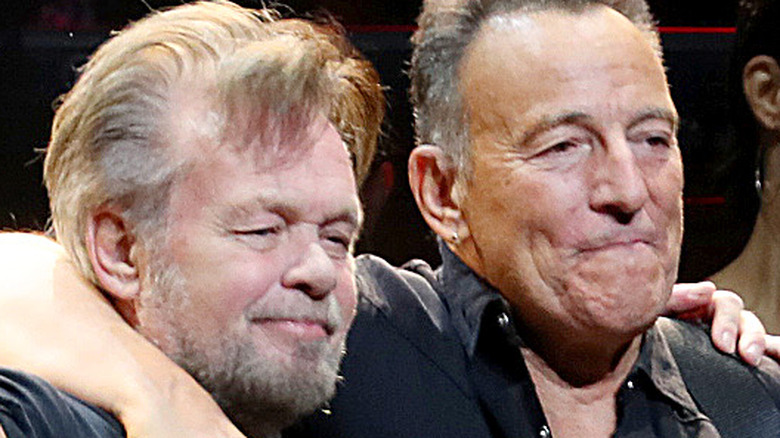 Kevin Kane/Getty Images
John Mellencamp's first single from his 2022 album "Strictly a One-Eyed Jack," is called "Wasted Days," and it's a duet with another legendary American musician known for his storytelling style: Bruce Springsteen. In fact, Springsteen appears on a total of three songs on the album, via All Music. Although slightly older than Mellencamp, Springsteen had some of his biggest hits around the same time that Springsteen did in the 1980s, and the two share a similar sound. For these reasons alone, it makes sense that the two musicians might collaborate. The truth about Mellencamp and Springsteen's relationship, though, runs much deeper than that.
On SiriusXM's E Street Radio, available to hear now on YouTube, Mellencamp recalled the first time he and Springsteen met in the '80s, back when Mellencamp still performed as John Cougar. According to Mellencamp, Springsteen joined him on stage to perform in California. 
"When Springsteen came on stage," Mellencamp said, "it was like, 'Jesus Christ, this guy's got some energy.'" Adding that he's a little younger than Springsteen, Mellencamp also remembered the influence that Springsteen had on his early career. "He put down a big footprint, and he said here fill it," he said. It would be some three decades later, though, before the two men became close friends.
Springsteen is like a 'big brother' to Mellencamp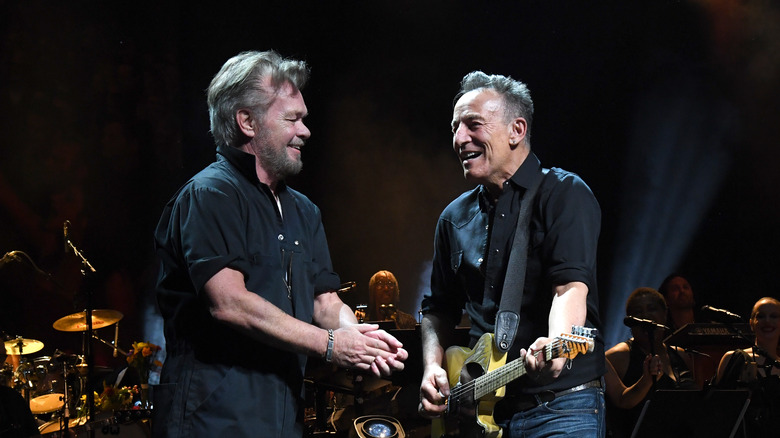 Kevin Mazur/Getty Images
Although Bruce Springsteen and John Mellencamp first met back in the '80s, it was in 2019 when the two musicians collaborated with Sting at his Rainforest Benefit that they would finally gel. Mellencamp said in his SiriusXM interview (via YouTube), "At the Rainforest thing, Bruce and I connected and we just started talking and the next thing you know, we're talking all the time." 
"[H]e's like my, like my big brother now. Now I talked to him about everything, everything, and anything," Mellencamp said. "So it's very fortunate that people our age can make a connection with someone else who has a similar background." 
Mellencamp also spoke to USA Today about his connection to Springsteen. "I love the guy," Mellencamp said. "He's been an inspiration and I told him, you made me work harder, I've gotta compete with that. Bruce was a blessing to me all along. Maybe I didn't see it that way, but I do now."