Why Did John Wayne Turn Down An Opportunity To Star In Blazing Saddles?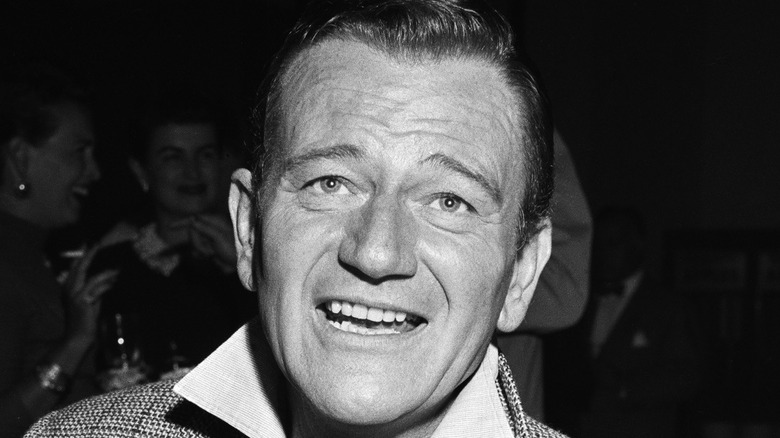 Michael Ochs Archives/Getty Images
It isn't uncommon to look back on some of the most popular movies and TV shows of previous eras and think, "How did they get away with that?" When it comes to Mel Brooks' "Blazing Saddles" (1974), this practically goes without saying. The film went head-to-head with political correctness in a way that might confound audiences in 2022, but it remains a comedic monument years later. In fact, The American Film Institute ranked it number six on its list of the 100 Funniest Movies of All Time in 2000 (per Mental Floss).
Few actors in the history of Hollywood were as closely identified with westerns as was John Wayne. From his string of films for director John Ford, to his later movies from his own production company, Wayne had an image as the kind of man people wanted to believe had won the west — riding high in the saddle, a straight shooter, doing what was right, no matter what. From the movie that established him as a star ("Stagecoach") to his last on-screen appearance ("The Shootist"), Wayne was a big-screen cowboy through and through.
Brooks originally envisioned The Waco Kid being played by someone with some miles on him, someone audiences would recognize, who would bring his own gravitas to the part. Even if "Blazing Saddles" was a comedy, who better to exemplify a veteran gunslinger than John Wayne himself?
John Wayne thought the script was too dirty
Brooks approached John Wayne about taking on the role of The Waco Kid. Wayne took the script home and read it overnight. Come the next day, Wayne responded to Brooks, politely declining the job. "The next morning I saw him and he says that he loves it — every beat, every line — but that it's too blue, that it would disappoint his fans. He said, though, that he would be the first one in line to see it," Brooks shared in a 2016 interview with Philly Metro (via Outsider).
Most of Wayne's films were family friendly and remained within non-offensive bounds up until that point, so joining the cast of "Saddles" would have probably been a major overstep in the opposite direction. Wayne thought the script's barrage of sexual innuendo and racial jokes would pose too great a risk to his career. Nonetheless, he admittedly loved what Brooks was cooking up (via Showbiz Cheat Sheet). 
Brooks tried for other Hollywood veterans before making a phone call to Gene Wilder (above, right, with Cleavon Little). They'd worked together in the original version of "The Producers." Wilder signed on, and "Blazing Saddles" was a success, with Wilder's portrayal of The Waco Kid as one for the books. Wilder's involvement also led to another of Mel Brooks' successful comedy films, "Young Frankenstein" — Wilder reportedly pitched the script to Brooks while on the set of "Blazing Saddles" (per Mental Floss).