The Society David Bowie Co-Founded As A Long-Haired Teen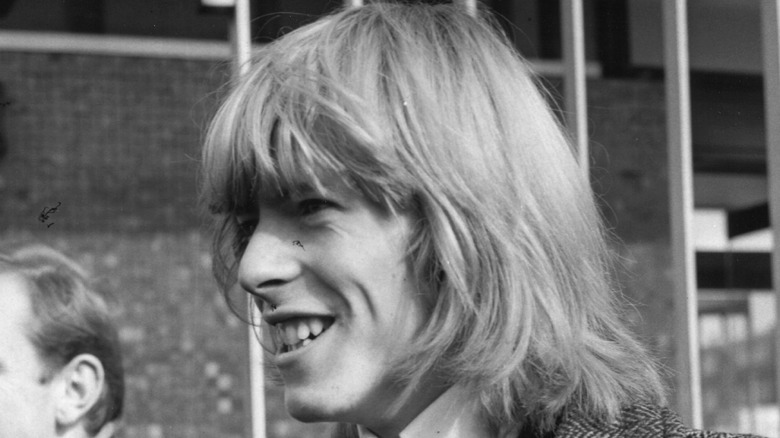 Evening Standard/Getty Images
British musician David Bowie's extensive discography, his legendary stage performances, and his famous looks that blurred gender lines as far back as fifty years ago all established him as an icon. He introduced many in his rock-pop audience to androgyny, with his transformations into gender-bending characters like Iggy Stardust or the Thin White Duke (via The Conversation).
Bowie's 1970 album cover of "The Man Who Sold the World," not only features him splayed out on a couch with an elegant femme dress, but invites the audience into "his game of gender play," according to The Conversation. In his 1979 music video for "Boys Keep Swinging," Bowie pulls off his wig and tosses it aside before iconically smearing lipstick off his face, an action that was repeated by Lorde at the 2014 American Music Awards when she was still a teen (per The Conversation), further illustrating his influence on multiple generations. 
Bowie was defying strict gender roles long before he came into his legendary glam rock. He was just a teen himself one of the first times he rebelled publically against society's expectations. 
'The rebellion of the long-hairs'
Evening Standard/Getty Images
In 1964, Bowie — still going by his birth name, "Davy Jones" — was one of a group of men interviewed by the BBC's "Tonight Show" for a special segment featuring "the burgeoning social phenomenon of men growing out their lengths," per Vogue. When asked about what presenter Cliff Michelmore called "the rebellion of the long-hairs," 17-year-old Bowie said, "I think we all like long hair, and we don't see why other people should persecute us because of this."
Apparently, Bowie's manager at the time had helped to establish the Society for the Prevention of Cruelty to Long-Haired Men after one of Bowie's producers had insisted he cut his long locks before performing on the show with his then-band, "The Manish Boys" (via Mashable). For the last few years, Bowie said on the segment, he and his long-haired companions had others call them "Darling" and ask if they could "carry their handbags" (via YouTube).
With detectable levels of sarcasm in his voice, Bowie clarified that the society was founded for the "protection of pop musicians and those who wear their hair long," in a follow-up interview with the London Evening News. "Anyone who has the courage to wear their hair down to his shoulders has to go through hell," he said. "It's time we were united and stood up for our curls" (via Vogue).