The Truth About Shirley Temple's Time In Politics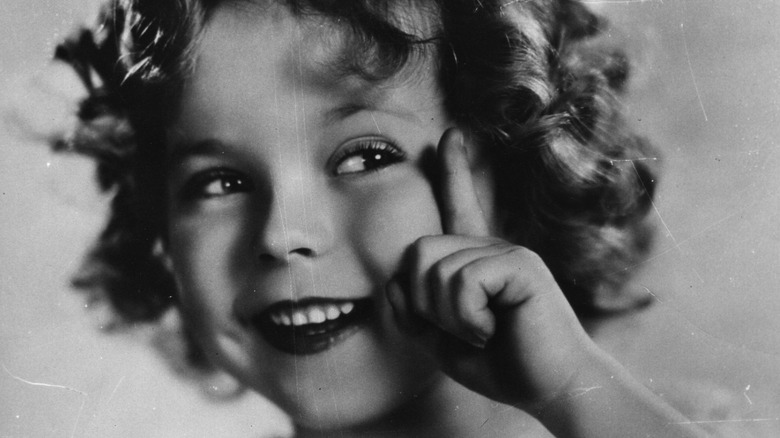 Hulton Archive/Getty Images
The original child superstar Shirley Temple was quick to win over audiences with her bouncing blond curls and signature dimpled smile. Her star performances in uplifting films like "Bright Eyes" and "Captain January" helped people in the Great Depression escape from the bleakness of the times. She was the most photographed person on the planet by age 8, and a millionaire with four Academy Awards by age 12, according to Stars and Stripes.
Although some may always consider her America's sweetheart, Shirley Temple's acting career didn't actually last that long. According to People, she didn't end up seeing much of the money she had made when she became a legal adult, as her father received "bad counsel from so-called financial experts." Although she made more than $3 million over the course of her career, all that was left of it at age 19 was $44,000 (via People). At the young age of 22, she officially retired from the Hollywood scene and had to pivot to a new industry (per Biography).
From child star to 'citizen politician'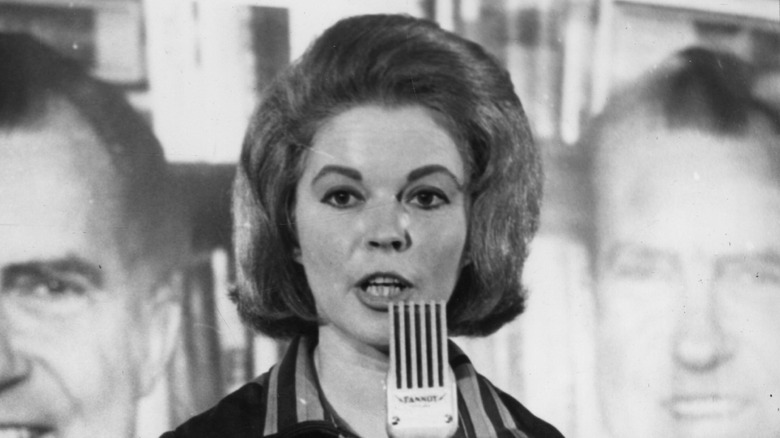 Wesley/Getty Images
Shirley Temple grew up in a circle of celebrities and politicians, recalling in her memoir that she had sat on J. Edgar Hoover's lap and got a spanking for shooting a stone at Eleanor Roosevelt's bum at a barbecue in Hyde Park (via People). Although she didn't know it at the time, these connections would later serve her well as she transitioned into a career in politics. After she remarried (now Shirley Temple Black) her husband was stationed in Washington, D.C. during the Korean War. There, Temple Black expanded that network to include many politicians involved in the Eisenhower administration, according to Biography.
In D.C., Temple Black began reading up on politics, working with the League of Women Voters, and fundraising for the Republican party. After relocating to California, she ran for Congress in San Mateo County, the only woman competing against 11 men (via Biography). She lost the race, but caught the attention of President Richard Nixon, who appointed her to a delegate position in the United Nations in 1969 (via People). Just a year before, she had witnessed Soviet police shoot a woman protesting Communist rule during a visit to Prague, which motivated her to continue pursuing politics, according to Newsweek.
'Shirley Temple opened doors for Shirley Temple Black'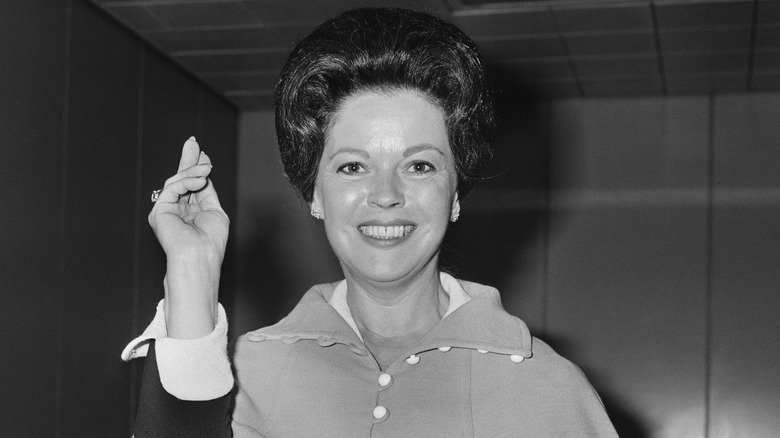 Dove/Getty Images
A few years later, President Gerald R. Ford appointed her to be the nation's Ambassador to the Republic of Ghana, where she ensured the nation's resources weren't exploited in coups, as had happened in neighboring countries of Ethiopia and Mozambique, according to Newsweek. Temple Black told People this was "the best job I've ever had."
In 1976, Temple Black moved back to D.C. to take on another appointment as Chief of Protocol, where she trained new ambassadors (via The New York Times). Temple Black took a hiatus from politics during Jimmy Carter's administration, but later returned to work with the Reagan administration, and later becoming the first woman appointed as ambassador to Czechoslovakia during the George H.W. Bush administration in 1989 (per Biography).
Former Czech Republic ambassador Norman Eisen told Newsweek that Temple Black's past life as a child movie star helped build connections around the world, infusing her country's role in international relations with the "good cheer" and "hope" that was so iconic of her Hollywood performances. Temple Black also credits part of her political success to her time in Hollywood, telling Newsweek that "Shirley Temple opened doors for Shirley Temple Black."