How Justin Bieber Really Became Famous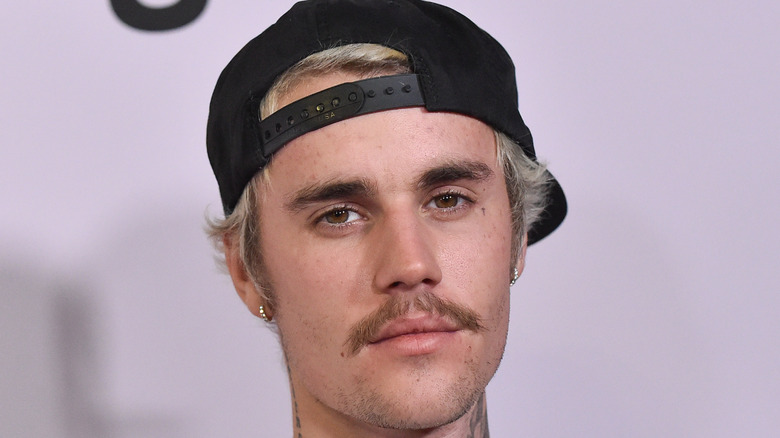 DFree/Shutterstock
For devoted Beliebers around the world, it's almost unthinkable that there was a time when Justin Bieber wasn't famous. As Britannica reports, though, he was born in London, Ontario in March 1994, and was once a cherubic aspiring musician who enjoyed various instruments from a young age (he reportedly learned to play drums, trumpet and piano as well as the guitar). It was his singing talents that would ultimately catapult him to superstardom, however, courtesy of his mother.
Reuters stated in 2009 that Bieber's mother bought him his first instruments, and that he proceeded to teach himself to play them all. The moment that truly changed his life came in 2007, when she signed him up for an inauspicious local singing competition. His chosen song was "So Sick" by Ne-Yo, and his proud mother went as far as uploading clips of the performance to a YouTube account for family and friends to watch. As it was, though, the young star-in-the-making attracted a far larger audience than anyone could have imagined.
A YouTube channel, a talent show, and a meeting with Usher
DFree/Shutterstock
He soon had some very high-profile fans, music executive Scooter Braun among them. Just Bieber explained (via CBS on YouTube) that his mother was "really skeptical about the music business... she didn't have a lawyer, we didn't want to sign anything," and so she and her son resisted the attentions of the various companies who wanted to sign him. It was Braun who persisted, Bieber went on, explaining that he recognized huge potential in him and could help his career get started. This he did, getting Bieber and his mother the legal aid they needed and flying them to Atlanta for some star-making meetings.
"We ended up signing a deal with Usher a couple of months later... Justin Timberlake also wanted to sign me," Bieber casually told CBS, explaining that he happened to arrive at a studio with Braun at the same time as Usher. It all seems an impossible dream for a singer who was "like 12, 13" at the time, but this is how he became famous.
Before the end of 2008, according to Britannica, Usher had secured him a contract. His debut single, "One Time," arrived in May of the following year, and November 2009 saw the arrival of his EP "My World." Biography adds that no soloist had ever had four singles chart (in the Top 40) before their debut album arrived, until Bieber did just that.