The Truth About George Burns' Real Name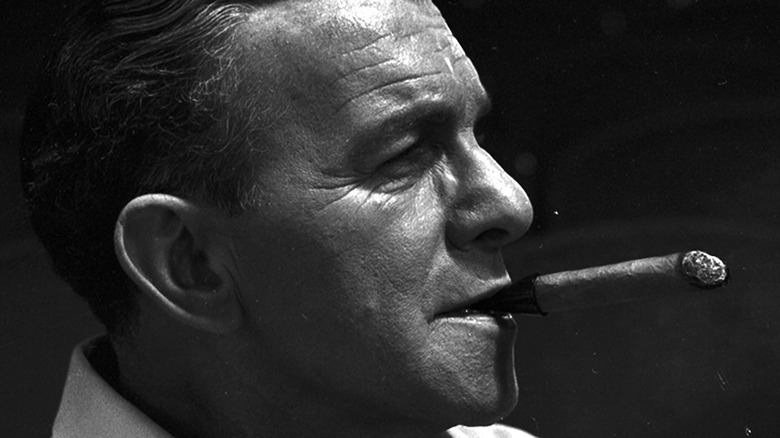 Michael Ochs Archives/Getty Images
Many millennials may not remember George Burns, but their parents will remember him as one of the elder statesmen of American Comedy. He lived to be 100 years old and he was performing for over 90 of them. Even though he was friends with the likes of Frank Sinatra and Jack Benny, his origins were much more humble.
He was born Nathan Birnbaum to Jewish immigrants in New York. His father died when he was 7 years old and young Nattie had to work to help support the family. His first taste of show business was when he and a few other boys were thrown some pennies for singing in harmony to pass the time while working in a candy shop (via Philadelphia Inquirer).
He fell in love with performing, and as he continued to perfect his vaudeville act, he took on a new name. As Burns tells it in Cigar Aficionado, his family was struggling and couldn't even afford coal, so he and a friend took to stealing it from a local supplier called Burns Brothers, a name which others in the neighborhood soon gave to the pair. The name George comes from his older brother, who wasn't too keen with the appropriation.
Rise to fame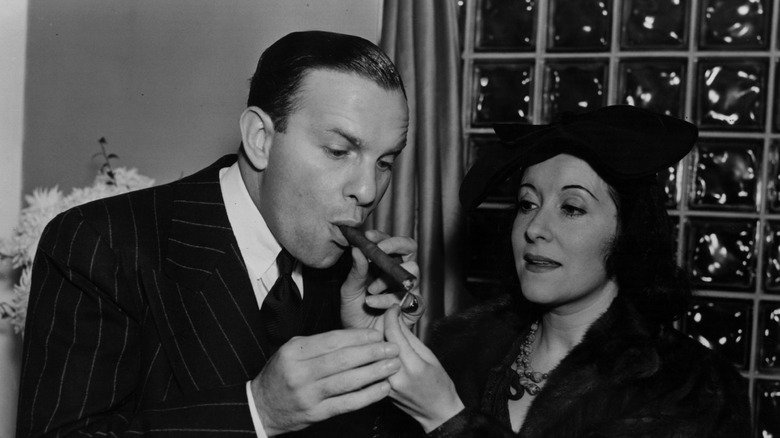 Hulton Archive/Getty Images
Though Burns' brother George didn't like his little brother Nathan adopting his name, the newly named George Burns felt like that moniker would look better on a marquee than his given name, according to Cigar Aficionado. It's reported that he thought Nathan Birnbaum sounded too Jewish at a time when Jews were not exactly embraced by the ethnically Irish community he lived in. 
From the age of 7 until he was 26, Burns worked developing his vaudeville act without much success. The turning point of his life came in 1923 when he met Gracie Allen in a Long Island theater. The pair teamed up and their star quickly rose. By 1926 they had reached the pinnacle of vaudeville, performing at the Palace Theater in New York (via Cigar Aficionado).
But live vaudeville was a dying form of entertainment. The future was in moving pictures, and Burns and Allen were among the first on the bandwagon. Throughout the '30s they starred in motion pictures alongside the likes of Bob Hope and Fred Astaire.
Their live act also earned them a spot on the radio airwaves with CBS where they would dominate the ratings for over 15 years before making the jump to television. "The George Burns and Gracie Allen Show" aired for nearly 300 episodes over eight seasons on CBS and NBC.
Life after Gracie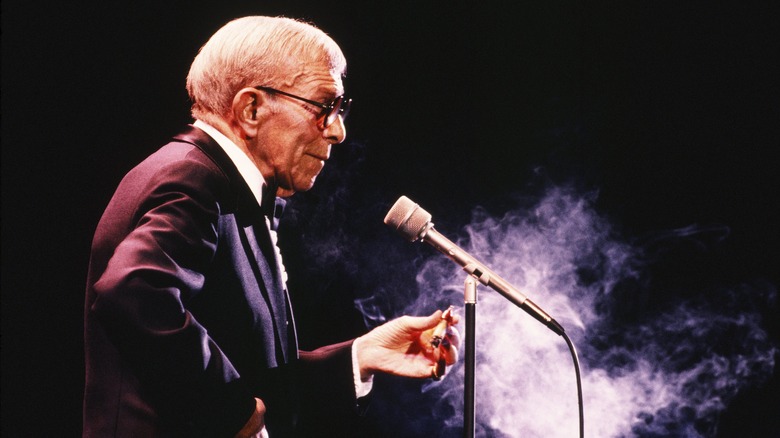 George Rose/Getty Images
Gracie Allen retired from performing in 1958 due to worsening heart trouble. She had a series of heart attacks over the next six years before passing on in 1964. To cope with his loss, Burns threw himself into working. He toured the country performing in concert halls and nightclubs and kept busy with his television production company (via Cigar Aficionado).
For a while he fell out of the zeitgeist, but his career was revived in 1975 when he starred in Neil Simon's "The Sunshine Boys" opposite Walter Mathau, for which Burns earned an Oscar and a Golden Globe. In 1977 played the titular role in Carl Reiner's "Oh, God!" for which he is best known to modern audiences.
Burns continued working for most of the rest of his life, making regular appearances on "The Tonight Show Starring Johnny Carson" and performing in Las Vegas. Regarding his longevity he told the Boston Globe, "Don't believe everything they tell you. I use salt. I smoke 15 cigars a day. I have three or four martinis a day. If I don't like the food, I send for ketchup" (via Philadelphia Inquirer). George Burns died peacefully in 1996.