How Judy Garland Helped Liza Minnelli With Stage Fright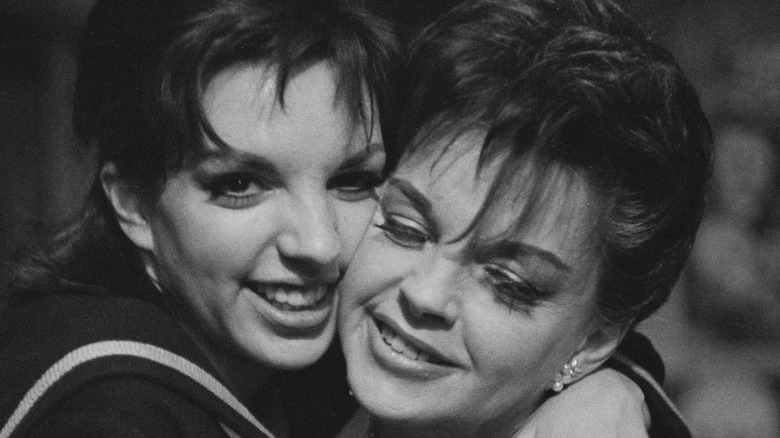 Express/Getty Images
Even the stars get stage fright, and need a little help from their parents to face their fears. Liza Minnelli is the daughter of Hollywood legend Judy Garland, and a world-famous performer in her own right. Minnelli has won four Tonys, two Grammys, an Emmy, and an Oscar, according to Variety. But before all that, she was a teenager preparing to sing with her mother at the London Palladium in 1964, and she was nervous, Minnelli told "CBS Sunday Morning" (via the New York Post).
Luckily, her famous mother was there to help her through with just a supportive look. "My mom was my mom," Minnelli said. "You know, other people think of her as Judy Garland. That's Mama. If I get frightened, I'd look at her, and she would somehow know, and she would calm me down. Just by her look." Minnelli said she never had stage fright again after that performance. "After working with her, I was never nervous about appearing with anyone again. I had already appeared with the best," she recalled in the liner notes to the 50th anniversary edition of "Judy Garland and Liza Minnelli Live at the London Palladium" on vinyl (via Playbill).
Liza and Judy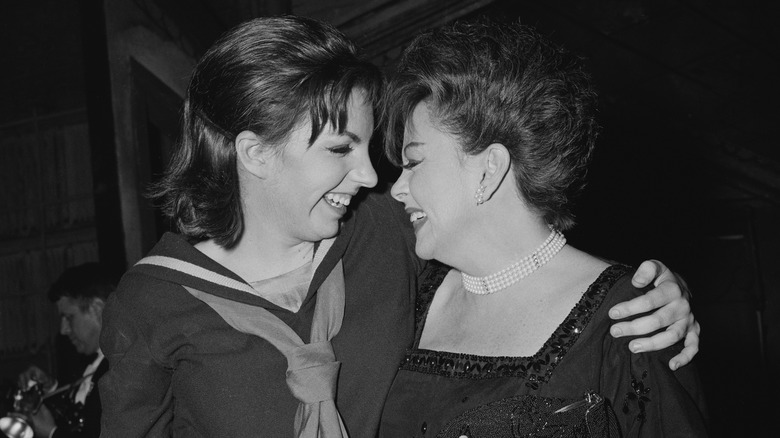 Express/Getty Images
Liza Minnelli was born to Judy Garland and Vincente Minnelli in 1946, according to Smooth Radio. As the daughter of two celebrities, she was instantly famous herself. "I was born and they took a picture," she told Variety. Her mother took her onstage for the first time when she was 3. However, she still saw her parents as regular people. "My parents were my parents. I didn't know that I had to dodge questions about Mama until people started asking me questions," she told Variety.
Her concert with her mother at the London Palladium in 1964 was her biggest public appearance up to that point, she said in the liner notes to the concert recording (via Playbill). She said her mother tricked her into performing. "She asked me to come perform in London with her but I declined. I felt I wasn't ready, I was too young. But Mama didn't take no for an answer. She went ahead and announced the concert to the press," Minnelli recalled. 
Garland was very supportive of her daughter's career, and adamant that she be recognized for her own talent and not her parentage. "She was wonderful and so overprotective," Minnelli told Variety. "She tried saving us from any of the stuff that other people said, except the great stuff."