The History Of The Elizabeth Taylor Diamond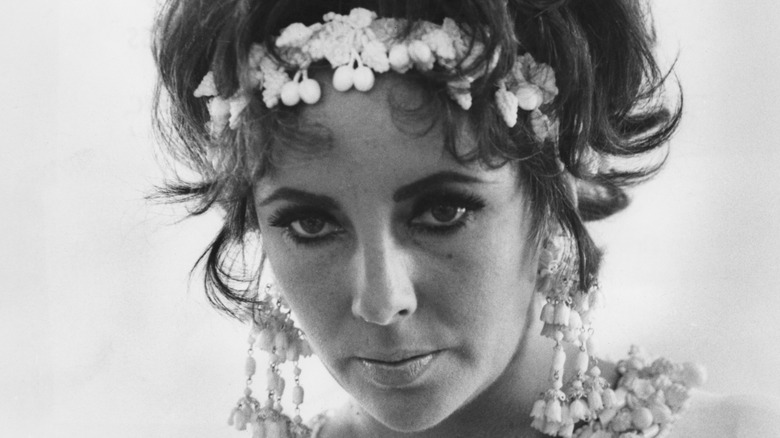 Express Newspapers/Getty Images
Elizabeth Taylor was known for her Hollywood glamour, and was often seen wearing the jewelry that she collected throughout her lifetime. The actress, who starred in movies like "Cleopatra," "Cat on a Hot Tin Roof," and "Who's Afraid of Virginia Woolf?" lived a high-glam lifestyle, and loved to show off her expensive clothes and jewelry. The tale behind one of her most oversized diamond rings ever is a fascinating story, dating back to the early 1900s.
There is a long history behind the Krupp Diamond, as it was initially named. Some experts who have examined the diamond believe it was originally found in the Golconda region of India, while others think it came from the Jagersfontein Mine in South Africa, as Natural Diamonds reported. The 33.19-carat diamond was designed with an Asscher cut, or a rectangular shape (via Natural Diamonds). And part of the reason it's so special is that it is Type IIa, referring to a chemically pure and clear diamond. This means the diamond is near-perfect already. Cutting the jewel to add facets increased its beauty even more.
Vera Krupp, an actress from Germany, was the first known owner of the valuable jewel. She received it as a gift from her husband sometime around 1952, and wore it frequently. Disaster struck in 1959 when a thief robbed her at her home, ripping the diamond ring right off her finger (via Worthy).
A diamond worthy of a movie star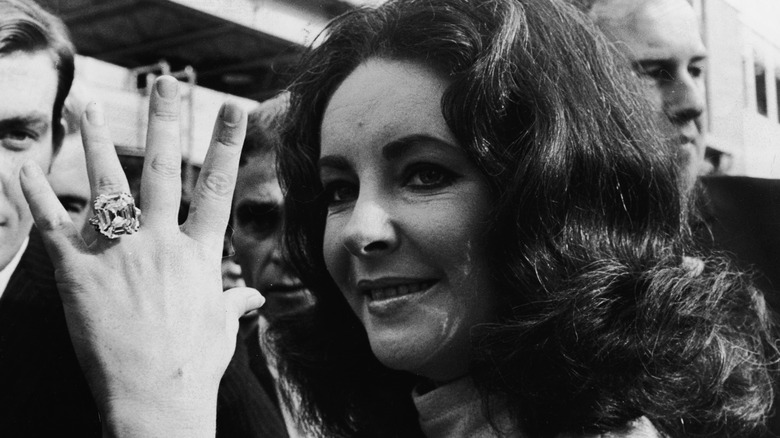 Express Newspapers/Getty Images
Because the diamond was unique, the FBI was able to track down the jewel in about six weeks. After that, Krupp kept the diamond ring safety-pinned to her at all times. When Krupp died in 1967, her estate put the massive diamond up for auction. Richard Burton, Elizabeth Taylor's husband at the time, ended up in an extravagant bidding war over the glamorous piece — and he won. Burton dropped more than $300,000 on the ring, as Worthy reports.
Elizabeth Taylor adored the ring. She wore it constantly for years, and as Natural Diamonds notes, she was even animated with her namesake diamond in an episode of "The Simpsons." In 2011, after the actress died, many items from Elizabeth Taylor's estate were put up for auction, including jewelry, clothes, furniture, and Taylor's Oscar statues (via Business Insider).
Christie's Auction House organized the auction. The Elizabeth Taylor diamond was expected to have a hefty price tag attached, valued between $2.5 million and $3.5 million. But the auction was incredibly successful, with almost everything selling at a higher price than expected, setting world records for jewelry auctions.
As Natural Diamonds reports, the Elizabeth Taylor Diamond sold for a whopping $8.8 million to a South Korean retail company. And today, according to Worthy, the Elizabeth Taylor Diamond has appreciated even more, with an estimated value of $9.2 million, making this rare jewel among the most expensive and coveted diamonds in the world.