Things You Should Know About Ukrainian Tennis Star Elina Svitolina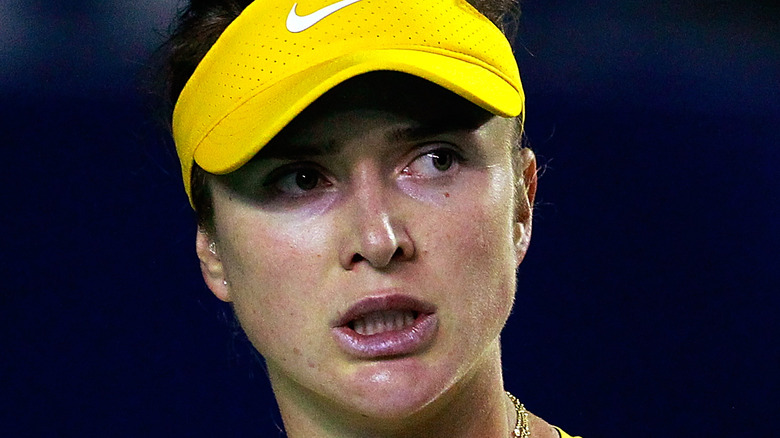 Jam Media/Getty Images
In times of great turmoil, athletes have the ability to make a difference whether it's from a morale-boosting standpoint or in financial ways. The 1980 United States hockey team, for instance, boosted spirits with their shocking gold medal victory, which required them to topple the seemingly invincible Soviet Union, a feat made even more important given that it happened at the height of the Cold War.
During the 2022 Russian invasion of Ukraine many athletes — Ukrainian-born or not — stepped up to help. This included former boxer and heavyweight champion, Vitali Klitschko, who serves as the mayor of Ukraine's capital city, Kyiv, and fought on behalf of his country alongside his brother, Wladimir, who himself is a heavyweight champion (via ESPN).
According to CNN, another Ukrainian athlete who took steps to help those in her country was Elina Svitolina, who announced that the prize money she earned from competing in the 2022 Monterey Open would go back to help those in Ukraine.
Svitolina hails from Odessa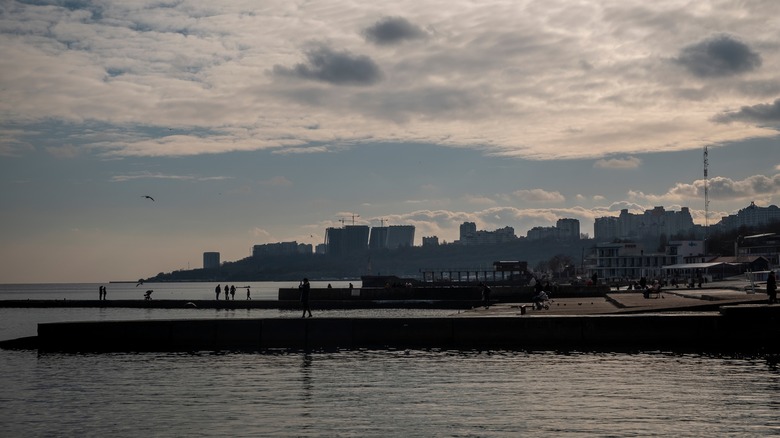 Bloomberg/Getty Images
Elina Svitolina was born on Spetember 12, 1994 in Odessa, Ukraine. Odessa sits in southern Ukraine along the coast of the Black Sea. According to Britannica, the city serves as an important shipping port and it also holds the distinction of being where the famous 1925 silent movie "Battleship Potemkin" was filmed.
According to WTA Tour, Svitolina took up tennis at just 5 years old and looked up to star tennis player and former world No.1 Andre Agassi. Svitolina is tri-lingual with the ability to speak English, Russian, and some French. She's well-rounded, and her bio on the WTA site mentions that she has many hobbies including cooking, reading, and hiking. In her spare time, she also likes to learn about business, economics, and nutrition, all of which are subjects that are exceptionally useful to a professional athlete.
Another one of Svitollina's interests is in running her foundation, the appropriately named ​​Elina Svitolina Foundation. Its goal is to help children through tennis. 
The Elina Svitolina Foundation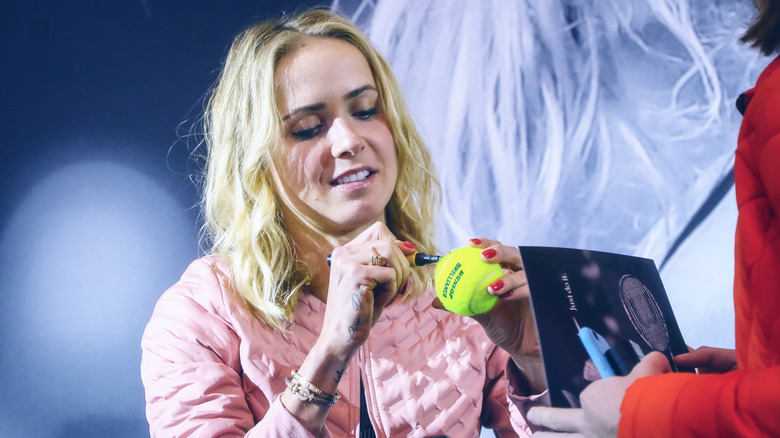 katatonia82/Shutterstock
Elina Svitolina serves as president on the Board of Directors of her namesake charity, The Elina Svitolina Foundation. According to PR Newswire, she started the organization in 2019 at an event held at the TbarM Racquet Club in Dallas, Texas.
The foundation aims to introduce children to the sport of tennis, then through tennis kids learn the importance of hard work and self-discipline. The foundation also offers scholarships and sets up tennis camps. According to the foundation's website, Svitolina's charitable initiatives have even drawn praise from the likes of former United States President George. W. Bush.
"Laura and I recognize WTA Tour Finals Champion Elina Svitolina for her accomplishments on the courts and for her remarkable work with the Bush Tennis Center to help children in need. These efforts are inspiring and show that much can be achieved when we work together for a greater cause," Bush said in a quote on the foundation website.
Svitolina's career-high ranking was No. 3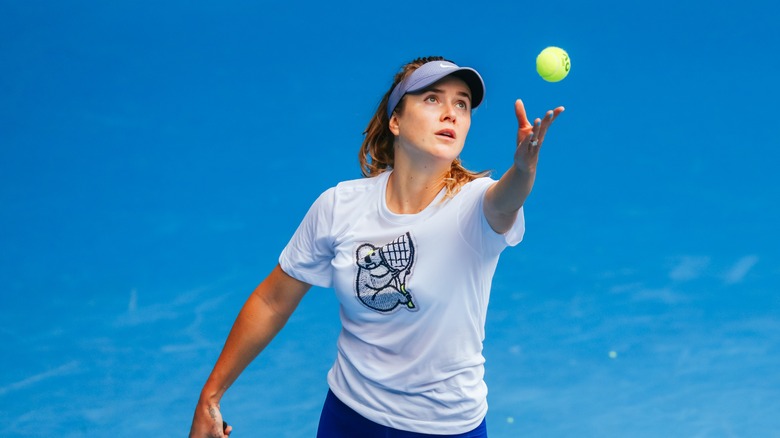 FiledIMAGE/Shutterstock
Rankings are a big deal in tennis, and according to the WTA Tour, Svitolina's highest ranking is No. 3 in the world, a peak which she first reached on September 11, 2017. Svitolina first reached the Top 20 in 2015, and since then she's been a constant presence toward the top end of the world rankings.
That year was one of the biggest of her career to date. She won tour titles in Taipei City, Dubai, Istanbul, Rome, and Toronto, and when combined with deep runs in other tournaments like the French Open, Svitolina hit No. 3 in the world but would drop a few spots by the end of the year, finishing 2017 with a still very strong No. 6 ranking. She would hit the No. 3 mark once again in 2019, before bouncing between the fourth and fifth spots in 2020 and 2021, but would finish 2021 ranked No. 15.
Svitolina at the Monterey Open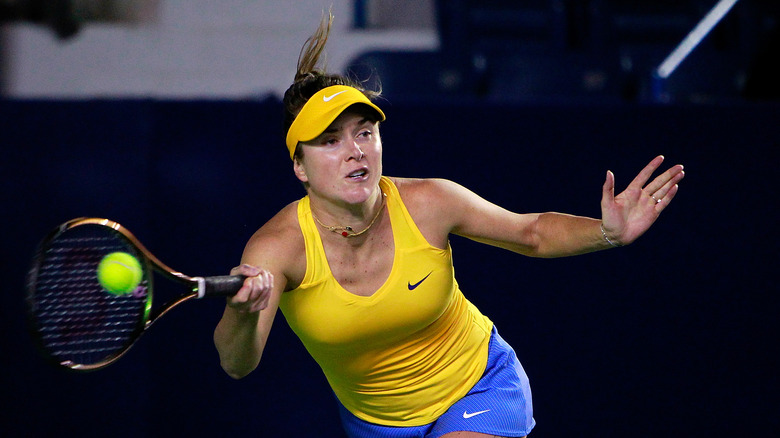 Jam Media/Getty Images
Svitolina entered the 2022 Monterey Open in Mexico City as the top seed, but world events would take a front seat. As the tournament began, Russia invaded Svitolina's home country of Ukraine. The invasion drew condemnation from around the world.
Svitolina made headlines when she announced that she would refuse to play against any Russian or Belarussian athletes unless they chose to compete as neutral athletes, according to Tennis. She made this announcement in a post on Instagram.
In the post, she said that she and other Ukrainian athletes had appealed "to ATP, WTA, and ITF to follow the recommendations of the IOC to accept Russian or Belarussian nationals only as neutral athletes, without displaying any national symbols, colors, flags, or anthems," she wrote.
"I do not blame any of the Russian athletes. They are not responsible for the invasion of our motherland. Moreover, I wish to pay tribute to all the players, especially Russians and Belarussians, who bravely stated their position against the war. Their support is essential."
Svitolina donated her Monterrey prize money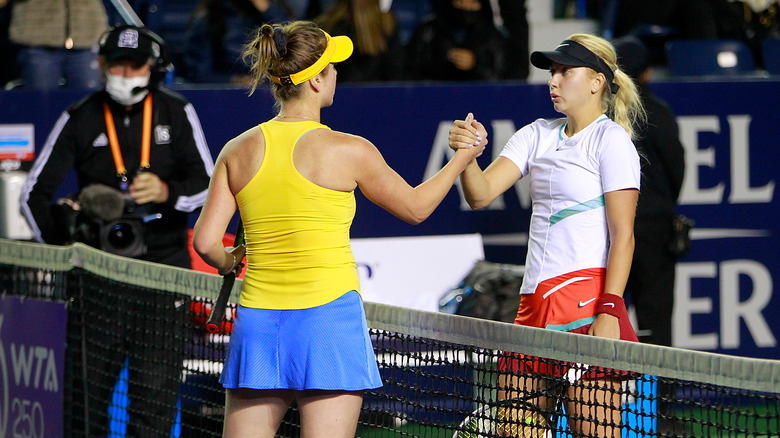 Jam Media/Getty Images
Despite her initial plan to boycott any match against a Russian or Belarussian player, CNN reported that Svitolina changed her mind ahead of the Monterrey Open final after determining that she could make a bigger difference if she took on Russian player Anastasia Potapova. Svitolina took the court wearing blue and yellow as a nod to her home country's flag and defeated Potapova — who was not competing in the tournament under the Russian flag — to win the Monterrey Open.
"It's a very, very special event this one for me. All the prize money that I'm going to earn here is going to the Ukrainian army," Svitolina said immediately after the match. "So thank you so much for your support."
Svitolina also announced that the prize money from the event, which according to ESPN is $31,000, would be donated to the Ukrainian war effort. "All the prize money that I'm going to earn is going to be for the Ukrainian army," she said.
In her post-match interview Svitolina shared that while she was sad about what was happening in Ukraine, she was happy to be on the court playing tennis. "In general, I was just focused," she said. "I was on a mission for my country."