Jimmy Stewart Once Paid Tribute To His Dog In Poem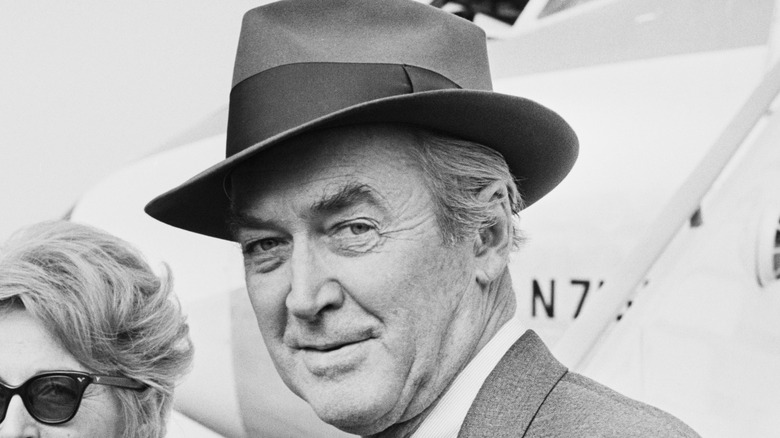 Stan Meagher/Getty Images
Man's best friend once made an honorary appearance via eulogy on The Tonight Show with Johnny Carson in 1981. In this case, the man's name was Jimmy Stewart and the furry friend's name was Beau. During an interview with Carson, the 73-year-old "Mr. Smith Goes to Washington" and "It's a Wonderful Life" star invited the audience to bear witness to a tender poem he'd written for his late dog, Beau (via Tree Hugger). 
While reminiscing on his long, successful life as one of cinema's most legendary and renowned actors, Stewart touched upon his deep love of poems. After asking his host and the crowd if they'd like to hear one of his own, he removed a small stack of folded pages from his breast pocket and declared, "Now, the title of it is 'Beau.' That's the name of the dog" (per Mental Floss). It was the first public recitation of the piece that would later appear in his 1989 volume, "Jimmy Stewart and his Poems," among others (via Good Reads). 
The poem brought Johnny Carson to tears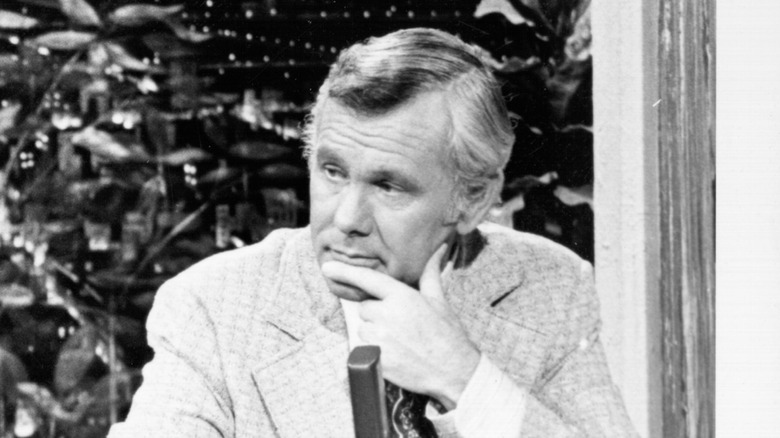 Michael Ochs Archives/Getty Images
"He never came to me when I would call, unless I had a tennis ball, or he felt like it, but mostly he didn't come at all." Stewart began, eliciting a series of chuckles from the audience. He went on to share about the ragtag antics of a less than well-behaved pooch who, despite his flaws, was loved dearly by his owners. Then the rhymes took a turn toward deep sentiment that reflected grief, loss, and remembrance: "And there are nights when I think I feel that stare, and I reach out my hand to stroke his hair, but he's not there. Oh, how I wish that wasn't so, I'll always love a dog named Beau" (via I Heart Dogs).
Stewart became visibly choked up as his voice cracked and he paused periodically in order to collect himself. The crowd was silent, and Carson had to hide his face in his hand to shield his own impending tears. As he finished, the audience burst into applause, and Carson extended a consoling pat on the back to Steward in a gesture of tender approval. 
'Jimmy Stewart and his Poems'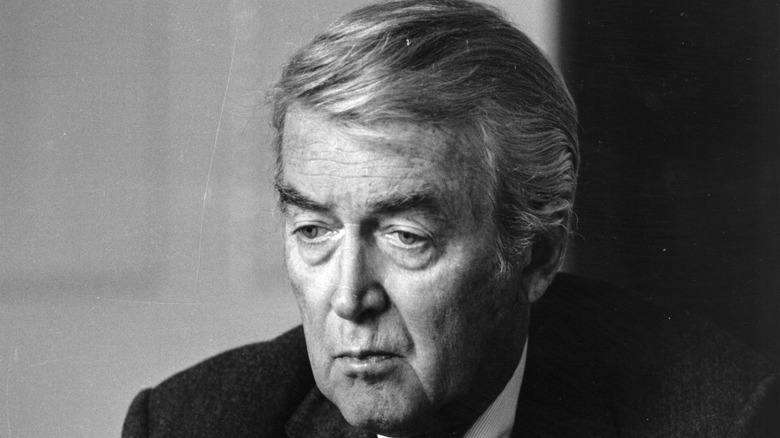 David Cairns/Getty Images
Eight years after the famous episode of "The Tonight Show" aired, Jimmy Stewart released an extensive volume of poems that he had compiled over the years. "I'm sure I never said to myself: 'Now, Jim — why don't you sit down and write a poem?'" Stewart shared later on in life (per Good Reads). "It's still a mystery to me, but I think probably it's something that happened by accident — like a lot of things have happened in my life." 
The 1989 compilation of his written work reflects upon his life vividly and intimately. He shares personal accounts of fishing, time spent with his family, and grand journeys across the world that stood out as his most cherished experiences beyond the acting world. Of all the verses and rhymes that appear in his book of poems, "Beau" is still perhaps the most widely-recognized and adored (via Good Reads).