What Was The Last Album XXXTentacion Recorded Before He Died?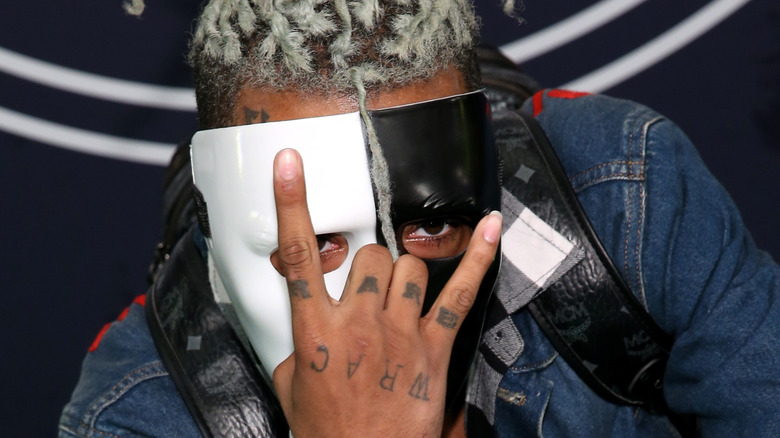 Bennett Raglin/Getty Images
Jahseh Dwayne Ricardo Onfroy, known to most as XXXTentacion, released his first song on SoundCloud in 2014, and he quickly accrued a huge fan base for his brooding mix of punk and hip hop and famous YouTube channel. In 2017, his first studio album, "2017," went live, followed by the well-received album "?" in 2018, released just before he was killed in a shooting outside a motorcycle dealership in South Florida at the age of 20 (via Variety).
However, XXXTentacion is one artist who has put out just as much music posthumously as he did in his life. Since his death in 2018, he has released three posthumous albums and been featured on many songs by other artists, including Trippie Redd's "Ghost Busters" and Lil Wayne's "Don't Cry." Within a year after XXXTentacion's death, his first posthumous album, "Skins," was produced, and he released another album under the Florida-based Members Only collective — a group the late rapper started in a juvenile detention center with his friend and fellow rapper Ski Mask the Slump God (via XXL).
The court controversy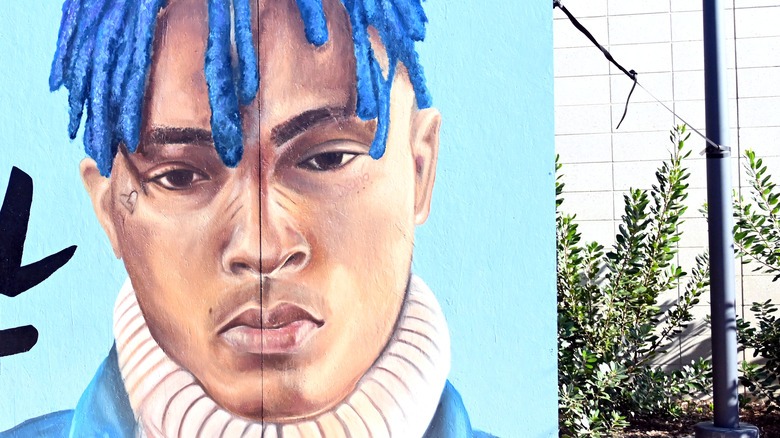 Scott Dudelson/Getty Images
Although his album "?" was released shortly before his death and debuted at No. 1 on the Billboard 200 album chart, XXXTentacion didn't win the hearts of everyone in the music industry. In his teens, he faced charges of battery and assault related to a domestic violence case that, for some, defined his legacy (via The Guardian). After the news came out, Spotify banned his music from its streaming services under an existing "hateful conduct" policy, per The New York Times.
XXXTentacion was originally slated to go to court for his charges in 2016, but the trial was delayed through 2018. He would not go to trial before his death, although he did confess to his crimes in a tape acquired by Pitchfork. Strangely, around this time, XXXTentacion seems to have predicted his own death, posting an Instagram video in which he tells the camera, "Worst thing comes to worst, I f****** die a tragic death or some s***, and I'm not able to see out my dream," just before he was killed. Oddly enough, his top posthumous single "Sad!" — which had accumulated 58 million views on YouTube within a month of posting — was released on the day of his funeral and features a music video of him fighting with his own dead body (per The New York Times).
If you or someone you know is dealing with domestic abuse, you can call the National Domestic Violence Hotline at 1−800−799−7233. You can also find more information, resources, and support at their website.
The final posthumous release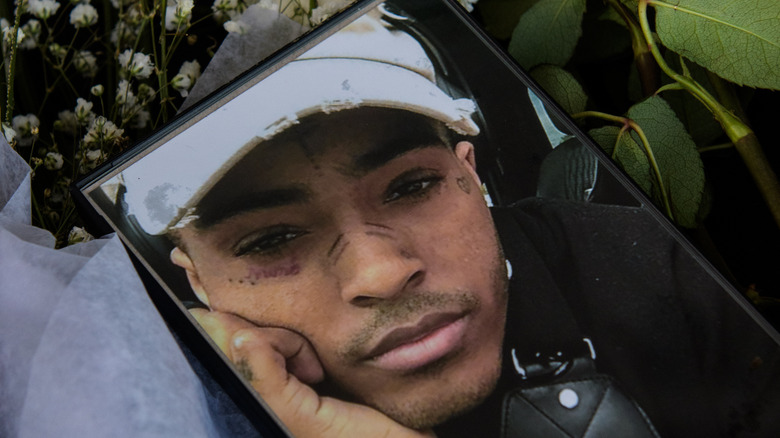 Jason Koerner/Getty Images
XXXTentacion's mother, Cleopatra Bernard, served as executive producer on the most recent posthumous album, "Bad Vibes Forever." XXXTentacion's manager, Solomon Sobande, told TMZ that the project was intended to be a mix between the late rapper's first albums, "17," and his best-selling album "?". The project includes verses from Blink-182, Mavado, and Lil Nas X, and even features XXXTentacion's ex-girlfriend who accused him of physical abuse in the music video of "Royalty."
The album has been criticized as a money grab to capitalize on the rapper's increased popularity after his death. Shortly before "Bad Vibes Forever" was released, XXXTentacion's estate also released a new merchandise line, per The Sheaf. And although the album features other artists like Lil Wayne, Rick Ross, and Joey Bada$$, Pitchfork argued that the number of features actually "heightens the lack of cohesion" in the album. Altogether, Pitchfork gave the project a 3.5 score and said it was "more of a monument to XXXTentacion's brand than his artistry."