This Is The Most Money Ever Won On Wheel Of Fortune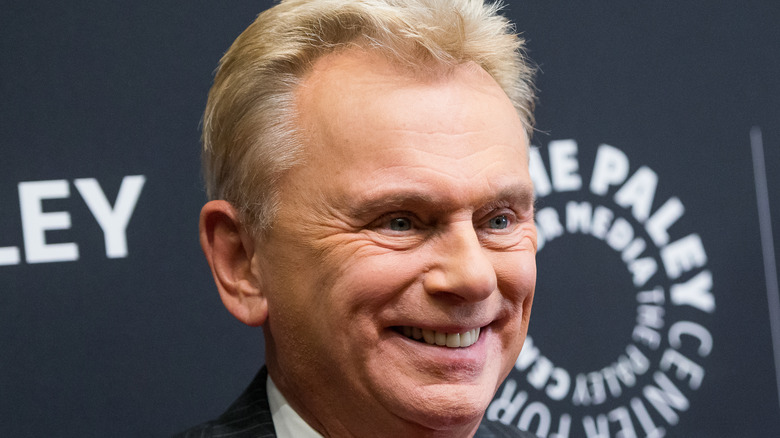 Mike Pont/Getty Images
"Wheel of Fortune" is a fun game show to watch and play along with, and many viewers choose to do so every night. What makes the game so fun is that really anyone who is familiar with the English language can play, with no need for superior intelligence. But as a result of that, "Wheel of Fortune" doesn't award as much money as some other game shows that may require more skill and knowledge. According to Outsider, "Wheel of Fortune" usually gives away around $46,000 to $50,000 per episode.
The show had a rare string of winners earning over $100,000 early in 2022. In fact, there were three individuals who cracked six figures on three consecutive nights, according to the New York Post. Video from the third winner in a row posted to the Wheel of Fortune Twitter account showed host Pat Sajak (above) jokingly walking off the set and saying, "I'm out of here" after being in shock from seeing so much success so close together. 
A trio of millionaires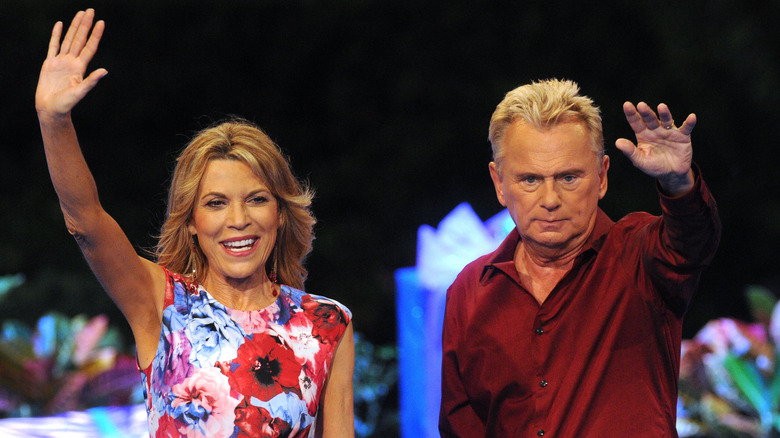 Gerardo Mora/Getty Images
Breaking the seven figure mark on "Wheel of Fortune" is rare. According to Distractify, it's only happened three times in the show's history. That's only one less millionaire than "Jeopardy!," which now has had four contestants cross the $1 million threshold in non-tournament play, according to the Jeopardy website. Distractify reports that the first $1 million winner on "Wheel of Fortune" came in 2008, when Michelle Loewenstein, a florist from Santa Monica, solved the puzzle "leaky faucet" in the bonus round. To date, Loewenstein has still won the second-highest amount of money in "Wheel of Fortune" History. Her total winnings were $1,026,080.
In 2014, Sarah Manchester also crossed the $1 million mark, according to Distractify. And since Manchester won, nobody has topped $1 million on the show since. Her bonus round answer was "loud laughter." Manchester told a student newspaper in her hometown, Silver Chips Online, that she'd be using the money to pay for her kids' college, do some traveling, and also donate to some charities. But there's one person who's won even more money than both Michelle and Sarah.
Wheel Of Fortune's highest earner
The biggest winner in "Wheel of Fortune" history made the air in 2013. Her name is Autumn Erhard, and her journey to seven figures — her total prize money was $1,030,340 — was completely unexpected.
Erhard (above, in her winning moment) told NPR that she had been solving puzzles on "Wheel of Fortune" since she was a little girl. But the video of Erhard's bonus round (posted on YouTube) will have even the best puzzle solvers drop their jaws. The category for her puzzle round was "thing," arguably the most vague category on the show. After being given R, S, T, L, N, and E, along with guessing her own letters, she was left with few options on the board. The first word, a five-letter word, had two letters fairly spaced out. And the second word, a seven-letter word, also was only showing two letters, also widely spaced. But it took Erhard barely any of her allotted 10 seconds to blurt out "tough workout." Host Pat Sajak quickly exclaimed "What?!" And based on how high the pitch of his voice was, you could tell it's perhaps the most surprised he's ever been. Earhard told NPR that she was able to figure out the puzzle because with the T and the G showing in the first word, she immediately knew it was "tough." And then because she's a workout junkie, she was able to solve the entire puzzle.