Who Inherited Rock Hudson's Money When He Died?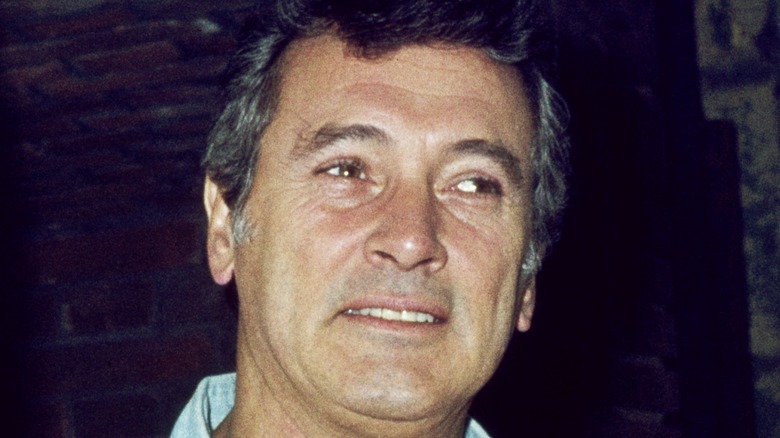 George Wilkes Archive/Getty Images
Rock Hudson was one of the quintessential leading men in Hollywood throughout the 1950s and '60s. Born Roy Harold Scherer Jr. on November 17, 1925, in Winnetka, Illinois, per Biography, he joined the Navy at age 19 and served in the Philippines. After his discharge in 1946, he decided to move to Hollywood and try his hand at acting. Within a year, he was discovered by talent scout Henry Willson, who gave him the stage name "Rock Hudson," with Rock inspired by the Rock of Gibraltar and Hudson by the Hudson River. As reported by The New York Times, Hudson later told an interviewer that he'd always hated the name. It did suit his Hollywood persona, which led to the name being "synonymous with masculine good looks."
A handsome, though untrained, actor with plenty of charisma, he signed with Warner Bros. and made his debut in the film "Fighter Squadron." Universal Pictures soon took notice, bought out his contract, and sent Hudson to acting lessons. In 1954, he was cast in his first lead role in the Douglas Sirk melodama "Magnificent Obsession," which the Criterion Collection calls " a delirious Technicolor mix of the sudsy and the spiritual." It made him a star. Two years later, Hudson starred opposite Elizabeth Taylor and James Dean in the commercial and critical hit "Giant," earning his first Oscar nomination. Another Sirk melodrama, "Written On The Wind," followed, as well as the role of Lieutenant Frederick Henry in the 1957 film adaptation of Ernest Hemingway's novel "A Farewell to Arms." 
Rock Hudson remained closeted throughout his career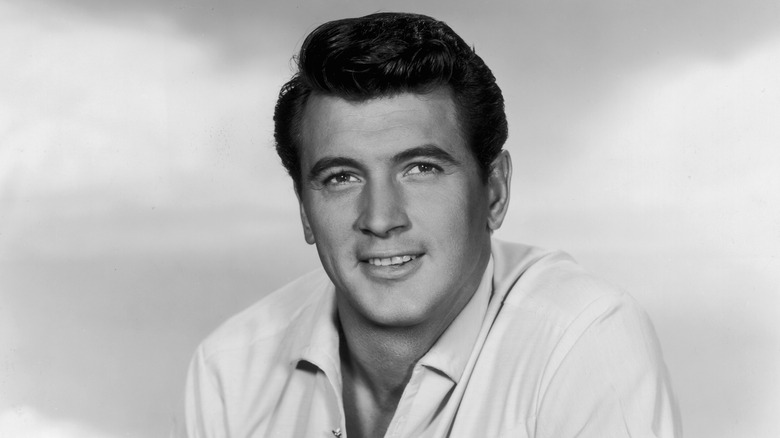 Hulton Archive/Getty Images
In 1959, per Biography, Rock Hudson was cast in "Pillow Talk," the first of three romantic comedies that he would star in with actress Doris Day. Hudson played a freewheeling ladies' man who shares a telephone party line with the no-nonsense career woman played by Day, who can overhear him chatting up a series of women using the same pick up lines. Critics and audiences alike were delighted by Hudson's comic timing and chemistry with Day and a new chapter in his acting career opened up.
Hudson was married to aspiring actress Phyllis Gates who, per The New York Times, worked as a secretary to talent scout Henry Willson. Biography reports that Gates was unaware that Willson set up the marriage to hide the fact that Hudson was gay. Hudson's homosexuality remained an "open secret" for much of his career, but due to rampant homophobia, he stayed closeted. He secretly dated Lee Garlington from 1962 until 1965. Garlington, then acting as a film extra, had heard rumors that Hudson was gay and stationed himself outside Hudson's Universal lot cottage to try and meet him. Eventually, a friend set them up and the two began a relationship, per People. Garlington later remembered, "I'd ... spend the night and leave the next morning. I'd sneak out at 6 a.m. in my Chevy Nova and coast down the street without turning on the engine so the neighbors wouldn't hear." The two men would attend film premiers together, but each would bring a female date as well.
Who were Rock Hudson's heirs?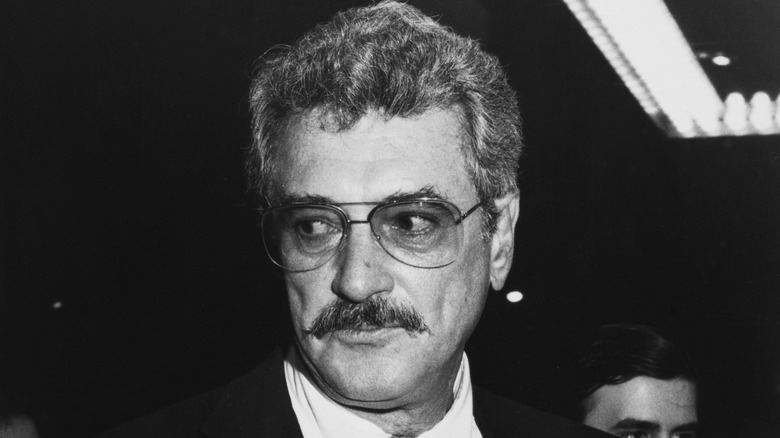 Michael Ochs Archives/Getty Images
Rock Hudson died of AIDS-related complications in 1985 at the age of 59. Per The New York Times, Hudson was the first major celebrity to publicly disclose that he was living with the disease, bringing a new public awareness to the worldwide epidemic that was still considered mysterious and terrifying by many. Even his Times obituary called AIDS "a mysterious and usually fatal illness that primarily afflicts male homosexuals, intravenous drug users, and recipients of contaminated blood transfusions." He had worked with writer Sara Davidson on the biography "Rock Hudson: His Story," in which Davidson wrote that before his death, as reported by The Washington Post, Hudson's friend and secretary Mark Miller had asked who in his life he had truly loved, and Hudson had mentioned Lee Garlington and Phyllis Gates.
Hudson's obituary ended with the line, "There are no known immediate survivors." Per Hollywood Insider, Hudson's will stipulated that Mark Miller and Miller's partner, actor George Nader, would inherit the interest from Hudson's entire $27 million estate. In 2002, Variety spoke with Miller after Nader died of a heart attack. Miller noted that he and Nader had been a couple for 55 years and he had been Hudson's secretary for 13 years. According to Nader's obituary in the Independent, tabloids began outing closeted gay Hollywood actors in the 1950s and it was "frequently been alleged that Nader's own studio sacrificed him by making a deal to keep their far bigger star, Rock Hudson, free from such notoriety." Miller died in 2015, per Legacy.